Moneyball's $5,000 Saturday Special
How can you win AFL Grand Final tickets and how can you be a part of $5K today? Calvin has the answers.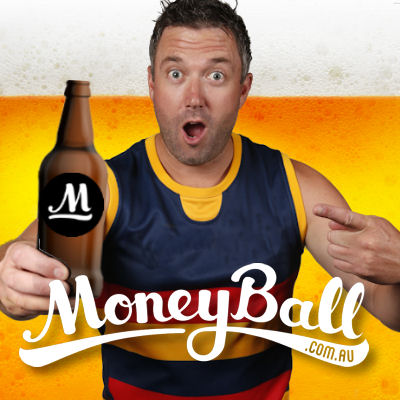 It's the big $5,000 with the winner taking $650 and it pays $34.18 right down to 89th
Carlton v Gold Coast 1:45pm AEDT
Collingwood v GWS
Brisbane v Melbourne
Fremantle v Essendon 8:10 AEDT
FREE CONTEST TO WIN AFL GRAND FINAL TICKETS
Exclusive to ONLY DT Talk users, be sure to enter this free contest tomorrow (Roy's tips will be up). If you have the highest score for the day,  you have $20 added to your account but if your score is the highest for the year… then the tickets are yours. JOIN HERE
Greggy (914pts) currently has the lead with the tickets in his hand, but you can be the person to knock him off this weekend! Click here to get more details and the link to the contest.
Click here to subscribe on iTunes.
Now for my best and sneaky best options for today…
Josh Kelly (MID, $10,400)
Make sure you have Josh Kelly locked and loaded for this one.
Firstly, last week against the Pies, Tom Mitchell went gangbusters on them with 54 disposals and 156pts. Last year against Collingwood, Kelly had his career-best Fantasy score of 162.
The fact of the matter is, Collingwood are never defensive towards opposition midfielders which means points will be following on the MCG today. Whitfield and Coniglio could also be huge as well, but Kelly is my No.1 pick here.
Tim Taranto (MID, $5,900)
You don't get traded into team DestROY for no reason. You need to back in the fact the Roy has researched this one to the moon and back and therfore you can have him in your team today.
Fresh off the back of a nice 112 last week, Taranto attended a truckload of centre bounces and could find this one potentially easier against Collingwood.
Cam O'Shea (DEF, $4,000)
Remember in JLT2 when O'Shea came onto the ground and scored 49pts in just a quarter of football?
You wouldn't bring him into your Fantasy team just yet, so Moneyball is the perfect game to have him.  At this price, you can't really go wrong, but while we are talking cheap defenders, also throw Finlayson (DEF, $3,800) and Murray (DEF, $4,800) into the mix.
Both these guys were great last week scoring 65 and 76 respectively. They play each other and for the extra $1,000 you'd save, Finlayson gets the tick for me ahead of Murray here. Murray will have high ownership, but up against the Giants… this one will be much trickier than last week.
Dayne Beams (MID, $8,100)
How cheap is he?
Fact: Dayne Beams loves playing at home and can easily go over 140 on his day.
Beams went over 140 on five occasions last year and four of those were on his home ground.
He failed to crack 100 last week, but that was his first real game after a full pre-season. Beams scored 138  last year in his only run against the Demons and should be huge at home for the first time this year.
Zac Langdon (FWD, $3,500)
Some will see his score of 55 from last week and turn away, and I don't blame them.
But after a very nervous start and not scoring a single point in the first quarter, he fired up and was ultra-impressive scoring 20-17-18 in the remaining three quarters. If he can continue this trend then a score of 75 is not out of the question.
The obvious answer is of course Brayden Fritsch (FWD, $3,500) in the forward line and he will have a very high ownership today. He plays the Lions at the GABBA and this one could go either way as he plays his first game on the road, just like Langdon.
Hedge your bets with both these guys, and have them across multiple teams.
Brodie Grundy (RUC, $9,600)
I'd usually say a big "NO" to Grundy when it comes to Moneyball or even Fantasy, but this time it's different.
Mason Cox has been suspended for this week and this means, Grundy will be rucking solo. Grundy wakes up the happiest man in Australia today and will be rewarding any Moneyball coach who wants to back him in.
When Grundy rucked without Cox last year, he was a 25+ point better player. The effect Cox has on him is real and very significant and today it won't be happening.
Last week against the Giants (Rory Lobb), even Roughead (76pts) and the rookie English (78pts) scored well against them… and that was in an 80+ point loss.
Expect 120+ plus from the big Collingwood ruckman!
GOOD LUCK!