The Weekend Wash-Up – Round 1
He's back, and he's angry! Here's Matt's Weekend Wash-Up!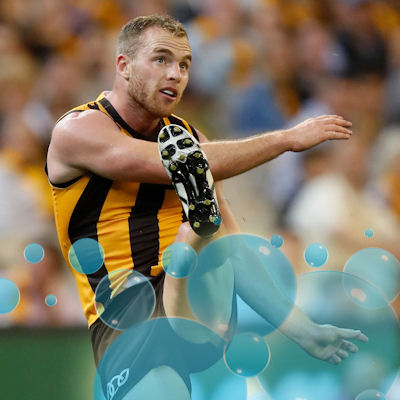 Welcome back ladies and gentlemen. I'd love to say new year, new me but judging by Round 1… Strap yourselves in because 2018 has gotten off to a rocky start. Yes, I'm off to a flyer! Sadly I cannot say the same about my fantasy team. We often forget just how cruel this Fantasy caper can be, and Round 1 was a stark reminder of how little your pre-season preparation matters. Remember, we're in this together. We share the same pain. This is a safe place. So what can you expect today? It's often said that sarcasm is the lowest form of humour, and that's what I do best. Combine that with constant complaining, very little substance and some extremely occasional wit and you have the Weekend Wash-up. If that sounds like your cup of tea then read on…
Legends
Cripps (130) – I'd suggest nearly all of us had Patrick Cripps in our pre-season sides at some stage, and 15% of coaches took the punt. He looks set to go beast mode this season, awesome pick. Massive tick.
Simpson (129) – Kade Simpson was so good on Thursday night that the only concern with owning him may be a forward tag. Age seems no barrier and Simmo looks set to average around 100 once again this year. Safe, reliable, gun.
C.Curnow (115) – Charlie sits on my forward bench in Draft and I am damn glad to see him there. I don't think he can go any bigger than 80 this season and he won't kick 5 every week, but he's an absolute jet. What a player.
Heppell (145) – The Round 1 specialist was at it again. Dyson was a vacuum for the footy on Friday, accumulating 35 disposals including a whopping 13 marks. When you watch him play like that it's hard to imagine how he can't average 110, but he opened the season with 156 in 2017. I'm not sold, but a great start if you have him!
Gibbs (139) – Criminally underrated by both Fantasy and AFL fans alike, Bryce Gibbs is set for a monster year. I honestly believe he can push an average of 120, having proved that he's capable of massive scores with 'that 194' last season. Tags are the only concern, otherwise Gibbs will be huge.
Laird (124) – Rory Laird must be constantly pacing up and down his living room for the last few weeks during the off-season. For the second year running he has opened the season with a 40 disposal game. That included 14 contested disposals in another dominant performance off half back. I got tricky with Docherty last season, and I don't have Laird in my team as of yet. Please, not again. Gun.
M.Crouch (123) – This leaves a bitter taste in my mouth. In an act of utter stupidity, I dropped Matt Crouch from my team for the first time all pre-season to chase 'the pig'. Crouch just continued to rack up disposals as he did towards the end of last season, ending with a lazy 41 touches. There's a lot of Tom Mitchell about his ability to constantly find the footy. Mark my words he will be massive this season and I'm chasing him this week. Pig in the making.
Steven (133) – I'm going to take a seat on the fence here. Jack Steven looks fit and ready to fire this season. So you can nearly guarantee someone will jog over and man him up next week and that will be the end of that. I'm avoiding players succeptable to a tag and that has to be the concern with Steven. It's the only concern mind you, he looked brilliant on Saturday.
Acres (124) – POD alert. Blake Acres showed signs of becoming a premium midfielder last season, but started the season priced as a $549,000 FWD! Amazingly even after 98 in JLT2, he hardly got a mention. It needs to be noted that Dunstan was missing from St Kilda's midfield, but even so his 1.33% ownership are sitting pretty. Great pick.
Billings (123) – The half forward role is becoming seriously potent from a Fantasy perspective. Many of the top forwards including Billings and Greene played similar roles. They may not be directly in the guts or at most centre bounces, but they are the key links in the chain between defence and forward 50. They took 19 marks between them and Billings just looks a fantastic Fantasy player. Huge tick.
Ross (123) – I don't know how he keeps doing it, but Seb Ross junked his way to a great score again. To the Saints fans who own him, I respect how far you'll go to support your boys. Enjoy this score.
Westhoff (132) – Given his nickname is 'The Hoff', Westhoff already has a huge tick in my book. He dominated JLT and he dominated again on Saturday. 9 tackles for a big man is seriously impressive, he's looking a great Draft selection. Fantasy? I'll pass thanks.
Bonner (102) – Rising star bolter! I'll take some shares in Riley Bonner after that performance. 31 disposals from half back was a fantastic effort. For some reason however, AFL Fantasy refuses to give him a proper discount despite him playing only 2 games in 2017. Big shame. Great pick in the other formats and possibly even relevant in Fantasy. I'd expect an average of 75-80 to be realistic.
Sandilands (111) – It's great to see Big Sandi back to full fitness. He's another player that is more relevant in Supercoach… Not that I know what a supercoach is. Definitely not me. Anyway… Let's hope Sandi stays fit!
Witts (140) – Shaking my damn head. Witts had 21 kicks, 34 hitouts and 5 tackles in the Monsoon last Saturday night. I'm still struggling to wrap my head around it, but Jarrod Witts is capable of being in the top 3 ruckmen this year. Those who drafted him will be smirking.
Young (112) – This is where I will draw the line. Yes Aaron Young thrived in the wet, that's because you couldn't call that football. Let's see what he produces this week. He fared better than my PODs to be fair… Off to a flyer.
Holman (89) – I tend to leave the rookies for the experts unless they do something really special. Holman's 13 tackle effort was special. Sure he may not always be pretty to watch. Or look at. But god damn he's a good man. The world needs more Nick Holman's.
Mitchell (156) – Oh so you're a Tom Mitchell fan? Join the queue. Now seems as good a time as ever to reference my comments back when I wrote the knee-jerk after his second game of AFL. "We have a DT God in the making." I might as well go about patting myself on the back here because there's nothing I really need to add that you don't already know. Tom Mitchell is the biggest Fantasy pig to ever play the game. I don't want to think of the disgusting things he's going to do this year, arousal levels are dangerously high as it is. If he breaks the $1,000,000 mark I'll get a print out and frame it. Watching him play makes DT fun again.
Coniglio (146) – While we didn't get everything right in pre-season, we certainly got Coniglio spot on. He is still under-priced and looks set to go 110+ this season. The Giants look to be a high scoring Fantasy side and there will be more point feasts to come. Don't miss out!
Greene (118) – I spoke about my new favourite Fantasy role earlier, and Greene plays it to perfection. Sure he's a bit of a prick, but I'll let that slide given his Fantasy friendly game style. What I'm saying is, he's a greedy little c**t and I love it. Big fan.
Whitfield (114) – Those who selected Whitfield can sleep easy. He's going to average 105+, and he's going to be in the top scoring Fantasy defenders by the end of the year. You've saved yourself a trade… Great pick.
Taranto (112) – A player that has been on the fringe of my radar is Tim Taranto. Given I have a certain Bulldog that needs trading and a lack of realistic alternatives, my radar has suddenly expanded to the point where Taranto has suddenly become a near must have for me this week. Unfortunately I couldn't watch the GWS game with such a bitter taste in my mouth, but given his 32 disposals and 8 clearances, he must be getting solid midfield time?! In fact Taranto had the equal most clearances on the ground! He's currently a $462k forward. GWS play Collingwood this week. Yummy. Monitor.
Gawn (138) – Even though this score should have been 143, us Fantasy coaches can all forgive Big Max for that final miss. Possibly the easiest selection of all time. Don't let that mean you take his scores for granted. Legend!
J.Selwood (122) – Another underpriced premium selection that paid off in spades on the weekend. No one is doubting Selwood's ability to score well, and while Ablett is running around getting 40 touches you'd hope he can avoid the tags. Joel is looking like a serious bargain. Just 4.5% of coaches own him, that's unders! A serious option for me this week.
Franklin (151) – It was the Buddy show at Optus Stadium on Sunday evening, and you've just got to admire the mans brilliance. Shame on us for not picking him, but I don't think you should be chasing this score either. We missed the boat, however it doesn't mean you can't appreciate brilliance. One of the greats.
Parker (127) – Luke Parker has averaged 110 in the past. He found form at the end of 2017. He enjoyed a full pre-season. He dominated JLT. All the signs point towards him having a huge season. Guess what, he dominated! This game can be really simple sometimes, and we always manage to overcomplicate it. Awesome pick.
Lloyd (115) – Jakey Lloyd is the very definition of a seagull. He loves a bit of junk time, and 24 of his 29 disposals were uncontested. I love it. I think he averages around 100 this season and comfortably slots into the top 6 defenders. Can't go wrong, unless he gets KO'd of course.
Losers
Ellis (69) – Sadly it's not all sunshine and rainbows. If you ever want to find out how sh*t this game can be, just try riding the Brandon Ellis rollercoaster. You could also apply that same principle to nearly any Richmond player. Awful. Moving on swiftly.
Bolton (13) – I understand the forward pressure argument. Young Shai Bolton is probably fantastic at laying tackles on the tackle bags at training. Sadly there will be more influence from US gun control protests than poor Shai had on Thursday night. F**k all.
Kreuzer (73) – Matty was in cruise control heading towards another comfortable ton before injury slammed on the breaks. You're left with a tough decision, if he's not 100% and you have the spare trade, it might be a safe play to grab Stef for now.
Murphy (68) – Having not dropped below 90 for the entire 2017 season, Marc Murphy was hit with a dose of reality when tagged after quarter time. He should never have been picked in Fantasy, those who took him early in draft will be crossing their fingers for something more inspirational than 23 disposals and 1 tackle.
Merrett (23) – I'm not sure there's anything worse than having your entire weekend ruined on a Friday night when an uber premium goes down injured. I'm not exaggerating either. Make no mistake, if you know somebody who was in a sh*tty mood there's a 99% probability they owned Zach. Proven fact. It's only made worse when it comes from a Richard Douglas revenge act. Spare me the bump tears, he hit him high and will not overturn that ban. Good. I wish I could head to the tribunal and overturn Merrett's 23, but that's not how life works. He'll play next week and you have to hold.
S.Jacobs (75) – Mediocre. That's how I can best describe Sam Jacobs on the weekend. His 99 average season was a personal best and is by no means guaranteed, I wouldn't exactly call Bellchambers unplayable either. Need to see a lot more next week or he could be on the chopping block.
L.Murphy (34) – I'll put my hand up, at one stage I had Murphy on my ground ahead of Doedee. Why exactly I'm not so sure, the brain works in funny ways during pre-lockout panic. Let's just hope he did enough to hold his spot. Hint: I'm not confident about that.
Rayner (35) – He's sporting a hairstyle that belongs in Peaky Blinders, and if so he would have been Finn Shelby. Absolutely f**king pointless. He'll be better for the run though. Awful footy cliche number one of the season – Completed. I've just realised I'm completely wasting your time here, uh, hold. Rayner gets one more chance.
Fyfe (67) – Tell me more about how Freo are going to be the big improvers this season. Sure their list shows promise, but Fyfe is going to be fighting an uphill battle all season. Put it this way, I'd want him to be playing 80/20 midfield time if he's going to score well in 2018. Definitely hold, but certainly on notice.
Blakely (63) – Blakely has continued in his favoured half back role during JLT and that extended into Round 1. In all 3 games we haven't seen a single sign of the scoring potential we saw last year. He should get DPP though, so keep an eye to see if he remembers how to football.
Rockliff (52) – O.K. It's time for some hard hitting truths. I picked Rocky. I would love to do nothing more than reminisce in the form that has seen him constantly pump out scores above 140. Judging by what I saw on the weekend, I don't think we'll ever see that again. Give me a spell about his lack of pre-season. Ablett didn't play a pre-season game and jogged out to collect 39 touches. It was the exact same Rocky that we saw at the end of 2017. Slow. Unfit. Fat? Ok that's harsh, but players were walking past him on Saturday. Added to the fact that he can't seem to keep up at the moment, he's not even tackling. Here's some stats. Rocky still played 69% TOG. Let's say he played his usual 85%, he might have been lucky enough to reach a whopping 65. Sure he played forward at times, but I still saw him in the midfield and centre bounces. Now for the damning stats. 1 contested disposal. No that is not a typo. Obviously 0 clearances. 1 tackle. If I watched that performance in isolation, I'd honestly say hang up the boots. I do believe he'll improve, although that's not hard. However will we ever see the 120+ pig again? I think that dream has been shattered. I'd love to be proven wrong, but at this stage I'm happier to hold Liberatore with an ACL then let Rocky bleed more cash this week. Now that's a sad state of affairs. He will always have Pig status, but that's not our pig out there. RIP. I look forward to looking like a total buffoon next week.
Davies-Uniacke (27) – LDU is on his way to going full Nathan Brown this season. This has to be a priority trade for anyone who took the gamble, you can't be bleeding cash from a rookie. His Round 2 BE is 50, that seems a mile away.
Adams (71) – Only Nathan Buckley could come up with the idea of playing Taylor Adams up forward. This continues to baffle me. He's not exactly a brilliant footballer. What he is fantastic at is winning contested footy, laying tackles and winning clearances. So why is he not permanently in the guts? Play to your strengths is something you learn in coaching for dummies. Bizarre.
Crisp (64) – Zzzzzzzzzz. It's a no from me.
Burton (19) – Luckily Burton's pre-season prevented many from picking him in Fantasy, however nearly every draft league in the country will be affected by his injury. I reluctantly picked him and things have gotten off to a rocky start. Thankfully it doesn't sound too serious, however he was heading for a sub 50 score regardless. I've seen nothing to ease my reluctancy so far.
Liberatore (9) – Firstly, here's to wishing Libba a quick recovery. He has done his 'good' ACL and faces another 12 months out, just as he was returning to his best football. Now for my sob story. In fact I wasn't even mad when it happened. I laughed. One of those manic laughs. It's just part of the game hey? Good times. Actually no, I remember it a little better now, there was maybe a couple of sobs. OK. They were tears… And there was a bit of madness. ALRIGHT. A lot of madness. I remember now. I threw my laptop at the couch and turned off the TV. That's right that did happen. Stupid f**king game. Why do I even put the asterisks in anymore? More to come later.
McLean (68) – The biggest positive of Libba's injury was that I didn't have to sit through Toby McLean's sh*t show. Ironically, I think it will benefit McLean's midfield time long term and it's why I'm holding him. Let's just turn those 8 clearances into something I can convert to solid Fantasy points please.
Johannisen (58) – You know what, this one is on me. If JJ's opponent ever loses him, they just have to look for the massive mushroom cloud floating around. Don't ask me why I did it. I'm a masochist. I look forward to fixing this mistake up as soon as Round 2 lockout lifts! Stupidity.
Bontempelli (68) – Bont will be better than this, but will he be good enough for your Fantasy team? Short answer – No. Long answer – Definitely not.
Crozier (34) – Someone, somewhere, pulled this trigger. It might not have been the only trigger they pulled this weekend either… OK potentially a bit dark even by my standards. I'm leaving it in. #nofilter
Trengove (31) – One must be gracious in defeat and accept their failings. If I had have known that Tim English would play and Trengove would become the most useless tool since bicycle pedals on a wheelchair, I probably would have kept my dumb thoughts to my dumb self. Let's pretend it never happened.
Hibberd (56) – Boringggg. The warning signs were there pre-season, Hibbo just isn't getting the junk he was last year. The Demons seem to be insisting on this quick, exciting brand of football that results in low Fantasy scores. Strange.
Menegola (69) – I don't want to hang a man out to dry having not watched him play, but I have a duty to my people. There was no Dangerfield, and no problem with Menegola's role. So there must be a problem upstairs Sam, because that was bloody pathetic. Spending up on Menegola is like spending a $10 premium on an app just to get rid of ads. There's no real difference, the app still freezes and you're left wondering why you even did it in the first place. Probably a waste but what's done is done. Hold.
Redden (71) – I'm really confused as to what Redden's role at West Coast actually is. You'd think he would have to be a permanent midfielder, but he's simply not. Which is even harder to explain given if Naitinui isn't in the middle we might as well setup inside the opposition 50. Not great, but better than Merrett!
Robinson (89) – You just have to love and respect what Robbo is all about. It has only taken him one week to get one week. You rolled the dice, now face the consequences.
EDIT: Zorko (57) – It was brought to my attention that I missed one key failure on the weekend. There's rusty starts to the season, then there's Zorko's 14 disposals at 21% efficiency. He's just as likely to score 150 next week, but I couldn't bring myself to spend so much $$$$ on a bloke capable of producing as many rookie scores as he does big. It's yet to be seen whether last season was an outlier, so far it's looking that way… Horrendous effort.
The Stubby returns! Amongst the carnage there was some massive scores this week, here are the contenders:
Coniglio – 32 disposals, 7 tackles and 2 goals. 146 Fantasy points. The perfect game!
Mitchell – 500 disposals, -500 metres gained. Am I close? GOAT.
Franklin – 
Witts – Swamp specialist. 21 kicks for a ruckman must be close to a record. Lack of respect unjustified.
Simpson – Apparently had a better game than Tom Mitchell according to Barry on twitter. He was brilliant, 35 disposals including a career best 10 contested!
Who gets your vote?
Loading ...
Talking Point
There is obviously a massive element of luck in Fantasy sports. Many coaches are good enough to be consistently near the top, but to break into the top 0.01% things have to go your way. Is there a way to minimise this? In some Draft platforms, if a player spends less than 25% TOG then they can be substituted out for your emergency. It certainly won't solve everything and there will still be tears, but it never seems fair to lose a player in the first quarter. Of course if I hadn't suffered an injury I would be telling people to "suck it up", "it's part of the game." "Unlucky championship."
Feel free to put this idea down to my saltiness, but it seems like something to consider. There will always be hard luck stories, it just feels wrong to have your whole weekend ruined before it even starts.
This Game Sh*ts Me
The bad picks I can cop. Liberatore I cannot. If I could have picked ONE player in my team to NOT go down injured, then Liberatore would have been at the top next to Mitchell. If he goes, then I go. Where hasn't this pick gone wrong? Libba was a POD. I doubt you've heard anybody else suffer this mess. There's no alternatives at his new value of $469,000, Tim Taranto is my only sideways bet. Prices changing after Round 1? Thank you so much, I didn't need that $38,000 anyway. I've now got one less trade to play with in arguably the most important week to fix up your squad. Absolute mare. Don't get me wrong, I'm not the only one with a bitch and moan story this week. Merrett is arguably a crueller blow given his price tag, especially if he doesn't suit up in Round 2.
We've now got 3 days to stew over what could have been. My favourite! Of course we should have seen these injuries coming! Libba has weak knees. Merrett has a hittable face. Welcome back Captain hindsight… I haven't missed you. This game sh*ts me.
The Other Bits and Pieces
2095. Who's had a worse weekend – Me or Steve Smith? Close one. Sometimes I hate myself. I went back and read my final article of 2017, remembered all the new year resolutions I made, and I went and broke them ALL. Never pick players who you haven't seen during pre-season. Never include last minute additions who weren't on your radar. Don't pick a bloke with a sh*t haircut! Simple suff really. While my team is certainly fixable, I'll be waving up at the top 10,000 for at least a few more weeks. Be grateful, I put myself through this pain for your gain!
Considering the multiple disasters, I suppose the damage could have been worse. Just not much worse. But I'm not the only one! Tell me about your 'hard luck stories', at least that's what we like to call them. You know I love nothing more than reading about how badly others have failed. If you scored 2200 or above then well done, you're not wanted around here. I'll see you in a few Rounds… Until next week!