The Milkmen – Checking In
The Milkmen wanted to check in prior to the upcoming JLT series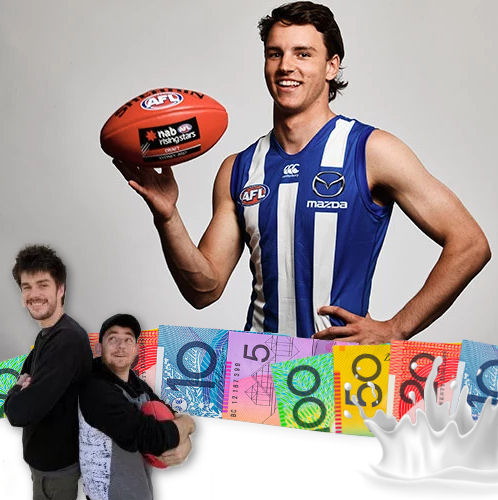 For those of you that missed our original post on the DT Talk website, allow us to quickly introduce ourselves again. We are the Milkmen and will be taking care of all your rookie cash cow selections for 2018 since the sad departure of Jeppa.
To help ourselves better understand and keep track of all the rookies, we started writing down all the new draftees, re-drafted players, rookie listed players and previous year draftees that were under $270,000. This spreadsheet is invaluable to us as it really helped us familiarise ourselves with the cash cow crop of 2018. We refer to it constantly as it provides us with all the key information we need when judging the worth of a player. Anyway, we had a brain wave and realised we should share this spreadsheet with the entire DT Talk community. It's a great tool to have at your disposal as it presents all the key information you need to make an informed decision about what rookies to fill your team with.
Our articles will aim to highlight the major players amongst this group that you should consider leading into the season, but for those of you who like being spoilt for choice, then the spreadsheet below will provide a great point of reference.
The Spreadsheet Itself
The Rookie Class of 2018 spreadsheet can be downloaded here.
2018 Rookie Cash Cow Spreadsheet V2
In it you will find three separate tabs to differentiate between all rookies taken in the regular draft, those that were rookie drafted and finally the potential rookies who have been drafted in previous years but still sit below the price tag of $270,000 in AFL Fantasy.
On each of the tabs, where relevant, we have presented all Under 18 Championship scores and approximate reserve level averages (and AFL level average when applicable) from each of the players. We've also added in our own comments about each player for something extra to consider. All tabs can be filtered by Club, Position, Price and other areas if required. Just click on the down arrow on the title box and sort the list as you wish!
Our advice is to not overwhelm yourself and try to look through all the players, rather to use the spreadsheet once you have certain players or price points in mind to see which player intrigues you the most. When watching the JLT matches, having this spreadsheet close by will be of great help. Remember stats only tell one side of the story and  you must always consider the team the rookie is playing for, their ideal role and potential job security. Something that numbers can't quite capture but we will aim to help with during the course of the season.
AFLX Debrief
We feel there's been a lot of mixed reviews about the format itself, but all in all the AFLX did at least provide us with a great opportunity to start putting faces to names for some of our key rookies for 2018. The main standouts in terms of their skills and composure (which is all we could really ask for out of the game in the end) were…
Jaidyn Stephenson (Collingwood), Paddy Dow (Carlton), Stefan Giro (Fremantle), Tim Kelly (Geelong), Bayley Fritsch (Melbourne), James Worpel (Hawthorn), Tom Doedee (Adelaide), Will Setterfield (GWS) and Hamish Brayshaw (West Coast).
Willie Rioli and Jack Higgins both looked impressive, however Rioli has since suffered a 'minor leg problem' and Damien Hardwick has come out and said it would be unlikely to see Higgins get a game early on in the season. Hopefully Rioli's injury is nothing to be concerned about, but hearing that news about Higgins was disappointing. Whenever Higgins is named, he is must have rookie.
Paul Ahern (North Melbourne) was a bit disappointing. Currently owned by 30% of teams, he didn't set the world on fire by any means. He picked up 7 possessions across two games.
JLT Series
The upcoming pre season fixture of the JLT Series will provide us with a great chance to start stabilising our rookie selections for Round one. We will be providing a write up on each JLT game detailing how our rookies performed throughout. This will include key dreamteam stats, potential role and discussions around job security. Leading into the series we have made a whole team below (in no particular order) of key rookie priced options that we will be keeping an extra close eye on and believe you should too. It will be interesting what the series does to chop and change these players from our list but here's hoping we will be picking our starting rookies from this bunch.
There are definitely some key names that easily could replace some already in the team but each week we will update accordingly based on JLT form and team news.
FOLLOW US ON TWITTER:@TheMilkmenDT specialising in cash cow selections but still here to talk all things AFL fantasy.