Mitch Robinson – Deck of DT 2018
One of DT Talk's favourite sons looks set for a big year at a good price. Today, Roy has a look at Mitch Robinson.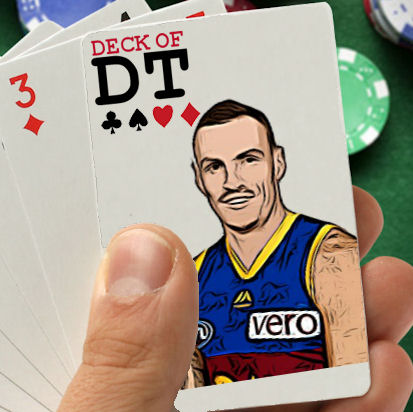 Name: Mitch Robinson
Team: Brisbane Lions
Position: FWD/MID
AFL Fantasy: $542,000
Bye Round: 13
2017 Average: 82.7
2017 Games Played: 7
Predicted Average: 91
Draft Range: eg. 50-60
Click here for DT Live profile.
Why should I pick him?
Mitch has always been an under rated Fantasy performer, especially with his FWD status. Over his nine year career he has averaged over 80 on six occasions with three of them over 90 which is certainly elite for a forward.
Last year he got off to a great start with an average of 94 over the first six games which included impressive returns 112 and 122. In that time he kicked at least one goal in each game and showed his tackling prowess with three hauls of fiver or more.
Due to only playing seven games, Robbo receives a discount and can be considered under priced due to his 2017 season average of 83 not reflecting the way he was performing. In round seven he copped a season ending injury early in the game and in typical Robbo style, tried to play through it but due to the severity, managed only 23 which dragged his average down by ten.
In 2015, Mitch showed his potential in the back end of the season where he showed a purple patch that would see him ranked in the top echelon if he can come close to repeating. Over the last ten games of that season, nine of those scores were over 90 and six of them were over 110. During that time he averaged 110 which was highlighted by a 33 possession and 15 tackle performance against the Blues for a whopping 166.
With a young list, Robbo is certainly going to be required to step up in the midfield in the absence of Tom Rockliff and the fact he doesn't waste his time when sitting in the forward line ensures he keeps the score ticking over with a goal or two.
Why shouldn't I pick him?
Robbo is a bull, he knows only one speed and one way. I love this about him but his approach to games can leave him susceptible to injury and the odd KO. Although he managed an impressive 21 in 2015 and 2016 he has never played 22 games in a season so durability needs to be a consideration.
The young Lion forward line lacked leadership and an avenue to goal at times last year and there is a possibility Robbo could be set the task of running the show up there, whilst at times playing as a defensive forward which he has successfully done in the past. Both possibilities would effect his Fantasy output.
The Tassie legend is recovering from a serious foot injury and although he is tracking well, it still needs to be considered that he is return may not be seamless.
Deck of DT Rating.
Queen – Robbo is always a player that comes with high risk (when I started with him in 2013 he got knocked out on 21 in the first game of the year) but his upside and potential is also high, especially for that price. I have been lucky enough to talk to the big fella a couple of times over the last couple of months and his recovery has been spot on. Fitness wise he is close to career best shape and he seems in a good place to threaten career best numbers. Above all, Robbo knows Fantasy and knows what his coaches need… and most importantly he knows a tackle is +4.
FOLLOW ME ON TWITTER: @RoyDT for all thing AFL Fantasy (and more). Got something to say about the deck? Use the hashtag… #DeckofDT.