Early Trends – Ep. 174
AFL Fantasy has been open for a few days and the boys look at the popular picks and answer your questions.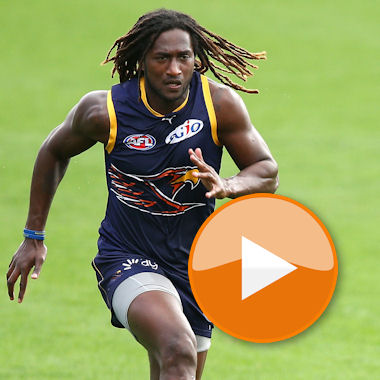 Thousands of eager AFL Fantasy coaches have already started piecing together their Fantasy Classic squads for the new season.
The game launched last week and although we are only a handful of days in, some trends have started to appear in how coaches are picking their teams.
AFL Fantasy kicks off for season 2018
It appears that the ruck combination of Nic Naitanui (RUC, $417,000) and Max Gawn (RUC, $605,000) is set to be the most popular to start the season. Naitanui's price attracted a 30 per cent discount due to missing all of 2017, while Gawn is under-priced based on his output last season compared to the season prior.
The ruck bench of Darcy Cameron (RUC, $170,000) and Tim English (RUC/FWD, $187,000) is common as coaches believe they have the best opportunity of game time of the bargain basement options.
Tom Mitchell (MID, $896,000) is the most expensive player in the competition but that hasn't stopped him from being selected by the early birds. As a lock in captain week-to-week, it will be worth spending a fair chunk of the $12,600,000 salary cap.
Roy, Calvin and Warnie look at the early trends in Fantasy Classic in their first podcast since the game opened. Join The Traders every week as they help you piece together your squad this pre-season.
Click here to subscribe on iTunes. (Please leave a rating and review to help us move up the charts).
| NAME | CLUB | POSITION | PRICE | OWNERSHIP |
| --- | --- | --- | --- | --- |
| Nic Naitanui | WCE | RUC | $417000 | 53.3% |
| Max Gawn | MELB | RUC | $605000 | 47.0% |
| Darcy Cameron | SYD | RUC | $170000 | 44.9% |
| Tom Mitchell | HAW | MID | $896000 | 44.9% |
| Rory Laird | ADEL | DEF | $707000 | 44.5% |
| Isaac Heeney | SYD | MID/FWD | $649000 | 39.7% |
| Cameron Rayner | BL | MID/FWD | $270000 | 37.9% |
| Patrick Dangerfield | GEEL | MID | $849000 | 36.2% |
| Tim English | WB | RUC/FWD | $187000 | 35.1% |
| Tom Doedee | ADEL | DEF | $170000 | 34.3% |
| Willie Rioli | WCE | FWD | $170000 | 34.2% |
| Luke Davies-Uniacke | NM | MID | $264000 | 31.5% |
| Paul Ahern | NM | MID/FWD | $170000 | 31.2% |
| Nathan Freeman | STK | MID | $170000 | 30.5% |
| Joel Smith | MELB | DEF/MID | $170000 | 26.2% |
| Jack Higgins | RICH | MID/FWD | $238000 | 26.0% |
| Nat Fyfe | FRE | MID | $686000 | 25.6% |
| Jaeger O'Meara | HAW | MID | $438000 | 25.3% |
| Elliot Yeo | WCE | DEF | $692000 | 24.5% |
| Jake Lloyd | SYD | DEF | $649000 | 24.2% |