Tbetta's NBA DFS Tips – Thurs 11/01
$18,000 on offer in the Thursday Monster Special, 22 teams, 11 games and 1 big article covering it all. Make sure you're across all of this week's NBA DFS tips before getting stuck into the slate!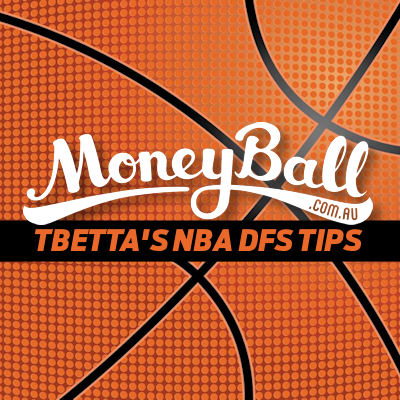 G'day Moneyballers! If you were here for the AFL season, this article will need no introduction. If you're tuning in for the NBA action, welcome to your first port of call for your DFS tips this summer! Before we get into the good oil, a quick reminder that Moneyball have adjusted their scoring system this year:
Playing is easy, you can sign up here and play in minutes! Now that we've taken care of the housecleaning, let's get into the good stuff – the tips!
• Mouse in the House?
PGs vs LA Clippers
The Clippers are wafer thin at the guard slots due to injury upon injury, so Steph Curry ($9,800 PG) finds himself staring at a soft match-up without a NBA-quality defender squaring him up. The injuries have gone a long way towards softening up the Clippers' defensive power, with LA now the clear #1 ranked team for conceding fantasy points to opposition PG's over the past fortnight.
Even without the friendly match-up Curry's play has been red-hot ever since returning from his ankle-prompted lay-off, averaging 51.7 MB per game with a juicy low of 47.3 MB and includes the monster 63.7 MB he pumped out against the Clippers just two games ago. Some of that form is attributable to extra usage while Kevin Durant ($10,400 SF) deals with injury, and Curry may again benefit as Durant is listed as DTD. Ultimately, the only way I can see Curry failing to exceed his price-implied value point here is a blow-out, with the Clippers missing up to half their rotation – the bookies seem to agree, with the Warriors fancied to a 15.5 point head start. Steph might be looking at checking out at 3Q time here, as Steve Kerr tends to prefer in these kinds of floggings.
Guards vs Utah
Feel free to layer in both or either of John Wall ($9,200 PG) and Bradley Beal ($8,600 SG) as the Jazz continue to bleed points to opposition guards without the services of Rudy Gobert to protect the drive or the dish. Once considered fantasy Kryptonite at their best, Utah's Gobert-centric defensive strategy has crumbled without him and incredibly they now concede the most Moneyball points to PG's of any team over the past month.
While I love Beal's upside (scores of 76.3 and 50.5 within his last four), Wall, as the nominal PG, is as close to a sure thing as we'll have this Thursday. Over his past four starts, he's dished out at least 9 assists, has added at least a steal and a block in all of those games and is finally fit enough to endure big minute loads again at over 38 per night. He's fit, he's in form and he's in a very fantasy friendly match-up – it's time for Wall to repay our faith on a big slate.
Cs vs Brooklyn
There are some teams you can get away with playing Small Ball without a genuine 5 against, but Detroit and their man mountain in Andre Drummond ($8,900 C) is not one of them. With Brooklyn the season-long leader in conceding fantasy points to Centres, Drummond could legitimately be looking at a season-high Moneyball effort here – and that's saying a lot considering he already has a 70.4 MB monster (26/12/6 with 4 steals) under his belt. Unless you think you can unearth some value in the under $5k bracket, you're basically looking at either Drummond or Boogie this Thursday.
• Short Stacks
Orlando vs Milwaukee (217.5 O/U)
A 10.5 head start for Milwaukee doesn't exactly scream "stackable", but Orlando is the kind of streaky team that can push them for 4 quarters if the shots fall. Either way, the Bucks have plenty of options worth considering.
Eric Bledsoe ($7,500 PG) has produced scores of 41.9, 48.9 and 49.6 in his last three games where he's seen 29+ minutes of action. Giannis Antetokounmpo ($11,100 SF) needs to be considered whenever he's on the slate, and given that Orlando are ranked #26 for Defensive Efficiency, he has an open lane to another headline performance. Khris Middleton ($7,400 SG) is a little overpriced for me but he's been known to bust out on occasion.
NOTE: At the time of writing, Vegas lines for Portland @ Houston , Chicago @ New York and LA Clippers @ Golden State had not been released, so make sure you check those out and act accordingly. Remember, we're looking for a high Over/Under with a low Line for maximum stacking potential.
• The Replacements
James Harden (hamstring, OUT)
We've had four Harden-less (Soft?) games now, so prices have started to adjust to reflect the shift in on-court power. I've cooled on Eric Gordon ($8,000 SG) and Gerald Green ($5,700 SF) to the point of fading, as their boosts in Moneyball scoring has now been offset by their swollen prices.
Chris Paul ($10,200 PG), however, is still worth considering on the right slate. His score has improved in every game without Harden as he adjusts to driving the Houston vehicle and he's fresh off a 50.1 MB outing against the Bulls. Portland, while normally a scary team to select PG's into, are likely without Lillard and hence the door is left open for you to select CP3 as a direct Harden replacement.
Anthony Davis (ankle, DTD)
If The Brow is to miss with his dodgy ankle as expected (he's made of tissue paper, so I give him no chance personally), then you really need to have serious shares in DeMarcus Cousins ($10,900 C). There are few sure things in this world, but Boogie getting down in fantasy when Davis sits is one of them, with his MB/min rising massively from 1.32 to 1.70 while AD is off the floor! That's insane. That's a 29% increase on his output, which only compounds on itself once you add the extra clock he'll soak up. Summed up, DMC averages a herculean 63.6 MB this season when Davis misses, so don't be daft; pay the cash.
Damian Lillard (calf, DTD)
It seems like LeBron, famous for strong-arming Miami into drafting Shabazz Napier ($4,800 PG) before bailing to Cleveland, knows a thing or two about scouting. The back-up guard has managed to exceed 30 minutes on just 7 occasions this season, all when Lillard has been absent. That's not shocking in itself, but the minimum score of 29 MB was slightly surprising, and he's flat-out stunned me with the 36.4 MB average across all those games (including two scores north of 40). The kid can play, and he'll once again hit his 34+ minutes if Dame is ruled out as currently expected. Lock.
Myles Turner (elbow, DTD)
The last time Turner went down, Damontas Sabonis ($5,900 PF) went on an absolute tear that thrust him into Indiana's rotation for good. In his last three starts without Myles, Damontas produced consecutive double-doubles which formed the foundation of 44.4, 34.7 and 38.4 scores in Moneyball. He's already producing 31 MB over his past five with gradually increasing minutes, so I'm extremely optimistic for what he can produce with a sharp uptick in clock and usage if Turner fails to take to the court. Stay tuned on this one.
Austin Rivers (heel, OUT)
Know who CJ Williams ($4,800 SG) is? Me neither. But with the Clippers potentially missing all their starting guards in Teodosic, Beverley and now Rivers – not to mention starters in Gallinari and Griffen – someone has to fill the void. It's not been pretty lately for LAC fans, but at least CJ's recent all-round performance in 37 minutes against the Hawks gave them something to smile about. He's most likely G-League trash who'll return to his fringe ways, but I'll have a few shares in CJ to see whether lightning can strike twice against the Warriors.
EDIT: Absolutely look at Jawun Evans ($5,100 PG) for all the reasons above. 39 minutes and 43.6 MB points against the Hawks in their first look without Rivers and co. – this is another lightning bolt we want to revisit.
Always remember to gamble responsibly. If you're having problems with your betting, you can get help at Lifeline or talk to someone at Gambling Help Online.