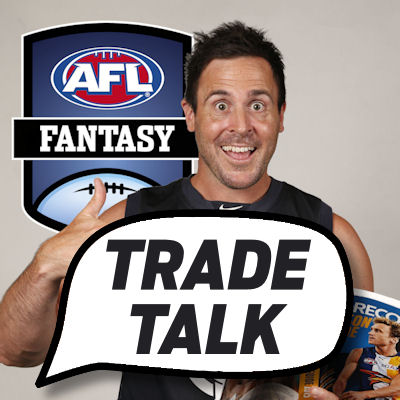 For coaches with the week off, the burning question is whether to double downgrade. Obviously if you are focusing purely on a league win, this strategy has merit… given it is silly season in regard to players resting or finishing up the season early and this would allow you to basically select any replacements you like.
For many however, if you don't have a premium in every position, I am still a fan of fixing that up traditionally before getting pretty with a double downgrade, and realistically, there are viable straight swaps for anybody we consider a premium at this time of year anyway.
With all that said, there is no yes or no answer to the double downgrade question as it is really specific to individual teams.
Once again, many coaches are looking to round out their forward line and I am getting a lot of questions about who to pick out of the under-priced Luke Dahlhaus (FWD/MID, $430,000), Toby Greene (FWD/MID, $455,000) and Devon Smith (FWD, $429,000)
Last round reflection:
Greene was the best scorer of the three on the weekend with 101 from 22 possessions and two goals, closely followed by Smith, who got busy late to eventually save his game with 93 from 19 touches, five tackles and a goal while my number one choice from the three of them last week, Dahl, had a predictably tough game against the tight arse Roos with just 77, despite an impressive 28 touches.
Looking forward:
GWS have a reasonable draw for the run home with two home games coming up against the Eagles and Dockers which should provide plenty of points before facing the Roos at ES in the GF where scoring may be a little tougher. Meanwhile, the Dogs look set to feast for the remainder of the season with the Pies and Bombers at ES before the Schmako  (dog treat) in the GF being Freo on the open spaces at DS. Therefore I still have Dahl at number one and the other two are like trying to split Doc and Simpson… almost impossible but to save a splinter in my bum, I'll say Smith.
Crippin' It Real
Patrick Cripps (MID, $505,000) is in career best form averaging a whopping 123 over his last three games including season high scores of 131 and 140 in that time. Based on those numbers he is huge value given he is just a tick over 500K and his BE reinforces that, standing at just 66. Based on his run home, I don't see how his form will waver, with games against the Lions, Demons and Bombers.
Unique Mid:
Owned by just 5% of the competition, Marcus Bontempelli (MID, $530,000) has been in outstanding form since round seven with 11 of 14 hundreds in that time, with scores of 85, 91 and 98 the only scores not to reach triple figures. Last week against the Roos, he embraced the increased responsibility in the midfield with 118 and it only gets easier from here with the Pies, Bombers and Dockers providing him with plenty of scoring in the last three games.
Strapped for cash
If cash is an issue, Matt Crouch (MID, $479,000) is playing like a premium mid with a three game average of 113, which is clearly his hottest and most consistent form of the season. With games against the Dockers at DS before playing Port and the Eagles at home where he should maintain triple figure contributions.
Must Have Defender:
I know I sound like a broken record, but for under 500K, you can't turn your back on a defender pumping out the scores Kade Simpson (DEF, $499,000) has been doing all year. He has bumped his season average up to 101 and his three game average of 107 on the back of a season high 135 from 39 touches. An instant reward is also on the card after witnessing what the Crows running defenders did to the Lions last week.

Click here to subscribe on iTunes.
Twitter Time:
@RoyDT hey mate out of dahlhouse zorko or merret who do I chose ? Dahlhouse would be a pod

— Hamish (@hamo_x44) August 8, 2016
Every team needs Merrett
@DTTALK @RoyDT @CalvinDT @WarnieDT wanting to upgrade reid to devon smith. Worth the risk?

— Brock Topfer (@brock_topfer) August 8, 2016
Good trade
@RoyDT thoughts on getting dahlhaus? Has a pretty easy draw.

— . (@Max_R17) August 8, 2016
Love it
@RoyDT T. Lynch, Adel (Fre away, Port & WCE home) or D. Smith (WCE & Fre home, North under roof) Thanks.

— Jeremy John (@96_JeremyJ) August 8, 2016
I take Smith
@CalvinDT @WarnieDT @RoyDT Pendles and collins out move wills on to ground and bring in doch in defence and 125k mid with 250k warne chest?

— Simonmarts (@SimonMartelli) August 8, 2016
I really like it if you have the week off. Just keep an eye on Pendles, he might still play
@RoyDT