The Friday Scramble: Round 20
First week of finals is upon us! We have a few long term injuries and a couple of what we can only hope are one week issues.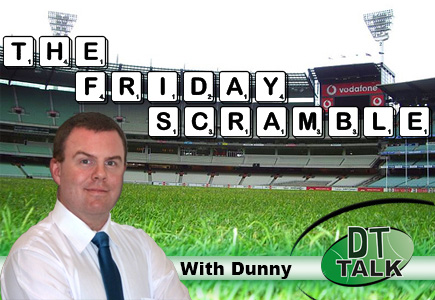 Seems like just yesterday we were all starting out with a fresh squad and hopes and dreams of winning overall and then by default, our leagues.  So where along they way did it all turn to sh*t?  Well, for some of us anyway.  With stars going down, coaches screwing us over with resting and then just general rubbish scoring.  But, hey, we have all survived and we are all here now to take the rabble of a squad we have through to premiership glory!
Finals Trading
When we reach finals, many people ask how many trades should you have, well I say, as many as you can.  But I am sure that there aren't too many of us that have more than 5 or 6 (except in AF of course where we all have 8 left).  What should you be doing in terms of strategy?  Well here are a few things you could do based on your situation.
If you are in a must win situation and whichever format you are in is predicting a loss for you, have a look at both your team and your opponents and then try to predict what they are going to do and then plan your trades accordingly.  Even then there are two ways you can take this.  If you can eliminate one of their uniques by matching them because you think the rest of your uniques are better then that is a good way to go.
But if that isn't the case then the other thing you might want to do is to bring in a unique yourself.  Look at one of the guys that you have and decide whether or not they are going to cut it in your side and if not then scan the available players and try and find someone that is unique and bring them into your side.  However, just don't outsmart yourself, remember, if you get the win this week, you still have to get through a couple more to hold the trophy aloft.  So as always look ahead and see how they will go in future rounds.  Of course our old mate Calvin has come to our rescue here with an updated "Cal's Scale of Hardness".  So check that out if you haven't already.
If you are struggling in RDT and SC with the number of trades you have left you need to make a critical assessment of your team and the matchup.  If you think that you can win this week without trading then maybe that is what you should be doing.  Saving those trades for the upcoming weeks.  This is particularly relevant if you are in the top 4 and get a second chance, I would be looking at saving your trades until you are in a do or die situation.  Having said that, if you are in an elimination final that you are looking sketchy in, then you should be trading to get the W.  You can't win it if you ain't in it!
The other factor that you may want to keep in the back of your mind this week in regards to trading is don't use up all of your Warnechest of cash if you don't have to.  If there is an equally good option that is a few bucks cheaper, then I would do that (unless it is your very last trade of course).  This way you have some cash for the subsequent rounds when the players you might want to get may be a little more pricey.
Selection Issues
Yet again we seem to strike trouble as the finals are upon us.
The way things are going I might get a game in the Ruck at Adelaide Oval this week with both Sam Jacobs and Stefan Martin out (note: yes, I hear the chorus of you all that there is no chance of that, and I agree!).  It would really suck if you have both of them in your team (like I do in SC!).  Clearly you need to trade here.  What is most annoying is that if we knew that Martin was going to miss two weeks we would have definitely traded last week, I didn't I held thinking I needed to save the trades!  However, in the case of Jacobs, I don't know if he will be right to go next week, all the rumblings are that he will be, but hey, we all thought Martin would be back this week too.  If you have both, I would probably lean towards trading Martin at this stage.  Jacobs has a far better run home, but this isn't without risk though, if he is even remotely not right for next week he will get rested again.  Surprisingly, Martin is also worth more in both AF and RDT (this came as a surprise to me, but it was that big game a couple of weeks ago that has done it).
Another player that is out for the rest of the season now is Hamish Hartlett, and just after he gained defender status in AF.  So he is a must trade in all forms of the game.
We see Dylan Shiel miss this week with a groin injury, he is listed as being out for one week, so you could possibly hold him.  Scott Thompson is out and is being managed, so we will see him back next week.
Thankfully Matthew Boyd has come back in this week.  This should see him through to the end of the season hopefully.  As we know with the Dogs we are now without Tom Liberatore.  There are some suggesting that he will be back for the last round, I wouldn't be taking any risks whatsoever, you should be trading him as soon as you can and to the best midfielder you can.  And in more bad news for the Dogs Jack Macrae is also out.  This will hurt more teams in draft leagues I suspect (I know he will hurt my DT Shiva team).  He is also listed as 3-4 weeks like Libba.  Once again you should be trading him out if you have him in your side.
Nic Nat and Sandi both return this week, At this stage I would be staying away from both of them.  Yeo is also back, he was only out with illness.  In the last game of the round the only out that may affect some is that of Orazio Fantasia who may still be in some teams.
The other name that we haven't seen on the list this week and this now makes it three weeks out is Aaron Hall.  This is very frustrating for those of us that have held him all this time!
Things To Remember
Overall rankings haven't finished yet, they go right through to the end of the season.  So even if you are out of the finals, don't give up!
No point holding back if you are in a cut-throat final.  Just get the absolute best team out on the park that you can.
Don't trade blindly, check Cal's Scale of Hardness to see what sort of run the guy you are getting has on the way home.
First week of finals can be tricky, make sure your team is all set an ready to go.  It can certainly be worthwhile looking at your opponents team.  Spend time reading Calvin's Captains as well, this decision can make or break you.  Good luck this week in your final and hopefully you are all still in the race for the flag when we meet again next Friday!  Cheers til then @pkd73