Versus: Round 20
Tom is back with a few players going head to head in fantasy.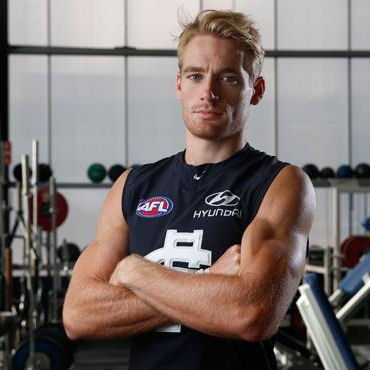 Tom is back with a few players going head to head in fantasy.
Trade Them In
Adam Marcon ($143,000) V Rupert Wills ($149,000)
Adam Marcon made his AFL debut on the weekend after being picked up by the Tigers with selection 47 of the 2015 Rookie draft. A mature-age prospect, Marcon, like close friend Kane Lambert, didn't take the traditional path to the big time but instead played very well with VFL club Williamstown. The obvious positive with being a mature-aged player is the opportunity to play against men, increase strength and gain experience. Marcon was outstanding in Williamstown's Grand Final victory, won the Fothergill-Round Medal as the leagues most promising young player and was named in the VFL team of the year. After earning a place on Richmond's rookie list, he collected 25 disposals on debut but was among many players who were not damaging by hand or foot. In the next three rounds a similar pattern appeared. He consistently posted big numbers but struggled to hurt the opposition. Perhaps this same scenario can be compared to Fremantle's Lachie Neale. In round 5 of the VFL, Marcon collected 29 disposals, laid six tackles in a genuine four-quarter effort. The following week he pushed forward but could only manage three behinds. In round 12, Adam played arguably his most influential game of the season and was evidently a cut above the rest. Although he wasn't a standout in the remaining games, Marcon was steadily building towards a senior debut. After a 10 tackle showing, that debut was granted. At 180cm and 80kg, unlike many debutantes, Marcon was more than able to hold his own against AFL listed players. As was the case with his reserves form, Marcon was steady. He amassed 16 disposals (9 kicks and 7 handballs), 4 marks, 5 tackles and 71 Fantasy points. It's fair to say Richmond were horrendous against GWS and given their current state, should be looking to get game times into their younger players. Things don't look like getting mush better with Geelong, Collingwood, St.Kilda and Sydney their opponents in the final four rounds. At $143,000, Marcon shapes as a perfect downgrade option on the midfield bench. It's a fairly low risk move but can he nail down a spot?
Rupert Wills sounds like he belongs in the posh streets of London, but actually he spends most of his time at the bottom of packs for the Magpies VFL team. He was born and raised in New Zealand and is yet another example of a modern day midfielder. He is tall, strong and explosive and reminds me of Bulldogs star Marcus Bontempelli. After playing consistent football with the VFL team throughout 2014, Wills could manage just six games last year before injury struck. As a result of his connection to the club, Collingwood read out his name at pick 63 in the most recent AFL draft. Wills excels around the contest, is a clearance genius, has no problem finding the ball and at times has been able to push forward and impact the scoreboard. In the opening round of the VFL, it was business as usual for Wills. In fact, the only thing that had changed is that he is now on the senior AFL list at the Pies. He was one of Collingwood's best in round 1, collecting 30 disposals and was able to back that up by dominating the midfield the following weekend. For the next couple of games, Wills struggled to have the same output as he did the first fortnight but still found plenty of the ball. Unfortunately he injured his calf in round 5 which eventually kept him sidelined for three weeks. But he bounced straight back and was brilliant in the contest in his return match. He started round 10 on fire in the first half but dropped off in the second. After the clubs bye, Wills has been sensational. He recorded 33 disposals in round 12 and six inside-50's the following week. However it was his games in weeks 14 and 15 which really sent a message to Nathan Buckley and the match committee. He managed a combined 20 tackles in these two games and was as strong as ever around the stoppages. His AFL selection ahead of the clash with West Coast is well deserved. Wills has been up there with the sides best in the VFL this season and was bashing the door down for a shot at the top. Rupert certainly didn't disappoint. He finished with 11 tackles as well as 17 disposals, 1 mark and 84 Fantasy points. Although his stamina may need some work, I like what I saw from Wills. He's clearly an eager tackler and a beast around the ball. I can see him being one to watch in the future.
Verdict: I quite like the look of Marcon and Wills. Both mature-aged players, the pair have plenty of experience at VFL level and didn't look out of place in the national competition either – although one game is a small sample size. Although I believe Wills is the better player, I would prefer Marcon over Wills based on fixtures. Both players job-security looks decent as far as I'm concerned, perhaps Marcon's is slightly higher?
Loading ...
Callan Ward ($465,000) V David Mundy ($459,000)
Callan Ward would have to be up there amongst the leagues most underrated players. He is a tough inside midfielder who does his best work at ground level. After spending time at the Western Bulldogs, Ward crossed the border to assume co-captaincy roles in GWS's inaugural squad. Ward's two way running is an obvious feature of his game and allows him to have a high impact all around the park. Ward was picked up by the 'Dogs with pick 19 of the 2007 Draft. Since then, he was won a best and fairest award (The Kevin Sheedy Medal), finished second in the same award twice, picked up an All-Australian nomination and been a warrior in the heart of a flourishing young midfield which already includes the likes of Stephen Coniglio, Josh Kelly, Lachie Whitfield, Dylan Shiel, Ryan Griffen and Tom Scully. But many would argue Ward has been a little bit disappointing in terms of Fantasy production. He started exceptionally well against Melbourne, racking up 28 disposals, 2 goals and 110 points but failed to hit three figures until round 6 against Hawthorn. In that very game, the Giants really announced themselves as premiership contenders and it was largely thanks to Ward and the rest of the midfield. He followed it up with perhaps an even stronger performance against Fremantle. He sparked attacks with 10 clearances to go with 32 disposals, 2 marks, 7 tackles and 113 Fantasy points. The fast moving Giants easily brushed aside Gold Coast a week later but the Bulldogs in round 9 was destined a real test. In the end, GWS was simply to slick and crucially came away with the four points. Ward, playing against his former club, endured his most brilliant game of the season so far. He amassed 30 disposals, 8 marks, 11 tackles and 139 Fantasy points but also registered 13 contested possessions. The Giants run of good form ended against Adelaide the next week. Ward went head-to-head with ace midfielder Rory Sloane and managed to lower his output. Ward managed just 64 points though as a result. This dip in form proved to be temporary after he scored 117 and 110 against Geelong and Sydney respectively. The past month and a half has been a bit 50/50 for Ward. He managed 118 against Brisbane but has, in contrast, produced two scores of under 75. This is the main reason as to why he is priced at just $465,000 after beginning the season at $555,000. The Giants face Gold Coast, West Coast, Fremantle and North Melbourne in the run home. According to Calvin's Scale Of Hardness, GWS sit in the best bracket alongside Adelaide and Geelong. The Kangaroos will be the hardest game for Ward but I can't help but feel he offers some value during Fantasy finals.
Last Sunday afternoon was a very Fantasy relevant game with the likes of Neale, Mitchell, Hannebery, Kennedy and Franklin all involved. But one name who wasn't expected to go big was David Mundy. Last year Mundy became a Fantasy relevant option when he was controversially awarded defender status is the new influx of DPPs. He went on to average a career best 105 Fantasy points after hovering around the 85-95 mark for the best part of five years. As his averages suggest, up until 2015, Mundy was an above average Fantasy player who was around the mark each year – you knew what you were going to get from him. But this year he has dropped down on that average by non-less than 20 points. This could be put down to not having Fyfe, the team performing so badly or the emergence of Lachie Neale. Either way, Mundy has been far from his best in 2016. The year didn't start well for him or the team he skippers. Mundy was restricted to just 67 points in a midfield which was comfortably beaten. He managed similar statistics the following week but this time finished with a more respectable 80 points. David missed the next three games with a calf complaint. He returned for the game against Adelaide with his side still winless. They left the night 0-6 and Mundy had virtually no impact on the game, scoring 71. He again scored 71 points the following week but was one of the Dockers better performers with seven clearances. Fremantle, who had now forgotten how to win, took Mundy out of his inside midfield role and flung him into a back line general role in the hope of turning things around. In that game, Mundy's kicking was disappointing but he found 29 disposals and toned up for the first time in the year with 109 points. He won 8 clearances against Richmond in round 9 but just 79 Fantasy points. Then the troublesome calf injuries returned, sidelining him for the clash with St.Kilda. He returned with a big ton against Essendon before mediocre scores followed in the next month. However Mundy has been back to his best in the past three weeks with scores of 112, 92 and 148 resulting in a sweet three round average of 117. However Freo do have a very tough run coming up. He's a risky choice but hey, you've gotta risk it for the biscuit and he may just win you a final.
Verdict: Callan Ward and David Mundy are very similar players. Both are contested ball kings and thrive on the tough stuff. Priced similarly, Ward and Mundy's clubs have the contrasting fixtures for the run home which should see them one team primed for the finals whilst the other wonders what went wrong. I'd lean towards the Giants skipper here but Mundy is in the better form.
Loading ...
Trade Them Out
Clay Smith ($326,000) V Sam Kerridge ($385,000)
Clay Smith's story is certainly unique. Over the years, many players have battled multiple major-injuries, Daniel Menzel's troublesome knees come to mind and Bulldog Clay Smith has been down a similar track. Smith has endured multiple ACL injuries and made his latest comeback in round 15. Before that he spent three games playing for Footscray. He immediately made an impact, collecting 35 disposals, seven clearances and and six inside-50's. The following week he was also huge with 18 contested possessions and seven clearances. The team then had a bye but Smith had done enough to earn his place in the Bulldogs senior team. He wasn't blistering against Sydney but he was serviceable and more and importantly, made it through unscathed. The next fortnight he posted back-to-back scores of 96, kicked four goals, laid 11 tackles and made Bulldog fans wonder what he would've added to the team had injury not gotten in the way. Smith scored 78 against St.Kilda and 67 against Geelong whilst his price has inflated to $326,000. Quite a number of coaches downgraded to Smith who was to be utilised as bench cover. However his consistent scores have led some to try him out on-field. If injuries did not hamper the 23-year-old, I'm confident he would have featured prominently at the top level. Clay was rated highly in his draft year and it was the Bulldogs who selected him with the 17th overall pick of the 2011 Draft. He was impressive for the Gippsland Power in the TAC Cup and was the south-east Victorian teams second pick in the draft behind Sam Docherty. Smith has the ability to play as either an inside midfielder where his pace, competitiveness, tackling and fearless nature allow him to perform well when given a crack. As the Bulldogs have the likes of Bontempelli, Macrae, Liberatore and Dahlhaus as mainstays in the midfield, players such as Smith, Stevens and Stringer are rotated through. When this is in action, Smith has performed well in a half-forward role where his intensive pressure is invaluable to the team. Unfortunately, Smith's comeback has occurred later in the season and although he is still making cash, upgrading your team ahead of the first week of finals must be first priority.
At times it has been ugly, but Sam Kerridge has done exactly what coaches expected of him. The former Crow turned Blue has made us plenty of cash, scored well and has even given us four hundreds. 'Kedge' was one of the most popular players in pre-season and for good reason. He spent four years at Adelaide who drafted him with pick 27 of the 2011 Draft. Born in Mildura, Kerridge was mainly used as a tagger during his time at the Crows but struggled to play consistent games.In fact, he has already beaten his previous highest games in a season. A move to Carlton was destined to see him be given plenty of playing time and at $299,000 he was hard to ignore in your starting Fantasy team. In round 1, he played a solid role in the midfield, collected 24 disposals and scored 92 Fantasy points – although he missed a crucial goal late in the game. He managed to kick two majors against Sydney though and was starting to look like a good pick up for Carlton. He was solid in the next two games but really fired up in the Blues win over Fremantle in round 5. He gathered 28 touches, 5 tackles, 5 marks and 102 Fantasy points. By this stage, almost all good Fantasy teams owned Kerridge who scored 91 and 89 in the following weekends. The first blemish of the season came against Port Adelaide in week 8. Kerridge managed only 62 Fantasy points from 15 disposals but was not the only Carlton midfielder to have an off day. He returned to form the following week though, scoring 104 points from 19 disposals, playing against Jamie Macmillan on the wing for the majority of the match. Kerridge could manage just five kicks against Geelong the week after but saved his score by laying seven tackles. In the match better known for Tom Rockliff's pig life domination, Kerridge was also outstanding. He racked up 30 disposals, 2 tackles and 139 Fantasy points but the highlight was his 16 marks. Against St.Kilda he played a negating role on Jack Steven for part of the game but still managed 87 points. He frustratingly scored 60's for the next three weeks but did score 107 against West Coast. Once again inconsistency took control, his worst score (50) coming in the narrow loss to Sydney the week after. He again played a tagging role on the weekend, this time on Sam Mitchell and scored 74 points. Kerridge knows how to find the footy and has a high work rate but his disposal by foot needs to improve as he fails to damage teams. He has been a solider this season and at one stage reached the price of $450,000. The Blues do have an easy run home but at this stage in the year, we need hundreds.
Verdict: These two players have generated plenty of cash, scored at a reasonable click and must be thanked for the role they have performed. Although Smith came along later in the season, he has been brilliant, even enabling us to stick him at F6 for a couple of weeks. The reality is that in due coarse, both must be shipped off in order to finish our teams. If you can afford to, I would look to trade Smith ahead of Kerridge as Sam's fixtures look positive. The return of Dahlhaus may see Smith play primarily as a forward too.
Loading ...