Ripe for the Picking – Making A Difference
How about a POD for the finals? Sparksy take a look at who is ripe for the picking this week.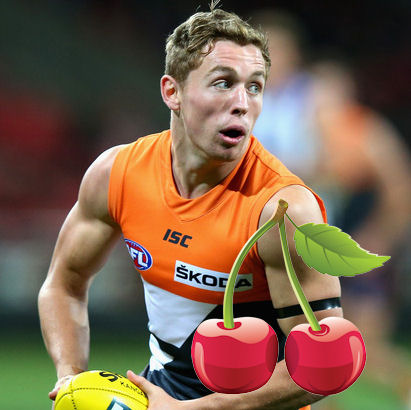 So, it's coming to the end of a season but it's certainly not over yet, especially for those in the top 100 ranked teams and for those who managed to get a Top 8 berth in their respective leagues. I thought I'd jump in for one last article this year to help you guys in choosing some players who aren't in other teams. Our squads all tend to look pretty vanilla (the plain old, same old) at this time of year, without being exactly the same. Having a player who's in sub-5% of teams, or even sub-10% of teams, come this time of year can literally be the difference between winning it all and losing it, whether it be your league or even the whole competition. So here it is, my top 3 PoD's (Player of Difference) for each position.
Defenders:
Corey Enright ($450,000 BE 73 Ownership: 3.37%) – Last weekend Boris broke the games record for Geelong and, on a more important note, rounded out his last three average to 105.3, extremely respectable for any defender! If you want somebody who can go big, Enright is probably not for you with a high score of 117 this season. I should also point out that his highest season average has only been 91.2 which isn't massive but it's hardly something to scoff at. The main thing that gets me on board with Enright is the fact that he's hit such a rich vein of form at the perfect time of the year. Next to nobody has him in their teams and he's got a last three average better than all of the top priced defenders except for my main man Docherty. That's right, you would have gone better having Enright in your team for the last three weeks than you would have if you have Shaw, Simpson, Kelly, Laird and Boyd. Wish I had have worked this out three weeks ago… Something else that brings up is the fact that, for a premium Defender, Enright is cheap as chips. Shaw is only $7k more but none of the other 'Premium' Defenders are within $25k of him, that's pretty good value. Even better for you guys, the rest of my options are cheaper! Obviously, and this applies for all the options listed, you have the chance of these players going downhill quickly but that's the risk you have to take to get players that nobody else has and Boris is definitely one of the less risky option, if he goes downhill you're only going to be stuck with something around a 70 and that's not going to be for every week. Also, Geelong's run home is pretty dreamy with a lot of teams that don't dispose of the footy well going forward, which means delicious intercept marks for Enright and his Cat Defender pals. If you need a Defender, even if you can afford anybody, Enright is one to strongly consider.
Zachary Williams ($428,000 BE 89 Ownership: 3.94%) – How many times do I have to tell you all to get this boy? Unfortunately for me, Zac had a few sub-par weeks between Round 16-18, but he gave all 5931 of his owners a beautiful 102 on the weekend and I am revelling in the fact that none of you have him and he's bringing me extra rankings weekly because of it, so in a way I guess I should be thanking you all! (thank you) The only downside I can see from Williams is that he plays Fremantle again in the run home which is who he had a season low of 44 against earlier in the season, but even then he plays them at Spotless this time so I certainly can't see that happening again. He should definitely hit the hundred again this week against Gold Coast and the week after against West Coast, that's two tons right there that 96% of the competition won't get. Sold? You should have been about 12 weeks ago, but that's okay, I'm happy for you guys to just let me and 5930 other people enjoy his greatness while you all have Bernie Vince sitting there in his new-old role and scoring like a spud.
Shaun Burgoyne ($440,000 BE 60 Ownership: 6.99%) – Here's one that I thought would be a fairly out there choice but apparently a lot more of the Fantasy world value Silk's 82 average more than Williams' 86 average or Enright's 87 average. Why? Nobody really knows. What I do know, however, is that Burgoyne is coming home with the wettest of sails. This old fella is wired to absolutely thrive come prime time and that's good for so many reasons. Firstly, it's getting close to finals time which means he's kicking into gear with a last three average of 107.7 including a very solid 134 against the Swans three weeks ago. Hawthorn don't have the easiest run home and they love a nail biter. Now, you may be thinking I've lost my bearings as this is generally considered a bad thing but, what these close games mean is that Hawthorn will put their most resourceful on-ballers in the guts. Who is arguably their most resourceful midfielder you may ask? Why, Silk Burgoyne of course. (other than maybe SMitchell). This means junk time points, lots of them, in a game that probably shouldn't have a lot of, if any, junk time. He's also solid for a goal a game lately, maybe two, which is invaluable points considering he's in our teams as a Defender. He also plays for Hawthorn (obvious point, I know) which means he doesn't need to play one of the hardest teams to score Fantasy points against for the past 4 years. So, in short; legendary end-of-season form, doesn't have to play against Hawthorn, is relied on in close games, capable of scores over 130, cheaper than Enright. The downside is he's owned by almost twice as many people as Enright and he's capable of just pushing out 60's for the rest of the season. I'd go Enright before him but, each to their own.
Jamie Macmillan ($380,000 BE 41 Ownership: 0.82%) – I just wanted to quickly mention an option for only the bravest, fearless and most hectic of Fantasy players. In his last two he has 94 and 118. Now, this is against Collingwood and St Kilda, two of the easier teams to score against, and it's certainly not a role change as he's playing pretty much solely in the backline so I don't really know how he's found this form. BUT, that's an average of 106 in his last two games, he's cheap, low breakeven which he will definitely make this week and is owned by just over 1000 players. He has a terrible run home so this is definitely not for the faint of heart, but could you bring him in?
Midfielders:
Before we start, I'd just like to quickly talk about Josh P. Kennedy ($566,000 BE 78 Ownership: 4.86%). Joshy PK is destroying everybody in his path, especially the Dockers last week, amassing a huge 3 goals, 45 disposals and 156 Fantasy points. The reason I'm not mentioning him is because I think the boat has been missed. Yes, he will keep doing what he's doing (maybe not as well as he did last week every week) but at this time in the season dollars are everything and he's just too expensive now I think. If you don't care about money and live a lavish lifestyle, JPK is a great option although you might want to read on.
Taylor Adams ($527,000 BE 75 Ownership: 1.93%) – He has caused all owners in any form of the game absolute hell this year with all his injuries, not least because the bloke can accumulate when he's actually on the field, he's just never there consistently enough to do it. He has however now strung four consecutive games (and four consecutive tons) together and is worth every penny. If you got him last week, or the week before, very well done and I'm glad that risk has paid off for you. The run home for Adams isn't terrible either but apparently it doesn't matter who he plays with 104, 123 and 103 against GWS, Adelaide and North Melbourne respectively. I would be very surprised if he goes below 100 for the rest of the season and probably just as surprised if he doesn't go down with an injury. If it wasn't for how prone he is to going down, this is a no-brainer and it has absolutely killed me that he's just a midfielder because I could round out my team with non-rookies if he was a forward, but I will still be doing my absolute best to get him in this week. Owned by less than 2% of the competition and potentially a Top 10 Mid, I would be surprised if Adams is NOT considered a PoD next week.
Stephen Coniglio ($533,000 BE 102 Ownership: 3.82%) and Marcus Bontempelli ($534,000 BE 121 Ownership: 5%) – So, I couldn't split these two and decided to do a joint paragraph instead of two separate ones because they're extremely similar. Both Cogs and Bont have a sweet run home, both have a last 5 of almost 110, they're within $1k of each other's prices and both are owned by next to nobody. Coniglio is in better form than Bontempelli, purely because Bont had an 85 on the weekend compared to Cogs' 107, but that really doesn't do much to split them either considering all players or prone to a sub-100 game here and there, it's just that Bont timed his a little more poorly than Coniglio did but the Giant's midfielder could potentially do the same before the end of the season and he could be in your team when he does. One thing is for sure though, while Adams should gain hugely in popularity, going up by at least 10% ownership if Fantasy players are as smart as they should be, Coniglio and Bontempelli should have plateaued in ownership and shouldn't gain greatly before the end of the season. Don't get both of them but, if you can get one of these guys before season's end it would be very worthwhile as far as I'm concerned.
David Mundy ($459,000 BE 47 Ownership: 1%) – Here's a favourite of mine that I can see making a huge difference with what he can achieve. He's a bloke who can be an absolute star when he's in the guts and getting some of the ball but he gets overshadowed by the three-pronged attack of Neale, Barlow and Fyfe. Two of those boys are injured, one for the year and one for nobody knows how long, so you could probably safely assume he will be the #2 man for the remainder of the season. This is perfect because Neale will get the tag if there is one and so Mundy will be left free to roam and boy does he relish that opportunity. On the weekend Mundy had 44 disposals, 4 tackles, 4 marks and a goal, all working towards his 148 against the Swans. Combining that with a 92 against Gold Coast and 112 against Geelong give him a last 3 of 117.3 which is prime for a midfielder, I'd be happy with having a midfielder at $460k giving me an average of 117.3 for the last 3 weeks. Oh, that's right, I forgot to mention, he's $459k! That's almost $70k less than Taylor Adams! And Mundy could have a very similar scoring potential if he continues this way. He's also owned by 1507 coaches, so this is a PoD who can score 148 and is owned by literally 1% of the competition. Talk about a competition winner, high risk, high reward, worth every cent if you decide to go with him.
Rucks:
Brodie Grundy ($522,000 BE 88 Ownership: 3.79%) – This is an intriguing PoD purely because the rucks are about as vanilla as it gets and yet everybody has a different combo of the 3 big names. Gawn, Martin and Goldstein dominate the two on-field ruck positions in every league and if you have somebody different (possibly with the exception of Blicavs, Jacobs who is now injured, and the man mentioned above) you're losing easy points. Therefore, if you've got nothing better to do, getting Grundy in could possibly be the difference you need. You'd have to be desperate as Gawn, Goldstein and Martin (who missed last week) don't go wrong too often but hey, sometimes winning calls for desperation, right? I don't rate this move highly or anybody else in the ruck position. I'm loving Naismith and Smith's work but not as an on-field ruck, and why would you trade out a good scorer for potentially a more expensive player who scores the same? But, as I said, if you're desperate…
Forwards:
Devon Smith ($415,000 BE 54 Ownership 0.71%) – To everybody who has him or is bringing him in this week without my help, I'm so sorry, but it is my duty as the writer of this article to inform the Fantasy Universe of this hidden gem. I can see why everybody has passed him up, at Round 16 this bloke had an average of 66 and a high score of 72, not exactly Fantasy gold I know. However, from Round 17-19, Devon has been cheap Fantasy dynamite! 110, 94 and 105 give Smith a last 3 of 103 and has taken his season average from 66 to 79.9. It may not seem amazing but raising your average almost 14 points over 3 games is very impressive. He also plays Gold Coast this week which is a gimme as far as points are concerned. However, the real kicker is something you may have taken notice of at the start of the paragraph. Remember when I mentioned Jamie Macmillan in the Defenders section and you were all thinking "this guy is off his rocker" and probably stopped reading then? Well, Devon is owned by less people than Macmillan and he's currently on a tear. I really want to tell you all not to get him because I don't want him owned by everybody and more people benefitting from this legend, but you'd be silly not to consider it.
Luke Dalhaus ($455,000 BE 130 Ownership: 6.85%) – The key dog got injured a few weeks ago and returned with an 88 on the weekend which means he still has a fairly difficult to achieve breakeven which in turn means you could probably wait a week to get him. He is on my list this week despite his breakeven as I try to round out that forward line of mine and get those pesky final rookies, who survived last week due to Thursday Teams carnage, off my field. Before his injury Dahl had a season average of 98.5 and a low score of 75 which is not too shabby for a sub-$500k player. To top it off, after playing North Melbourne this week he finishes off the season with Collingwood, Essendon and Fremantle and the first two of those games are at home under the roof. Did you hear that? That's the Fantasy community licking their lips simultaneously because this dog is about to feast.
Jack Gunston ($467,000 BE 81 Ownership: 8.1%) – Gunston's 86 last week along with the fact that he isn't as unique as I thought brought him down a few pegs in my books. I know an 86 isn't too terrible but I'm not bringing in a player to give me 10-20 points more than one of my rookies who still have cash to make me on my bench. However, Jack has had a stellar season and has gone unnoticed, or rather unrewarded, by most fantasy coaches. 116 and 122 against the Swans and Tigers respectively rounded out his last three average to 108 and a big part of this is the fact that Jack is averaging 5 scoring shots per game over those three rounds. That could also be a worrying factor as, if he gets shutdown, that's probably 20-30 of his points gone but he's still definitely worth considering. A few people in my league have him and it gives me a sense of superiority when I see that they've picked a mid-sized spearhead who's fairly alone in being a big target for his team. This superiority is then burned by the fact that Gunston posts a 110+ score on me and I have the likes of superstar Mid/Fwd's Robbie Gray and Dayne Zorko giving me sub-100's. If you want this sort of power over your league opponents and a key forward who never stops working, bring in Gunston.
So that's the end of my final article for this season. I'd like to give a big shout out to the DT Talk boys for giving me this opportunity to spread my advice across the Fantasy World and give all of you players the low down on value picks, fallen premiums and PoD's throughout the season. Hopefully I've done enough to keep writing this article next year! Any questions/comments or anything of the sort, chuck me a tweet @Sparksy361 or leave a comment below, I try to get back to as many as I can. Good luck in finals and increasing your rankings, see you next year and happy trading!
Sparksy