Jeppa's Juniors – Round 19
Don't miss Jeppa's last article for the season! There's plenty covered including the best crop of rooks available, Twitter Q&A and voting on the best 'junior' for 2016. It's action packed.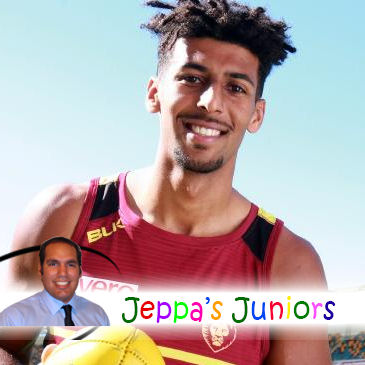 Can you believe Fantasy finals are here!? I've enjoyed this season thoroughly and I hope you have too. Whether it's for overall ranking or a league victory, we've still got plenty to play for. Thankfully, a few quality youngsters will see us through these last four rounds but who should we be targeting?
THOSE THAT MATTER
Sam Menegola (Mid. $200,000, -29 be AF. $121,300, -111 be DT) – Backed up his ton on debut with 81 Fantasy points against the Dogs. As good as his Fantasy scores have been, Menegola may not be in Geelong's senior side much longer. How does Chris Scott fit Menegola, a healthy Josh Caddy, both Selwoods and Danger all in the same team? He can't but Danger, Duncan, Jelwood are due for a rest in my opinion hence why we should see our prized cashcow for a couple more weeks yet. If the short-term cash injection suits your plans then take the punt and trade him in.
Rupert Wills (Mid. $149,000, -12 be AF. $121,300 DT) – Posing a strong body, Wills loves to tackle and he set a new record on the weekend with 11…the most by any AFL debutant. Fantasy coaches love a tackling machine especially when they're cheap rookies. Like most inside mids, Wills is handball happy but you can still lock in 65+ from him each week making him ideal bench cover. Sure, job security is far from guaranteed but we're nearing the end and he's worth the risk in my opinion.
Adam Marcon (Mid. $143,000, -5 be AF. $105,800 DT) – Even though the Tigers got pumped, Marcon was far from disgraced. The mature age on baller did not look out of place and he actually ran hard both ways, which is more than I can say for other Richmond mids! Marcon did make a few mistakes with the ball in hand but I'm confident Richmond will give him a go in these final rounds. Expect scores in the low 60's from this point forward. Consider.
Michael Apeness (Fwd. $120,000, 45 be AF. $128,200 DT) – After making a full recovery from a broken collarbone, Apeness is looking to end the season on a high. Freo's developing key forward is coming off 5 goals in the WAFL on the weekend and reports are that he'll line up in the derby on Sunday. With scores likely in the 50's, Apeness is one you'd definitely write-off at F8. Super cheap!
Archie Smith (Ruc. $154,000, -20 be AF. $121,300 DT) – All rooks need is an opportunity and boy oh boy did Smith relish his chance as the Lions number one ruckman last weekend. He wasn't going to die wondering on his way to 19 possessions, 1 mark, 30 hitouts, 5 tackles and 96 Fantasy points. He was Brisbane's best player! Naturally, the dynamics of Smith playing alongside Stefan Martin will hinder both players scoring potential but he's still cheap enough to trade in. I'm conveniently in the market for an R4.
Josh Schoenfeld (Mid. $207,000, 6 be AF. $121,300, -68 be DT) – Was quiet in his second senior game against the Dees but showed enough grit to lay 6 tackles. Schoenfeld hails from Rockingham so he's as tough as a coffin nail thus the rough stuff is no problem for him. Given the Suns injury crisis, Schoenfeld has no job security concerns and he rarely wastes a possession. A solid option.
Reilly O'Brien (Ruc. $125,000, 25 be AF. $121,300 DT) – A slight ankle injury to Jacobs means O'Brien will suit up for the Crows in Round 20. The big fella had 15 possessions, 4 marks, 34 hitouts, 4 tackles, 1 goal and 106 Fantasy in the SANFL on Saturday and gave Lobbe a touch up in the process. Realistically, O'Brien plays just one game so he's for those coaches that cant spend the extra on Archie Smith at R4.
Brayden Fiorini (Mid. $166,000, 33 be AF. $139,300 DT) – Who you say? Fiorini is a goal kicking midfielder that wins a heap of the ball making him very Fantasy relevant. He's honestly a replica of Steele Sidebottom. Last year's pick 20 has had his injury problems this season but thankfully he's ready for a crack at the big time. Expect Eade to play him as an outside midfielder against the Giants and don't be surprised when he scores 70 plus. All in all, it's probably wise to wait and see what Fiorini produces this week before trading him in.
TOP 5 LISTS
Considering price, scoring potential and job security, here's my Top 5 rookie downgrade options for Round 20:
Fantasy
Sam Menegola
Rupert Wills
Archie Smith
Adam Marcon
Brayden Fiorini
Dreamteam
Sam Menegola
Josh Schoenfeld
Rupert Wills
Archie Smith
Adam Marcon
Twitter Q&A
@JeppaDT Dahlhaus, Laird or Taylor Adams best option this week, must win to stay in finals. Any help appreciated.

— Craig (@Subdubb) August 2, 2016
Adams, no question. He's got a better ceiling than Haus and Laird.
Time for C.Smith to go?

— jacob danias (@danias2000) August 2, 2016
No! Should get more midfield time with the Dogs injury woes.
thoughts on Devon smith?

— Kosta Viglis (@Kosta_V01) August 2, 2016
Love him but I love Dahlhaus more.
thoughts on what Archie smith will score this week with stef back?

— Clay Muirhead (@CMuirhead14) August 2, 2016
50 to 60 Fantasy points
best premo mid to get in? Already have Adams, Treloar, Rocky, Danger, Hanners etc

— LB (@fantasytragic) August 2, 2016
Neale or Lewis
Best WA fantasy coach? I heard that Chiefs Bananas was challenging you hard for a little while?

— Matt (@KenwicksFinest) August 2, 2016
Interestingly, 5 of the current top 12 Fantasy teams are from WA. Sandgroper represent!
https://twitter.com/RickittyRekd/status/760436023113297920
Hodge. He'll ton up against the Dees.
@DTTALK if sauce is out would you play blicavs or naismith at R2? Planning on trading Kerridge & Sauce > Adams & Devon Smith

— Aaron Walton (@azza3006) August 2, 2016
Naismith. Blics looks out of sorts this season. Good trades too!
2016 AFL Fantasy Rookie of the Year
It's time to vote for this season's best Fantasy rookie. Select the 'junior' that you believe was the most valuable throughout the season. Consider scoring, games played, consistency, and the like.
That's a wrap! What a year. I hope you have enjoyed my research and opinions. This job isn't easy but I enjoy it immensely. Good luck in the finals and be sure to send through your questions via the article or Twitter @JeppaDT.