Roy's Trade Talk – Round 20
It's finals time ladies and gentleman, so have a read, then discuss your all important trades in the comments.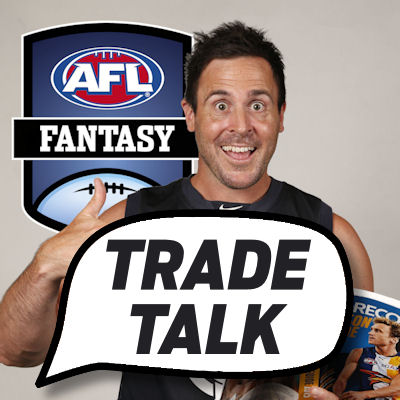 It's finals time baby… so that means win at all cost if you finished between 5th and 8th. If you are willing to pay the big bucks, its easy to take your pick of the in form superstars, but as cash can be hard to come by at this time of year, I am going to look at a few under-priced guys that could finish the year like a steam train.
Throw a blanket over them:
Devon Smith (FWD, $415,000) has been back for four weeks since recovering from injury, and he hasn't missed a beat in the last three with an average of 103. Although break evens are almost irrelevant in some cases at this time of year, Smith's low requirement of 54 certainly reinforces his value.  His tackling pressure was outstanding against the Tigers on the weekend, laying a season high 14 on his way to 105 points. He has some mouth watering match ups on the way with games against the Suns, Eagles and Dockers over the next three weeks.
Steven Motlop (FWD/MID, $404,000) has turned around his mid season form slump to boast a three game average of 97 where he carries a low of just 94 in that time. I am also a big fan of his draw, in fact, its bloody ridiculous with games against the Bombers, Tigers, Lions before facing the Demons in the GF round. My only concern with Motlop is that most of his big games this year have occurred at Simonds and he won't be there against this year until the big dance.
Luke Dahlhaus (FWD/MID, $455,000) came back from injury last week and scored an impressive 88 against the Cats at the Cattery. His midfield importance is at an all time high on the back of the Doggies horrible run of injury, so I am expecting a triple figure average for the remainder of the season as he will attend as many centre bounces as any of his midfield teammates for the remainder of the year.  Apart from a tough game this week against the Roos, he should dominate against the Pies, Bombers and Dockers in the GF.
Toby Greene (FWD/MID, $456,000) Some would justifiably  argue that Greene is in fact the safest  pick of the lot with only one score under 84 in the last seven weeks, while managing three scores over 110 in that time. He should have a field day over the coming weeks, starting with a big one against the Suns.
Put your pills on the line Roy
Luke Dahlhaus
Devon Smith
Toby Greene
Steven Motlop
Cheap Defender
Rory Laird (DEF, $478,000) Despite his good form with three hundreds in his last four games, Laird is still priced way under what he will average in the run home, starting with another triple figure score against the Lions this week. Looking ahead to the Preliminary final he faces the Power, who he scored a season high 136 on earlier in the year.
Also consider Heath Shaw (DEF, $457,000) and my mate Zac Williams (DEF, $428,000) if you are strapped for cash.
DPP Madness
You know I love DPP, sometimes to my own detriment, but hey, that's how I roll. If you are looking to offload someone like Clay Smith (FWD/MID, $326,000) in your forward line, or (Fantasy Gods forbid) Zach Merrett (FWD/MID, $606,000) is rested this week and you need to cover with a trade out, or upgrade a bench player to cover him with, make sure you consider the value in moving Sam Naismith (RUC/FWD, $247,000) forward from the ruck bench as he should score respectably against Port.
Twitter Time:
Do I trade Rocky to Danger this week? I can't get to him any other way. He's a must C against bombers surely @RoyDT @CalvinDT @WarnieDT

— Kyle J Nowland (@kylejnowland) August 1, 2016
I can see why you really want Danger this week, but there is no way I can recommend that trade. Have a look at Rocky's past 8 weeks or so.
@WarnieDT @CalvinDT @RoyDT Should I trade Kerridge to Dahlhaus and Duncan to Adams or Clay Smith to Dahlhaus and a rookie downgrade

— Alex Morgan (@AlexMorgan4816) August 1, 2016
Trade Clay
@WarnieDT @CalvinDT @RoyDT currently have Boyd, Shaw, Doch, Simpson, Laird – who should be my final Def? Bartel, Kelly, Houli, JJ, others?

— DFK (@kluptastic) August 1, 2016
Bartel for me
@DTTALK @WarnieDT @CalvinDT @RoyDT kelly or simpson in for kk?

— Brock Topfer (@brock_topfer) August 1, 2016
Simpson
@WarnieDT @RoyDT Zorko or Reiwoldt?

— Matthew Cupo (@mattcupo23) August 1, 2016
Zorko less chance to be put on ice before the year is out
@RoyDT