Finals Time – Ep. 91
The first week of the finals is here! The boys help you chase your premiership dream including Calvin discussing his Scale of Hardness.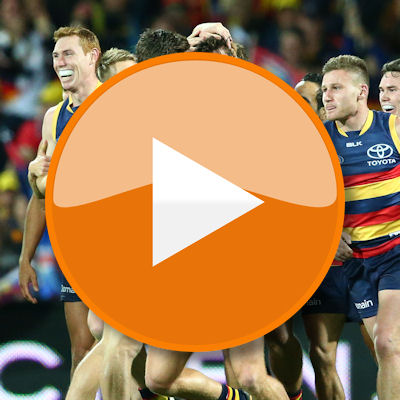 The Traders get you sorted for the first week of Fantasy finals. Whether you're in the top four with a double chance or facing elimination, the boys will talk through the moves to make this week and Calvin adjusts his Scale of Hardness of the last four weeks. Plus your questions answered and a whole lot of fun on the official AFL Fantasy podcast with Roy, Calvin and Warnie.
Click here to subscribe on iTunes. (Please leave a rating and review to help us move up the charts).
.@CalvinDT will discuss his 'Scale of Hardness' on tonight's official #AFLFantasy podcast. https://t.co/ALLzkyKMaQ pic.twitter.com/g7OADcyULG

— DT Talk (@DTTALK) August 1, 2016
AFL FANTASY POINTS FOR AND AGAINST (LAST 4 ROUNDS)
| CLUB | PTS FOR | >100 FOR | >120 FOR | PTS AG | >100 AG | >120 AG |
| --- | --- | --- | --- | --- | --- | --- |
| ADE | 1691.25 | 3.75 | 1 | 1603.75 | 5 | 0.75 |
| BL | 1390.75 | 2.75 | 1 | 1734 | 5.25 | 2 |
| CAR | 1537.5 | 4 | 1.25 | 1569.25 | 3.25 | 0.5 |
| COLL | 1682.25 | 4.5 | 2 | 1548.75 | 3 | 0 |
| ESS | 1563.75 | 3.5 | 1 | 1652 | 4.5 | 1.5 |
| FRE | 1555.25 | 3 | 1.5 | 1849.25 | 6.75 | 1.75 |
| GC | 1589.5 | 3.5 | 1 | 1644 | 4.25 | 0.5 |
| GEE | 1649.5 | 4 | 1 | 1509.5 | 1.75 | 0.75 |
| GWS | 1668.5 | 4.5 | 1.25 | 1553.5 | 3.25 | 0.75 |
| HAW | 1634 | 4 | 1.5 | 1427.5 | 2 | 0.25 |
| MELB | 1725 | 6 | 1.25 | 1447.75 | 1.25 | 0.5 |
| NM | 1508 | 2.5 | 0 | 1450.75 | 2 | 0.25 |
| PA | 1522.5 | 3.5 | 0.5 | 1468 | 2.25 | 0.5 |
| RICH | 1605.75 | 2.25 | 0.5 | 1702 | 4.25 | 1.5 |
| STK | 1523.25 | 2.5 | 0.5 | 1543.25 | 3 | 0.5 |
| SYD | 1615 | 3.5 | 1 | 1615 | 5 | 2.25 |
| WB | 1658 | 3 | 0 | 1619.5 | 2.5 | 0.5 |
| WC | 1480 | 3 | 0.25 | 1625 | 4.5 | 1.75 |
AFL FANTASY POINTS FOR AND AGAINST (SEASON)
| CLUB | PTS FOR | >100 FOR | >120 FOR | PTS AG | >100 AG | >120 AG |
| --- | --- | --- | --- | --- | --- | --- |
| ADE | 1674.11 | 3.44 | 0.89 | 1539.39 | 3 | 0.94 |
| BL | 1436.89 | 3 | 0.94 | 1659.67 | 4.56 | 1.11 |
| CAR | 1558.56 | 3.94 | 1 | 1552.33 | 3.28 | 0.83 |
| COLL | 1607.94 | 3.44 | 0.94 | 1626.06 | 3.61 | 1.22 |
| ESS | 1606.89 | 3.83 | 1.167 | 1669.94 | 4.11 | 1.22 |
| FRE | 1549 | 3 | 1.11 | 1699.06 | 4.94 | 1.33 |
| GC | 1518.28 | 2.83 | 0.94 | 1657.83 | 4.39 | 1 |
| GEE | 1639.39 | 3.94 | 1.17 | 1491.72 | 2.72 | 0.78 |
| GWS | 1662.33 | 4.56 | 1.11 | 1488.06 | 2.33 | 0.44 |
| HAW | 1618.67 | 3.89 | 0.78 | 1516.89 | 2.5 | 0.72 |
| MELB | 1612.11 | 3.89 | 1.11 | 1582.44 | 3.33 | 0.83 |
| NM | 1541.83 | 2.67 | 0.61 | 1479.94 | 2.56 | 0.78 |
| PA | 1536.44 | 2.89 | 0.5 | 1578.11 | 3.44 | 1.06 |
| RICH | 1553.56 | 3.28 | 0.89 | 1568.72 | 3.11 | 1 |
| STK | 1564.44 | 3.33 | 1.28 | 1638.78 | 3.56 | 0.89 |
| SYD | 1629.39 | 4.17 | 1.44 | 1565.5 | 3.56 | 1.11 |
| WB | 1693.89 | 4.11 | 1.06 | 1610.06 | 3.28 | 0.72 |
| WC | 1551.11 | 2.83 | 0.44 | 1614.17 | 4.11 | 1.33 |