The Friday Scramble: Round 19
This is it,the final minor round for all those leagues that haven't started finals yet. So, if you aren't in the top 8, this is the time to shine and do bloody everything you can to to get in there.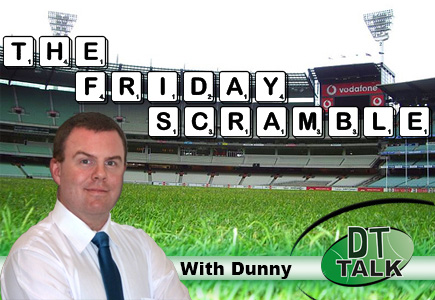 This is it,the final minor round for all those leagues that haven't started finals yet.  So, if you aren't in the top 8, this is the time to shine and do bloody everything you can to to get in there.  You can't win it if you ain't in it!  We are all struggling at this time of year with some issues with our teams.  So let's have a look at them and see what the hell we can do with the rabble!
Finals Frenzy
Unless you put some custom settings into your leagues you are facing the last minor round before the finals begin.  So there are a number of strategies you may want to be employing at this stage of the year, obviously that depends on where you are on the ladder.
Now of course this advice is based on those of us that are going for league wins and aren't focused on the overall ranking.
If you are locked away in the top 4 and can't move then you may want to hold and ride out the carnage if you are in limited trade games.  In AF you may want to consider doubling down on your bench if you can and building a Warnechest to enable you to make a couple of big upgrades next week.
If you are fighting to make the top 8 then you simply do whatever the hell you can do to get you over the line, no holding of injured premiums.  You should trade them out and make sure you are contesting finals.  If you aren't in it you can't make it to the big dance.  If you do have to trade then you should have a look at your opponents team and try and bring in a unique that might get you over the line.
Rucking Hell and other problems!
I reckon I use that headline each season, there is always one bloody round where we get caught out.  This time we have Stefan Martin, now he is listed as being rested, seriously Leppa, what are you thinking?  Yes, Port don't have a ruckman, don't you want to exploit that?  And what do you call the first half of his season?  I call that a rest don't you?  Lastly, you aren't going to make finals and you beat Essendon last week to make sure you didn't finish last, so what are you actually thinking? (Yes, I know he doesn't care about us Fantasy coaches and neither should he, but if he wants to keep his job I would be playing the best team he can).  The decision to trade him or not is simply going to come down to the number of trades you have left in the limited trade formats.  The obvious choice to go is to Max Gawn and if you can do that it is certainly the way I would go.  However the main problem is that he costs a fair bit more than Stef thanks to Stef's rubbish start to the year.
But that isn't the only problem we have….  here are some of the other issues we are facing this week, just the week we don't want problems!
We only have to wait til tonight for the first bloody problem.  Matty Boyd was always a risk to be rested, however, with the Dogs fighting to get as high as they can in the finals we all thought it wouldn't happen.  How wrong we were!  But what Beverige taketh away he also giveth and we see the return of Dahlhaus.  Don't get him yet.  Personally I would wait and see how he performs this week.
Houli returns this week which is a positive, at this stage I would be leaving him alone like Dahlhaus. But just like the Tigers, bad news too.  We all knew Castagna was a risk and unfortunately he has been omitted.  I thought he had done enough to keep his spot, but clearly Dimma thinks differently.
Good news for us is that Port have left Kane Mitchell out.  Now we all know that he isn't fantasy relevant, but he is the guy that has been doing all the tagging for Port.  So this means that I suspect Kenny isn't going to be doing any tagging.  So Rocky, Zorko and Rich should all be safe to run amok!
Interesting that Connor Blakely has been rested by Freo, but I suspect this is more a management thing than anything else.  He should return next week in my opinion.  But who can actually read what Ross will do!
Lastly, we have Taylor Walker missing with an ankle injury.  But given his poor scoring of late and the fact he is a key forward you shouldn't have him in your team.
#AskDunny
Bring in Dangerfield or bring in Taylor Adams +133k? money could be handy with not many downgrade targets #askdunny

— Sam (@AFL_Rants) July 27, 2016
Thanks for the question Sam.  Now I did clarify with Sam and he told me that this was in AF.  This does make a big difference to my answer.  Firstly I question why don't you have Danger already.  But that is a whole other ball game.  In this case I would be looking at taking in Taylor Adams for two reasons.  Firstly to make sure you have some extra cash available for future upgrades but also because Adams is somewhat of a unique and you could win some games based on his uniqueness.
Is Martin worth holding if Naismith is on your bench? @pkd73 @DTTALK

— Gareth Evans (@garethevans38) July 28, 2016
If you are talking RDT or SC then yes, this is the right play to make to conserve trades for the finals.  But if you have heaps of trades then you could trade him.  In AF, I would simply be trading Martin given our two trades per week (assuming you don't have other bigger issues to deal with).
wingard (don't ask) upgrade. NRoo? Any mid under 533k ? or docherty/Simpson? 1 spot left in mids and forwards with C Smith floating

— Jay (@ion_jay) July 28, 2016
Ouch, even as a Power fan I don't have Wingard.  But I can certainly see why people would have picked him.  You haven't mentioned who you would be trading out of the backline for Docherty or Simpson, but personally I think they are pretty much must haves.  However, if you are looking at Mids under 533k, one guy I am looking at is Lachie Neale.  His value is good but of course the Dockers don't have a great run home, all of their remaining games are against Top 8 teams.  Other guys I would look at is Treloar, Pendlebury or Adams.  Collingwood have a slightly better run than Freo (not hard really) and all have been scoring well lately.  Treloar and Pendles are owned by a lot of teams and Adams is more of a unique.
Things To Remember
Finals time is around the corner, no guts no glory!
Never doubt Rocky…. or Calvin.
You may need to eat a donut this week to conserve trades.
This is going to be a tough week but just remember, it isn't just you that is going through these issues this week, we all have our own problems with our teams.  So do whatever you can to get your team over the line this week.  Hopefully we will all meet up in the finals!  Good luck and see you all next Friday!  @pkd73