Calvin's Captains – Rd. 19
Need a captain, or even just some information about super premiums and how they will go this week? Check out the pirates take on it all.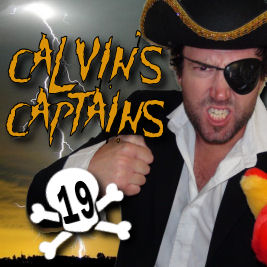 FRIDAY NIGHT FEAST
On Friday night, it's Geelong hosting the Bulldogs at Simonds Stadium and after scores of 118, 130 and 139, how can we possibly look past Patrick Dangerfield? He scored 143 when these teams previously meet in round 13 and now he's back at his new home ground that has seen him average 119 at this year.
Last week, Jack Steven racked up 39 touches against the Dogs for his 145, so surely the #4 form player in the game right now will have another great score… how can he not?
Joel Selwood had 102 on these guys a few weeks ago and scored 106 last week. He's been getting it done for his coaches along with those who have jumped on board the "Marcus Bontempelli train."
The Bont has averaged 114 in his last 5 games this year and had 104 on the Cats in round 13. He is really starting to fire and no one can see him slowing down.
The thing to note here though is, Geelong are the fourth hardest team to score against right now and even Lachie Hunter might find it tougher than recent weeks.
Hunter had 91 on them earlier this year and last week, only one Crow managed triple figures. It's a tough game coming for the Doggies this week, but expect another huge score from Danger, along with the likes of Selwood and even Duncan to chip in with a nice 100+ themselves.

Click here to subscribe on iTunes. (Please leave a rating and review to help us move up the charts).
BACK TO THE STY
After Tom Rockliff scored a huge 179, just one short of my prediction, he heads home to the GABBA Sty to take on the Power.
The issue here isn't the fact he returns to the Sty where he has scored 128, 135, 142 and 132 in his last four games there this year. It's the fact that Port are his worst team to score against over the course of his career.
Here is a break-down of his last few games against them… hit it Cal
2016 – 33pts after a hammy injury in the second quarter
2015 – 90pts and tagged by Kane Cornes
2014 – 133pts, no tag for his 30 touches and 13 tackles
This tells us that the likelihood of a tag does exist but it's unlikely. Based on the fact he wasn't tagged earlier this year before being injured. However Port weren't really tagging back then like they do now and back in 2015 under Hinkley they sent their #1 tagger in Cornes to him.
Kane Mitchell is the danger of course, but with all the hype this week around Daniel Rich and his damaging game against the Bombers, he's the #1 candidate this week.
The GWS scored well against Port last week with Scully (121), Kelly (113) and Shaw (110) all averaging 30d each. 6×105+ scores were collected by the Giants and after Rocky's form of 179 and 128, making him the #1 player in the game… you'd be a brave man to turn your back on those numbers.
Dayne Zorko loves playing at the Sty in his own right averaging 122 there this year (8 times). 23pts more than when he plays away (6 times). He scored 110 against the Power in round 7 although he took zero marks that day. He has
scored 102 and 131 in his last two games and will be awesome again this week, at a ground he has scored 131 and 147 at in his last runs.
Speaking of Pig Sty ground… Aurora Stadium is another that I pump up time from time and here is why.
Sam Mitchell and Jordan Lewis have played there 6 times over the last two years and both of them have averaged 116 over this time. Lewis actually goes for his 12th straight 100+ score there this weekend and will get it based on his form that has seen him string together 8×100+ scores in as many weeks.
Lewis had 110 and 111 in his last two against Carlton and made my short list this week and only just missed out.
Mitchell has scored 123 and 125 in his last two games and 115 and 124 on Carlton on his last two as well. This game might get very ugly and although the Blues only gave Sydney 2×100+ scores last week, it's hard seeing that happen again down in Tassie.
SLOANE v ZACH
We all know Essendon give up the points… but in fact, it's the Crows (ranked 4th easiest) over the last 3 weeks who have been bleeding scores to their opposition.
Zach Merrett sits as the #2 player based on form with scores of 130, 152, 126 and 123 in the last month. This man is nothing but a beast. He even scored 128 on Port at Adelaide Oval earlier this year (rd. 3) and is back there again late on Sunday afternoon.
But can Zach outscore Rory Sloane on his home track?
Rory struggled last week and only managed 76 which ended his amazing run of scores 106, 123, 125, 139, 107 and 140. Rockliff had 179 on the Bombers last week and before that, Dusty and Steven had their time for huge scores. Now… it's Rory's turn, and I'm expecting something around the 130+ mark this week.
Prediction: Rory 135 d Zach 129 in a nail biter. But of course the poll will be higher in Zach favour due to ownership (20% more), try to put that aside… have your say.
RUCKING BANG
Be unique… make a ruck your captain.
Stef Martin is coming off a high 130 from 25 touches and has his sights set on another big score against Trengrove. Mumford had 124 against Trengrove last week and only had 11 touches (10 tackles). In round 7 when Stef went against him, he had 129 (51 hit outs, 22d) and will be massive again at home.
Go on… it's time = Max Gawn
Max will carve the Suns to pieces on the MCG and this is based on his 138 he had when he went against Currie in round 7. He had a game high score that day and was rude about it, giving off goals to others when he should have actually been slotting them himself.
He has scored 120, 102 and 110 in his last 3 games and if he can have 17d and 46 hitouts against them last time with 2.3 goals, he'll be even bigger this week.
LIVE on #Periscope: Calvin here with all your #aflfantasy captain needs and more. https://t.co/qAfOUjv2Fv

— DT Talk (@DTTALK) July 27, 2016
JUST QUICKLY…
Heath Shaw v Richmond @ Manuka Oval – Expect something big here from Heath. Gibson (131pts and 12 marks) and Birchall (111pts and 10 marks) craved up the Tigers last week along with 4 others who went 100+. Shaw had 110 last week but has only managed 1×100+ score at Manuka in his last 8 games. He'll be right.
Tom Mitchell v Fremantle @ Domain Stadium – 2 kicks and no marks last week. Get stuffed Tom… Big fat pass.
Robbie Gray v Brisbane @ the GABBA – Could cop the Robbo tag this week after he went to Zaharakis (69) last week. Gray has averaged 112 in his last 3 and had 99 last week.
Jack Steven v Kangaroos @ Etihad Stadium – The Kangaroos are the 3rd hardest team to score against over the last few games and last week they used Gibson as a tagger and he went to Sidebottom (96). The Roos tagged Steven in round 7 to just 58 and used Jacobs that day. He's at the top of the list to be tagged again. He had 145 last week though and will take some stopping. But I'll be passing this week. You've been warned.
Dan Hannebery v Fremantle @ Domain Stadium – Fremantle are the easiest team to score against, conceding 440 more points a game than the hardest team Hawthorn. In fact, they have allowed 21×100+ scores in the last 3 weeks and I'm expecting Hanna to be cashing in here after he had 107 and 102 on them last year. Over his career, this is the team he has registered the most 100's on and will again this week.
Travis Boak v Brisbane @ the GABBA – Brisbane are the 2nd easiest team to score against over the last three weeks and his form has been red hot coming off back to back 119's.
Nick Riewoldt v Kangaroos @ Etihad Stadium – Had a season high 144 on the Roos earlier this year with 16 marks and 3 goals. He kicked 4 goals last week for his 107 and will be good again up on that wing.
Jack Viney v Gold Coast @ the MCG – averaging 114 in his last 3 games and surely will get on top of the depleted Gold Coast midfield.
Lachie Neale v Sydney @ Domain Stadium – 95 against the Swans last year and last week Carlton had 7×100+ scores against Sydney. That included Cripps' 140 and Gibbs' 131. There will be a few points on offer here and Neale should cash in at home.
Dusty Martin v GWS @ Manuka Oval – Dusty had 132 on the Giants last year but they are much tougher in 2016. He has been in ripping form and even without laying a tackle last week, he still clocked up 103 against the Hawks.
Luke Parker v Fremantle @ Domain Stadium – 116 and 111 on the Dockers last year, makes Parker set for another 100 this week. 1×100+ in his last four games at Domain Stadium, but it won't matter. 110+ coming easily.
Matt Priddis v Collingwood @ the MCG – Collingwood haven't given up a score over 120 in the last 3 weeks. He had his 2nd score over 120 last week. He racked up 138 (15 tackles) but only managed 84 against the Pies in round 6.
Josh P. Kennedy v Fremantle @ Domain Stadium – #6 on form over the last few weeks, JPK is having his traditional hot run home averaging 118 in his last 3 games. He had 141 and 93 on the Dockers last year but hasn't cracked a ton at Domain in his last 3 runs.