The Friday Scramble: Round 18
We knew it would happen. Carnage everywhere. Injuries are popping up everywhere and it is just a matter of which fire to fight first! Time to Scramble.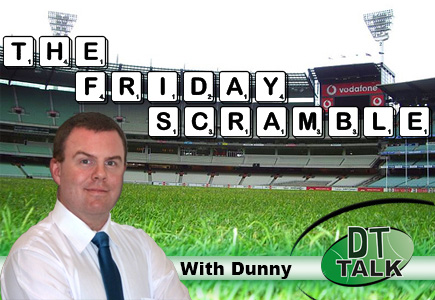 Another week, more sh$t to deal with!  This is why planning ahead is fine, but dropping stars for cash and playing the BE's can be a dangerous game as you never know what will happen next week.  I would doubt there would be too many teams out there this week that haven't been dealt one of these guys that is out.  With finals fast approaching, we have to be at the top of our fantasy game.  So, let's get into it and scramble!
Bloody Hell Barlow!
We have put up with him being injured for a couple of weeks… we held.  Then we put up with him being dropped…. we held.  This is it!  Is he now on the never again list??  The only good thing about his injury this time is we know he is out for the rest of the season.  Based on that we know we must trade him out.  There are a couple of strategies that you could use.  Let's have a look at them:
Best Available.  So take all the cash you have, plus Barlow's value and get the absolute best player you can.  If you do this then you should be looking at guys like Dusty, Zach Merrett or Dayne Zorko up forward.  These guys are in a lot of teams so you are basically eliminating points of difference with your upcoming opponents.  Given DPP you can also replace him in the midfield.  If you do this there is a plethora of players you can pick.  Look for those with the best run home.  Sloane would be your man if you don't have him, the Crows have one of the best runs home around.
Go Cheap.  If you are struggling a little on cash you could look to downgrade a little and save some cash but still get some points.   There are a couple of players that you may want to have a look at, but the one for me would be Lance Franklin.  In AF he is $56k cheaper, in RDT he is $67k cheaper.  Whilst this isn't much cash, you aren't giving up too many points for some cash.  The Swans have Carlton, Fremantle, Port, Saints, North and Tigers in the run home, that is a pretty good run.  Other players you may want to consider here would be Toby Greene or Leigh Montagna.
Selection Table
If dealing with Barlow wasn't enough.  Now we have Aaron Hall out.  Gee, another player that was dropped.  We held him during that period only to be rewarded with a hamstring injury!  Worst still he is listed on the official report as TBC!  At this stage it is going to come down to how many trades you have left (in the limited forms of course).  If you have plenty then you should trade him.  If not, then I would be holding him, at least for one week until we get a bit more clarity on him.  In AFL Fantasy, Trade your little heart away!  This stage of the season you can't afford to be having that level of cash sitting on the bench.
If you were confident of having Deledio this week you were being bloody optimistic.  Calf injuries can be tricky, be careful as you may not have him next week.  But at this stage in RDT and SC you may want to consider holding.  If you have no other issues in AF, then once again trade him out.
Jarrad McVeiigh was a popular selection a while back and he has gone down with a groin injury.  He is listed as being just the one week so hopefully he is back in round 19.
In some good news we get Jimmy Bartel and Rory Laird back into our sides.  That will make our backlines look a hell of a lot healthier.  We also get Libba back this week too, based on his recent form though, you should be looking to upgrade him as soon as you can anyway.
If you need a downgrade in AFL Fantasy, we have a new player in Aaron Francis this week for Essendon.  He was a high draft pick which means that we have to pay for him.  $221k is a hefty price to pay, you won't make as much cash if you are downgrading to him.  There is also Kurt Heatherley at the Hawks being named for his first game also.  However, don't expect him to be a regular in the side, the Hawks do revolve those guys around a bit.
#AskDunny
I didn't put the call out this week, but I have had a few questions come in, so here are a couple of them.
https://twitter.com/fotherchops/status/756059554144669696
Nice moves there Tom.  Personally I take the second one.  I think that Hodge is stronger than JJ in this circumstance.  I am still a little worried about JJ, he has been ok upon his return, but I think that Hodge provides us a little more of a known quantity.  You won't get as much from Montagna as Zorko, but as a pair I think they are the best option.
@WarnieDT @RoyDT @CalvinDT @pkd73 @MattCraigDT Neale, Steven, Treloar, JPK, Adams, Bont or Sidebottom for final mid?

— JIR98 (@JIR658) July 20, 2016
Way to spam a few people there Josh.  Lucky for you I like the question as it is one that a lot of people are asking for.  There are a couple of ways you can head.  Do you want to have a unique or do you want to counteract your opponent.  The most important thing to consider at this stage of the season is the run home.  This is where the MS Excel Genius that is Calvin comes in.  Cal's Scale of Hardness is the key to the run home!  The one player that isn't on that list that should be is Sloane as the Crows have one of the best runs home.  The Dogs have the 4th best according to Calvin and that is why the Bont should be highly considered.  He has been on a good run lately with an average over the last 5 of 110.6.   Collingwood have the hardest run home, so you may not want to bring in Treloar, Adams or Sidebottom.  Neale's last 5 haven't been his best, they are 14 points below his season average so far.  Steven has been up and down of late, only one 100+ in the last 4.  Lastly JPK has been on his best run of the season lately.  Three in a row over 105.  He also has a pretty good run left with just North of the top 8 to play.  When Cal did his scale of hardness JPK had Geelong and Hawthorn to play, they are behind him now.
So, the order that I would put these guys are Sloane, Bont, JPK, Steven, Treloar, Neale, Adams and Sidebottom.
Things To Remember
Be careful with your trades in RDT and SC.  They are valuable and we have already seen what can happen with injuries.
The Fixture is now critical.  Don't disregard it, it must be one of the main considerations when you are looking at trade in targets.
Finals are just around the corner, bust your gut to get into that top 4!
Carnage like this isn't going to stop coming, so just make sure that you are able to able to trade around it, that means in the limited forms don't waste your trades tinkering around the edges.  I heard something on a podcast this week, I think it was Footy Rhino, they said something like, don't make trades to sure things up in case something happens, wait til it does then use your trades wisely.  I thought this is one of the best bits of advice that you can have this time of year, particularly in games where trades are limited.  Best of luck this week and see you all next Friday @pkd73