Versus: Round 18
Tom is back with a few players going head to head in fantasy.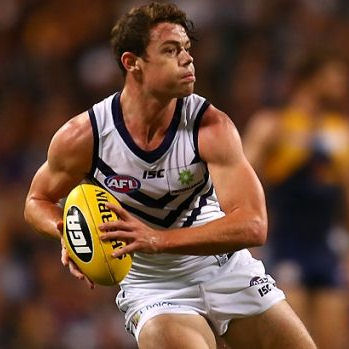 Tom is back with a few players going head to head in fantasy.
Lachie Neale ($521,000) V Dan Hannebery ($521,000)
With their superstar, Brownlow Medallist Nat Fyfe ruled out for the season, Fremantle needed someone to step up and lead the on-ball brigade. Lachie Neale has done just that. Born in South Australia, the 23 year-old endured a breakout season in 2015. He was prone to the odd sub-60 game which put off many coaches. However his ceiling, low ownership percentage and lucrative price was enough to lure in some of the smartest coaches. Neale was absolutely brilliant in the round three derby clash in 2015. He took out the medal as best on ground thanks to 42 disposals, 10 marks, 3 tackles, 3 goals and 162 Fantasy points. The following week he was closely checked and managed just 36 points. The next month wielded four tons including a 151 in week eight. For the remainder of the season, it was perhaps typical Neale. Massive tons would be backed up by a frustrating score. Still, he amassed more points than Patrick Dangerfield, Adam Treloar, Jordan Lewis and Sam Mitchell but remained a player of difference. 2016 shaped as a big year for Lachie. He had to prove that his 101 point average was not a one season wonder. He kicked it off with a steady 106 against the Bulldogs from a stock standard 32 possessions. Two somewhat disappointing ton-less scores followed. But then Lachie exploded. He produced seven hundreds in eight outings including four trademark 120+. The interesting thing is, he registered more handballs than kicks in all but one of these eight matches. One particular match against the Hawks saw Neale collect 38 disposals – thirty of them were handballs. Nevertheless, his price continued its assent up into the high $500,000's. He was averaging above 110 and slowly rising in ownership – much to the disgust of his long term owners. Of all teams it was the Lions and in-particular Mitch Robinson who brought Neale back down to Earth. He managed a season low 18 touches and just 52 Fantasy points. The next week, Port Adelaide took notice and put a tag on the ball magnet. In true fashion he hit back with 130 points as a result of 38 disposals. The ups and downs have returned in recent weeks but I fully expect Neale to overcome theses inconsistencies and perform well in the remaining match-ups. With that being said, Fremantle play five top eight teams including Adelaide. Last time those two sides met, Neale mustered 40 touches (26 handballs) and 115 points. Although it won't be easy, Neale should still score well. Lachie's strengths include his production (ball accumulating), handballing skills and vision around stoppages. His fast hands in close against Geelong were very impressive. At different stages he can lack hurt factor despite accumulating massive disposal counts due to his at times poor kicking efficiency. Neale leads the competition for disposals, has hit his lowest price all season and is a joy to watch when he's at his ball winning best.
Swans midfielder Dan Hannebery is without doubt one of the games premiere midfielders. A valuable cog in the star-studded Sydney line-up, Hanners rose to Fantasy premium status in last year by averaging 110 points per game. Hannebery's greatest strengths include his durability and consistency which helped him feature in all of the harbour-side teams 22 games. His elite endurance and two-way running is a highlight and a large reason as to why he has featured heavily in the AFL Coaches Votes over the past few years. At 181cm and 79kg, Hanners isn't the biggest midfielder going around but he has a handy ability to win the ball in the coalface and on the outside. Born in Victoria, Hannebery was picked up by Sydney with selection 30 in the 2008 National Draft – a bargain considering what he has already achieved during his eight years in the industry. Hanners was one of only a handfull of midfielders to start the season priced at over $600,000. Some were put off by the 'big-bucks' price tag and elected to go into the season lacking an out-and-out uber-premium. But those who forked out top dollar should be reasonably pleased with what the 25 year-old has produced. After being concussed in round one thanks to Steele Sidebottom's aggressive hit, coaches who captained Hanners (including myself) were left frustrated as he was starting to build and looked destined for a ton to kick of proceedings. Despite spending just 50% of the opening round on-field, Dan recovered well and was declared fit to line up against Carlton in round 2. Now it's a sign of a champion Fantasy scorer when a 29 disposal, 5 tackle and 96 point showing is viewed as under-par. However the Hanners of 2015 resumed it's work from rounds 3-8, pumping out hundreds in all matches. He was extremely influential in the red and white outfits tight victory over the Lions at the Gabba. His 33 disposals and 13 tackles wielded a current season-high 136 Fantasy points on a day where fellow midfielders Luke Parker and Tom Mitchell also had days to remember. In the crunch clash with Hawthorn in week 9, Hannebery fell agonisingly short of the ton but again played a crucial role in getting his team the four points. Much like Neale, his past month or so has been inconsistent with big scores blending in with three two-figure showings. At $521,000, Hannebery is very hard to go past and should definitely be considered with the Swans easy run coming up.
Verdict: Lachie Neale and Dan Hannebery are without a doubt part of the top echelon of midfielders. As was mentioned above, Hannebery is a very well balanced player who finds a way to get to three figures most weeks. He is ultra-consistent and was brilliant from rounds 4-11. Lachie Neale has really evolved as a player this year. Last year you felt he would put up a dud score once every couple of games but in 2016, consistency has been the key to his rise. Unfortunately both players past few rounds have resulted in their prices being at season lows. Both are worth picking up but I'd take Hannebery just ahead of Neale due to the Swans promising fixtures. Magpie Taylor Adams might also be worth considering.
Loading ...
Luke Hodge ($481,000) V Sam Docherty ($510,000)
Alastair Clarkson did not have to think twice about including Luke Hodge for the Hawks round 14 clash with Gold Coast. Unfortunately injury has never been far away from Hodge for his entire career and most recently kept him sidelined for seven rounds. As much as Hodge was a big name omission, in true Hawthorn fashion, the triple premiers maintained their standards and covered the gap. However Hodge hadn't quite hit his straps prior to his injury, failing to crack the ton in all four matches. But upon returning, he promptly recaptured the scintillating form which has seen him elevated to uber-premium status in recent years. Hodge collected 28 disposals, 9 marks, 2 tackles and 111 Fantasy points in his return game and backed this up the following week with 29 touches, 10 grabs and a sweet 118 points. On the weekend against Sydney at the SCG, it was very much a classic Hawthorn game. Stars from the old firm like Sam Mitchell, Shaun Burgoyne, Jack Gunston and Jordan Lewis all managed to crack the triple figure mark and played starring roles in their sides tense five-point victory. None other than Cyril Rioli, a man who has endured multiple hamstring set backs, slotted the match winner from outside 50. The only champion missing from that list was Hodge. He had a quieter game and registered just 18 touches and 77 Fantasy points from 89% time on ground. But owners were not too disappointed with this showing once they found out Hodge was to be allocated defender status in the round 18 influx of DPP's. Hodge joined Hamish Hartlett, Hayden Crozier, Lachie Henderson, Brad McKenzie and Jayden Hunt in receiving the additional position. At first glance, Hodge looks a lock for a position in your final team, but is he going to produce more points than the likes of Zac Williams and Jason Johannisen who are available for less? He certainly has the runs on the board, finishing with an average of 90 points or over in eight seasons. He started the season as one of the highest priced players at $615,000 but poor form has seen him dramatically plummet to $481,000. Judging by what he put up last year, the 32 year-old from Colac is extremely under priced and in my opinion, definitely worth considering given his DPP and upcoming fixtures. Hawthorn have possibly the easiest runs home, playing just two top eight sides in North Melbourne and West Coast. They also verse Richmond, Carlton, Melbourne and Collingwood and should be locking in a top two spot. Hodge has proven over time to be fixture proof, meaning he has the ability to score prominently against even the most restrictive of sides. His trademark toughness, courage, foot skills, stoppage work and ability to play anywhere on the field have been key to helping him become one of the greatest players of the modern era. Not a bad defensive inclusion, but will have to start pumping out hundreds on a consistent basis.
In the early part of the season Heath Shaw stole all the headlines down back, but lately it has very much been the Sam Docherty show. Sam Docherty, along with Kade Simpson have held up the fort in defence for Carlton this year, despite both playing with attack also entrenched in their plans. Initially drafted by Brisbane, Docherty was traded to the Blues ahead of the 2014 season. 'Doc' is one of Carlton's leaders despite being just 22 years old. Last year was no-doubt his best full season. He lead the Blues for rebound 50's with an average of 4.21 per game and ranked third for total kicks (13.6 per game). It was all capped off nicely by being selected in the AFL's 22-under-22 team. It's fair to say the Blues love the ball in the Doc's hand, especially when transitioning from defence where his vision, poise and kicking skills are greatly appreciated. But if Docherty's 2015 season was good, this year is already shaping to far exceed that. Whilst maintaining the levels of consistency which have helped him become a premier Fantasy defender, Docherty has taken the next step and added ceiling to his game. For starters he has gone under 80 points on just one occasion – in the Blues four point triumph against Fremantle at Domain Stadium. Added to this he has gone over 110 four times from eight tons. Therefor if he cracks the hundred, there's a 50% chance he'll exceed the 110 point mark – figures that even some of the top midfielders struggle to reach. In my opinion, there are a couple of key areas worth noting when your looking for a premium defender. Generally speaking, the higher scoring defenders play either rebounding roles off half-back or on the wing. The next point is consistency. There's not many more annoying things in Fantasy than when your premo defender spuds it up for a sub-60. Consistent players like Docherty are worth their weight in gold down back! The last point is ceiling. I've already mentioned how Docherty has re-modelled his Fantasy game and increased his ceiling, but when you take a look at the top level defenders they are all capable of some big scores. Players like Heath Shaw, Bernie Vince, James Kelly and Docherty have all excelled this year, largely because they tick all the boxes previously specified. They play attacking roles, are fairly consistent and have the potential to go big. The 'Doc' is having a brilliant season and is the second highest point scoring backman behind Shaw. The go-to target in defence.
Verdict: Sam Docherty and Luke Hodge are having extremely contrasting seasons. Docherty has been ultra-consistent and has proved to have great Fantasy ability. Hodge on the other hand has spent more time off the field than on it. His injury set backs have been frustrating to say the least. It's fair to say that if Hodgey hadn't picked up defender status, barely anyone would even be considering him. But he has a new ability and if firing will be a valuable asset in our league finals campaigns. In my opinion though, Docherty is the man in better form and is worth the extra cash.
Loading ...
Robbie Gray ($502,000) V Leigh Montagna ($466,000)
Arguably Port Adelaide's most valuable player, Robbie Gray is capable of changing games all by himself. He has a knack of breezing through stoppages with ease and delivering a pin-point pass onto the chest of Charlie Dixon and co. But it was a long, difficult road back from injury for Robbie after he severely damaged his knee against Collingwood at the MCG. At times during the recovery process, Gray even contemplated parting ways with the game. But Power and Fantasy coaches alike are certainly relieved he overcome the injury to return to action. In 2014 the Power were fantastic and Robbie Gray was a driving force behind their Leicester-like resurgence from the verge of disaster. He kicked 42 goals and was awarded with an All-Australian selection, Port's best and fairest and the AFL Coaches Player Of The Year. He predominately played as an elusive small forward, complemented with small stints through the midfield. As he has grown more and more confident with his knee, Gray was last year able to play mainly as a balanced midfielder who can rack up disposals on the outside but also win it inside. What a revelation the move has been! After averaging 60's and 70's for many seasons earlier on in his career, Gray has now improved his consistency, upped his ball winning skills and most importantly, lifted his Fantasy output into the 90's. Many coaches were disappointed when Gray was listed only as a midfielder after being available in the forward line for four six straight years. However they only had to wait until the round 6 when Gray was amongst the fist new set of DPP's to be added in. The joy quickly subsided though as it was released that Gray would miss round 6-8 through injury. Perhaps this was what Robbie needed as he was restricted to scores of 64 and 58 the weeks before. As soon as he returned, it was straight back to what Gray does best – score big hundreds. In the last month, Gray has recorded three tons and looks to be a promising option at F5 or F6 for the remainder of the year. His price has just tipped over $500,000 and with a round 18 BE of 76, looks to be on the rise. The Power has to win their remaining games and no-doubt they will be counting on Gray to turn it up.
Since 2002, Leigh Montagna has been a valuable warrior for the Saints. He is now 32 years of age and can play anywhere on the field but, like multiple other elder statesmen of the competition, is so far showing no signs of slowing down. Last year Montagna led his beloved saints in average possessions, finished second at the club for inside 50's, fourth for tackles and third in clearances. But it was his Fantasy output that really impressed fans. He averaged 109 as a pure midfielder and as a result, started the 2016 season priced above the $600,000 mark. 'Montags' also took out fourth place in the teams best and fairest award. Fast forward to this year and Leigh has once again been a consistent performer, putting up eight hundreds to date including a massive 160 against Collingwood. The best part about these scores is the fact that he has forward status! It's always great when high scoring players who play mainly midfield for their clubs are classed as forwards in Fantasy. The likes of Dustin Martin, Dayne Zorko and Zach Merrett have proven this. In fact it's not uncommon for your entire forward line to boast forward/midfield status. Montagna has admittedly had a couple of faulty games this season. His 68 points against the Giants sourced from just 21 disposals and 4 marks whilst the Crows kept him to only 36 points (12 disposals and 4 marks) in round 11. These two particular scores did come against two of the most restrictive teams but that is by no means an excuse for a premium player like Montagna. He was instrumental in the Saints recent victory over the Demons. The first quarter was played at a frantic pace with goals coming in leaps and bounds. This style understandably didn't suit Montagna as he finished on 14 Fantasy points at the end of the first term. However as the goals started to slowly seize up, Leigh and his good mate Nick Riewoldt started to get more and more involved. By the end of the match, Montagna had racked up 26 disposals, 5 marks, 5 tackles, 1 goal and 111 Fantasy points in what was a very balanced performance. Looking ahead at the Saints surge home sees them play three top eight sides and three likely non-finalists. This week they play the Bulldogs at Etihad Stadium. Both teams play their best football at Docklands and are heavy scorers. I predict a shootout which may not favour Leigh. Over the past four weeks, the Western Bulldogs have conceded 1637 total points (ranked 13th), 3.25 hundreds against (ranked 11th) and 1.25 scores of 120 or over (ranked 11th). Clearly they are around the middle-range when it comes to scores against. The two teams met in round 2 this year and Montagna accumulated 31 touches, 7 marks and 98 Fantasy points. I'd expect something similar this weekend. St.Kilda then verse an under-fire North Melbourne team before playing Carlton, Sydney, Richmond and Brisbane. Montagna has been serviceable this season without quite reaching the lofty heights of last year. Nevertheless he is a more than solid option for the rest of the season.
Verdict: Many coaches are left with just one remaning upgrade in the forward line. The rise of Clay Smith has meant the attack may be the last line to be completed. Either of Robbie Gray or Leigh Montagna look justifiable options. They both appear to have a high ceiling and are fairly consistent. Robbie and Leigh both impressed last week – scoring over 110 points. If I was to choose one, I'd back in Joey. Aaron Hall should be the highest priority though.
Loading ...