Calvin's Captains – Rd. 18
No more loop holes. No worries! Calvin is here to steer you into the clear again.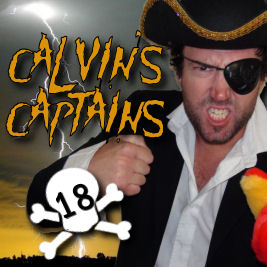 DON'T MISS: Calvin's weekly Periscope. Every Wednesday evening at 8pm AEST.
LIVE on #Periscope: Calvin's Captains and more #aflfantasy tips heading into round 18. Ew! https://t.co/iEUMN9KmOx

— DT Talk (@DTTALK) July 20, 2016
DEJA TWO
This week, we have three games that we have already seen this year and they all happened to be from round two. So the question is, will we see similar results from these star players?
Tom Mitchell scored a game high 143 against Carlton in round two (at Etihad) and this week meets them again at his favourite ground the SCG.
He's no chance to tag anyone on Saturday and has scored 109 and 95 in his last two games this year. He made my short list this week, as I expect him to be big this week.
Luke Parker had 106 back in round and two and the #3 player based on form over the last 3 weeks, Josh Kennedy also managed 106. Parker had 111 last week and is starting to hit his straps. He might cop a tag from Ed Curnow though who will certainly tag either him or Dan Hannebery.
Hannebery didn't get any attention in round two and scored just 96 and sadly, he is my prediction to cop the attention this week.
Also in round two, Gold Coast played the Dockers and this week at Metricon, the points will flow.
Fremantle are the easiest team to score against over the last month, allowing nearly 300pts more in games compared to the hardest team Hawthorn.
Aaron Hall will have a field day. He's scored 102, 107 and 115 in his last three games and even had 126 on the Dockers in round two. Danger (130) and Selwood (128) scored well against them last week and Hall will be up around those numbers himself on Saturday afternoon.
Fresh off a tag, Lachie Neale will be looking to bounce back from his 72 last week. He scored 98 and 109 on the Suns in his last two games but last week, 6 Bulldogs all managed a ton on the Suns and we can all see Neale back in triple digits this week.
The last game we saw back in round two, were the Saints and the Bulldog and back under the roof, this will get nasty.
Lachie Hunter is coming off a solid 110 last week and even had 130 on the Saints in round two. He's averaging 111 in his last 3 and last week Melbourne managed 4×100+ scores on the struggling Saints. Bontempelli has been carving up it with an average of 117 in his last 3, but only managed 66 on the Saints earlier this year.
Nick Riewoldt claimed 14 marks for his 119, but has sat forward a little too much in recent weeks, failing to crack a ton in his last three games. Jack Steven is in a similar boat and if it wasn't for his 158 a few weeks back, many might be calling for his head on a plate (maybe too savage).
Steven has only managed that 1×100+ score in his last 4 games but did have 104 in round two on the Dogs and 113 and 142 prior to that.
DANGER AT HOME
Last time Dangerfield played his old team, the Adelaide Crows, I was sceptical as it was in Adelaide.
He shut me up with a score of 129 and this week he meets them at the Cattery, a ground he has averaged 119 at this year from 5 games. For that 129, he had a season high tackle count of 11 and found the pill 33 times as he went head to head with Rory Sloane.
He is the #4 player based on form at the moment coming off scores of 130 and 139.
Adelaide have been one of the 'lock-down' teams of 2016, but last week Collingwood (in Adelaide) scored at will.
Adams (123), Treloar (121), Steele (110) and Pendles (101) all scored well but the stat to note here is, they averaged 32 touches between them.
Selwood had 128 last week and only managed 82 back in round 8 on the Crows which was surprising considering he has scored 140, 132, 133, 113 and 106 before that. He's huge smokey option this week if you are looking for something slightly off centre.
Rory Sloane continues to prove me wrong and probably will again. Geelong are the second hardest team to score against and he might even cop a little bit of attention from Guthrie who tagged Neale (72) last week.
However, Sloane had a career high 155 against Geelong earlier this year and has form on his side again this week. Eventually he will cop some attention, and I just hope when it happens, you don't have him as your captain.
Prove me wrong again Rory, you've been smashing it when I doubt you and I wish you all the best again this week at the Cattery against one of the hardest teams to score against.
Click here to subscribe on iTunes. (Please leave a rating and review to help us move up the charts).
RED BULL ROBBO
The biggest question I had to face this week was, will Mitch Robinson tag Zach Merrett?
If he does, Zach will struggle. Merrett has been sensational averaging 134 in his last three games to be the #1 players based on form. Surely Robbo will tag him, who else would he run with?
Zaharakis is the option that many clubs target, but how long are they going to let Zach go completely off the hook?
Robbo will tag someone like he has recently. Sheil copped it last week before he got busy late for his 98 and Ablett was his target before that,  before he got injured on 68. Three weeks ago he ran with Dusty Martin but an injury to Robbo himself, saw Dusty set free for a huge 129.
Last week, Conigilo (127), Kelly (125), Greene (119) and Ward (118) all scored well when GWS thumped the Lions and although the margin won't be that massive, the points will be flowing again.
Merrett had 85 on the Lions last year and this week he plays their struggle side under the roof. The Lions are giving up the second most points over the last month and if Zach is free again, he'll have something huge.
However, if Robbo finds him… I'm not as confident.
IN THE PIG WE TRUST
Essendon are 4th easiest team to score against at the moment and last year against them, Tom Rockliff managed 125 and before that, just a standard 147.
He scored 128 last week against the GWS in a game the Lions were smashed. Before that game he had a run of tackles that needs to be seen to be believed. 10, 9, 10, 9, 9. For his score of 128, he only had 5, it could have been so much bigger.
Under the Etihad roof this year, Rockliff has played there twice. The first time he was coming off an injury for 88 (v WBD) in round 5 and then in round 11, he racked up 48 touches for his 184pts against the Blues. What if…. Just what if he does this again, against this easier side?
Dusty Martin had 161 on the Bombers last week and let's not forgot that Jack Steven had 158 a few weeks back and after seeing this, my pig sensors start tingling.
With so many good options this week, it's easy to forgot about the pig, but do you really want to miss the boat when it sails into the sunset towards the piggery with 180+ points on board?
I don't think so. With all the criticism Rocky has been copping, will what… make him try less or make him come our firing? You know, what he'll do!
JUST QUICKLY…
Max Gawn v West Coast @ Domain Stadium – 102, 110 and 100 is solid form without going bananas but not long ago, Goldstein had 65 hit outs against the Eagles for his 106 which indicates that old mate Max might be good again.
Brodie Grundy v Kangaroos @ Etihad Stadium – ranked #6 on form with 134 and 119 in his last two. 98 on the Roos last year but they still sit as the third hardest team to score against.
Stephen Coniglio v Port Adelaide @ the Adelaide Oval – posted 113 on the Power in round 4 and is averaging 111 in his last 3, solid as they come at the moment providing he doesn't get one of his random 'run with' rolls.
Jack Viney v West Coast @ Domain Stadium – 123 and 117 in his last two games and last week, Carlton had 5×100+ scores on the Eagles.
Jordan Lewis v Richmond @ the MCG – goes for his 8th straight 100+ score this week and even posted 117
when these teams met in round 7.
Robbie Gray v GWS @ the Adelaide Oval – 122 and 115 in his last two games, Gray has averaged 115 in his last 3. Scored just 64 on the Giants in round 4 and will find this much tougher than recent weeks.
Dayne Zorko v Essendon @ Etihad Stadium – 131 last week and will carve Essendon big time. He only managed 53 on them last year which is a little bit concerning, but this man is in beast mode right now and I can't see him under 120 this week.
Sam Mitchell v Richmond @ the MCG – 125 last week, still not captain material but maybe he's starting to warm up.
Travis Boak v GWS @ the Adelaide Oval – averaging 115 in his last three, but hasn't scored over 100 on the Giants in his last 3.
Dusty Martin v Hawthorn @ the MCG – Hawks are the hardest team to score against so if you are chasing the 161 he posted last week, think again. However, he had 99 on them in round 7 and last week JPK (33d), Parker (35d) and Mitchell (34d) all found plenty of the pill against the Hawks.
Heath Shaw v Port Adelaide @ the Adelaide Oval – Three tags in a row for Heath and it might end  this week. However, Port are one of his worst teams to score against, as he has failed to crack a ton on them in his last 9, yep… 9 games.