The Friday Scramble: Round 17
Gaz is down, but we do regain a couple of stars at selection this week. We have had one game with some definite VC worthy scores coming up, so join me as we scramble our way through another Friday!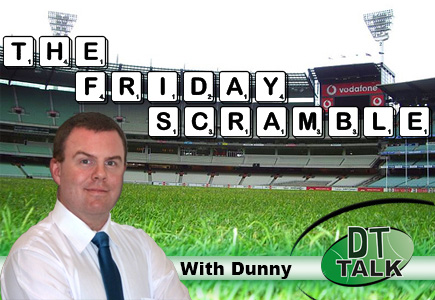 Now before we all get upset about the issues we have had with injury this week, we simply need to think, well really, we have had a pretty good run lately.  But this week, we have Ablett and Libba to worry about.  We will discuss that shortly.  The other thing we need to consider is that we have only three weeks before finals start, so you need to make sure you are having a good hard look at your league positions and doing everything you can to get yourself as high as you can in that top 8.
Last Chance Loophole!
We had our last Thursday night game last night and with it, the last chance for the captain loophole in RDT and AF.  The one thing about the game last night is that there were plenty of options!
Parker- 111
T Mitchell- 109
Hannebery- 78
Franklin- 83
Hodge- 77
S Mitchell- 125
Lewis- 106
JPK – 131
Burgoyne – 134
So out of that lot, I take Burgoyne, S Mitchell and JPK without even thinking about it.  If you have Gunston at 116 (not sure anyone would VC him) you would take him too.  As for the rest, I would only consider Parker if you had nothing else, and by that I mean you don't have Dangerfield.  Have a read of Calvin's Captains and see what Danger has done v Fremantle in his last few games against them.
Don't miss the big articles of the week.
Selection Table with other thoughts….
Well the selection table wasn't horrific this week, but not as pretty as we would have liked.  Here are the highlights…. and my thoughts…
Barlow returns, we all suspected that he would be back this week and that is exactly what happened.  Well done to those that held him.  That trade that you saved is now invaluable as we head to finals.  Now Barlow was out due to injury, but in that same game we see Bartel  being Managed, which is the new General Soreness.  A trip to Perth must be too much for his beard.  I guess we all knew he would get rested at some point, but it still hurts!
Did you have Conca? Well it was always a risk.  I am sure he will get a game or two later in the season.  Zaka is back and will be out to make amends for missing last week.  Speaking of someone that is going to want to make an impact, Sam Gray will be trying to do just that.  His spot is far from guaranteed as he has basically come in to replace Brad Ebert who, once recovered, should take his spot back.  Just whilst on the Power, Lobbe does come back this week, but it is only in the SANFL team.
Big ins at the Roos, but one of them is very important for us. Daniel Wells has returned this week.  It will be interesting to see how freely he is moving.  If he goes down again then we may need to trade him.  But for now, if you held him, then you will be very happy to see him back in the side.  I remain cautious on his ability to run out the rest of the season.  Calf issues are an old mans issue, and trust me I've had a couple and they are far from fun!
Whilst Wells came up, Libba didn't.  For me, given his low score in the last game and what that did to his BE then he is just about a must trade (if you have more than 5 left in the limited forms).  I don't think that any of us ever thought he was going to be a keeper to the end of the season and that he was only going to be a stepping stone, he just lasted a bit longer than most thought, but now it is time for him to go.
I know many traded in Reid from the Giants a few weeks back, well he is back in the extended bench version of the side.  Hopefully he can make it through the final cut.  In a similar boat is Keays from Brisbane.  He is pretty much just a heartbeat on the bench though.  So I wouldn't look at bringing him in at all.
Oh, and there was some guy for the Suns called Ablett that is out with injury, but I am sure you have probably got a plan for him.  I am sure a lot of you actually enacted it last night as you would have brought in Hanners.  It probably works in our favour really that Ablett has been ruled out for the season, we at least know where we stand and know that we need to trade rather than hold for a week or two then have him ruled out.
#AskDunny
in order who is most important to trade out Davis, ruggles or Josh Smith?

— Sam (@AFL_Rants) July 13, 2016
If you need to trade any of them, for me the very first thing you should be looking at is if any of these guys are sitting on your field.  If you are using any of these guys on field I would suggest they are the first ones that you should be trading out.  However, if that isn't the key to your decision, then I would be trading out based on Break Even.  Using that methodology I would be trading Smith first, then Davis and last Ruggles.  If none of that means anything to you I would pretty much go in that same order.  I don't advocate Ruggles on field, but as a back bench cover I think he provides good value.
@pkd73 Can you give your upgrade order pls from Kerridge, Petracca, Dea & Smith #ASKDUNNY

— Pete Higgins (@petehiggo) July 13, 2016
Another in the same vein as the previous question.  Here I am going to guess that you have Kerridge on field.  if that is the case, then I trade him first.  Your first priority should always be to get the most points on field as you can, so upgrading him to a premium is your priority.  The reason I say him is that given his value you will be ale to get the best player by using his value.  After that I go with Dea then Petracca then Smith. I have taken into account BE and value of these guys in this decision.  By doing Kerridge then Dea, you are using the value you have in these guys whilst making sure that if you do keep them another week they won't drop too much in value.
Worth trading out deadwood rooks (Phillips/Reid) to Castanga/Markov? No cash made. Will allow me to trade others in future

— John Freed (@John__Freed) July 13, 2016
This is heavily dependent on which form of the game you are referring to.  In AFL Fantasy, if you have absolutely nothing else that you need to do to your onfield players, then you could make these trades.  ONLY if you have no other issues to worry about though.  Now, in the limited trade forms of the game, I say no.  But I will clarify this by saying if you have over 10 trades left you could probably do one of them to give you flexibility.  6 trades or less, I say don't do it.  Trades are valuable and I would only make a trade from a non playing bench player to one that is playing if you are facing a donut on field and need to do the trade to field a team.  If you are between 6 and 10 then it depends on how "premium" your team is currently.  If you are fully upgraded you could risk it, but personally I wouldn't be doing it until you get to finals at least as we just never know how many injuries are going to hit between now and the end of the season.
Things to Remember
As it has for the last 3 weeks, SC and RDT trades stick today!
If you have bigger issues to fix, you could leave Gaz for a week as his price won't change, but you would have to have some serious issues as he is too much money in my opinion to leave on the bench.
Make sure you have read Calvin's Captains to get your choice right this week, as we get to the pointy end we can't afford to stuff things like that up!
Don't chase points.  Make sure you are only looking at players with consistent form for the year, not those with one flashy score.
Have a great weekend folks, hopefully you can get the win and make a charge to the top of the ladder to give yourself the best possible chance in the finals.  They aren't far away now!  This is our last week of Thursday night games and we resume normal programming next week, so no more loopholes this season.  Catch you all next week!  @pkd73