Versus: Round 17 – The Gaz Options
Tom is back with a few players going head to head in fantasy focussing on some interesting Gary Ablett replacements.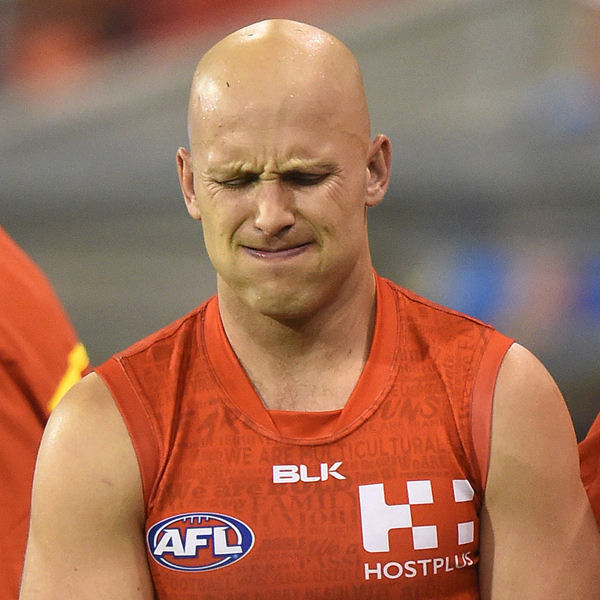 Tom is back with a few players going head to head in fantasy.
GAJ Replacement – The Front Runners
Rory Sloane ($589,000) V Jack Steven ($547,000)
Much was expected of Adelaide balanced midfielder Rory Sloane during pre-season. If fact, much was expected of the whole Crows midfield given the inevitable departure of star Patrick Dangerfield. Well it's fair to say Sloane, his midfield group and the team in general are flying as one. 'Sloaney' is an extremely likeable character off the field. He is polite and well respected – your typical laid back Aussie surfer with long wavy blonde hair. But on-field, Rory is a passionate as anyone, always puts the team first and never shy's away from a contest. He is good over head, a fierce tackler, an incredible gut runner and a reliable kick. It's these traits in particular which have seen accumulate forty-four Brownlow votes to date, two 19th man awards (as voted on by the fans) and a best and fairest. Surely he has to be one of the greatest draft steals after being taken the the forty-fourth pick of the 2008 National Draft. Something that has really impressed me with Sloaney has been the way he's stepped up to another level in 2016 in the absence of Dangerfield. It wasn't the smoothest of starts to the year though. He was restricted to just 19 disposals in round one against the Kangaroos and took just one mark resulting in 79 Fantasy points. The following week Brad Ebert spent time on Sloane, Keeping him to a season-low 67 points despite the Crows massive victory. Even in the Crows win over Richmond the following week, Rory was under-par, producing 88 points. Although these scores weren't brilliant for the individual, it was a great sign that the rest of the midfield, the Crouch brothers in particular, were elevating their games to account for the loss of their Moggs Creek former counterpart. However from round three onward, Sloane has kicked into gear and is yet to put the brakes on. He has scored nine tons in the last twelve games to become the second highest priced midfielder. Seven of these hundreds have in fact been over 110 with three even exceeding the 135 mark. As the great Bruce McAvaney would say, Rory's Sloane's form has been 'remarkable'. He is averaging 129 points in his last three games, sits second in the competition for tackles and currently leads the AFL Coaches Votes on 76 points. Some journalists have even gone as far as to say Sloane is better than Dangerfield. Even as a Crows fan, I don't believe this is the case, but Rory is certainly mounting a strong case as the second best player in the land. Are the Crows missing Dangerfield, no. Are they playing better football without him, yes. So credit must go out to senior coach Don Pyke, midfield expert Scott Camporeale and the playing group, led by Sloane, who have all lifted to cover the gap. Rory is heavily priced but his form and fixtures are seriously, seriously impressive and can win you your league. With Ablett injured, why not make a move to Rory Sloane.
Boom! Jack Steven has reaffirmed his status as one to target after an impressive 158 point showing against Essendon. The Saints left it late to seal the deal but it appeared as if Steven had brought his own footy. Last years number one scorer racked up 41 touches, laid 12 tackles and kicked a goal in a performance which will entice many Fantasy coaches into picking him up this week. Put frankly, Steven blew us away last year by averaging 111 Fantasy points. Although many passionate footy fanatics and indeed St.Kilda knew Steven had the ability to dominate games and score at a reasonable level, but who would have though that the 180cm speedster had elite Fantasy potential? I certainly did not, especially after injury hampered his 2014 season. Steven was a model of consistency in 2015, scoring fourteen hundreds, eight over 120 and just three under 90 Fantasy points. He played all 22 games and averaged 26 disposals (ranked 2nd at the Saints), 6.9 tackles (ranked 1st), 5.5 inside 50's (ranked 1st) and 4.3 clearances (ranked 2nd). A brilliant season was capped off by top 20 placing at the Brownlow Medal, polling twelve votes. Steven's key attributes and role within the young St.Kilda team are in many ways rare and fascinating. He has blistering pace which makes him damaging on the wing in a more un-contested scenario as well in packs where he can accelerate away from packs. The latter in particular was displayed numerous time last year – a key reason why he led the beach side club for inside 50's. He also has a certain element of grunt, which saw him lay 151 tackles to rank 4th in the league. He currently sits on a similar average with seven games remaining. I consider Steven being similar to a Zach Merrett or even Jackson Macrae in the way they display both speed, class and skills but can also find plenty of the ball inside. Some may label this category of player as 'balanced midfielders'. Either way, Jack Steven always seems to find a way to ton up; and given his teams upcoming fixtures, expect plenty of three figure performances. First, St.Kilda play Melbourne at Etihad Stadium. The Demons were extremely prolific scores in their most recent clash against Fremantle in Darwin. They managed to pump out ten hundreds of their own whilst Lachie Neale was the only Docker to hit the same mark. I suspect this clash may be much more difficult then the Saints narrow win against Essendon especially seeing the match is being played in Perth. Having said that, Jack did manage 135 against them in round 10 earlier this year. They then face the Bulldogs, Roos and Blues before wrapping up another season against the Swans, Tigers and the lowly Lions. A genuine Fantasy star who is probably $50-60k under-priced. Not bad.
Verdict: From a broader view, Sloane and Steven look different in the both the way they play and there statistics. However if you take a closer look, they are actually extremely similar. Steven is eleven days older. Despite featuring in different drafts (Sloane in 2008 and Steven in 2007), they were taken with picks 44 and 42 respectively. If we were to 're-do' these drafts, I'm sure they would feature in the top ten or even top five. The Crows man has played 133 games compared to Steven's 127. Sloane is also 3cm taller and 2kg's heavier. But from a Fantasy perspective, I prefer Sloane as he is slightly more consistent and the form player of the competition. No strings attached, can't go wrong with either.
Loading ...
GAJ Replacement – Bont Or Sidey
Marcus Bontempelli ($533,000) V Steele Sidebottom ($476,000)
Straight off the bat, Marcus Bontempelli is a superstar. He is a supreme inside midfielder that can push forward with the capability of impacting the scoreboard. The 'Bont' also possess great endurance, clean hands in tight and can launch attacks with a pin point left foot kick. He played an incredible game for Melbourne school team Marcelin where he racked up 50 disposals and kick ten goals. Bontempelli is so good that even being selected with pick four in the 2013 draft looks to be a great steal for the Western Bulldogs. Last year, Bont really emerged as a Fantasy prospect. He played 20 games for an average of 92 points. Despite the Dogs consistently playing an exciting brand in the first six rounds, Bontempelli didn't hit three figures. He scored three 80's as well as a 66, 55 and 59. However things have turned around of late, with seven tons coming from nine matches, resulting in an impressive three round average of 116. What's interesting about his early form was that all those games were played at Etihad Stadium. In fact, Bontempelli has only averaged 88 from ten games at Etihad this year compared to 105 away. Tackling has always been a big part of Marcus' game and he has certainly shown his pressuring ability of late, laying more than six tackles in four of the last five matches. Bontempelli certainly impressed the coaches on Saturday night, polling the maximum ten votes. He now sits sixth in that award. The Bont isn't your typical premium midfielder. He doesn't require lots of touches to score big. Whilst he is still good for 20+ most matches, as mentioned it's his tackling and goal kicking which help his cause. The games where he has gone 120+ have required counts of 30 possessions however. As his price starts to escalate slightly, coaches will be hoping he can maintain his current form with the help of some promising fixtures. The Bulldogs go on a rare trip to Cazaly's Stadium this week where they will be hosted by a Gold Coast team fresh of a much needed victory (although it was against the Lions). This is the first time the two clubs, who are currently sitting in contrasting positions, meet each other in 2016. Since round eight the Dogs have played four bottom ten sides in Melbourne, Collingwood, Port Adelaide and Richmond. He scored 105, 91, 98 and 115 on them respectively. Next they host St.Kilda. I reckon Bontempelli will smash it in this game, similarly to what Zach Merrett did last weekend despite the fact he recorded just 66 points against them in round two. To be honest, the Bont isn't for everyone. Some coaches will disagree with selecting him, but you can't argue with his current form. As I've mentioned before, it's important to get at least one POD into your midfield and with an ownership rate of 4.5% Marcus could be your answer.
Hands up If you like the idea of Sidebottom at sub-500k! That's music to the ears of many coaches. Sidebottom is well renowned for his elite endurance which has seen him take out the Magpies pre-season time trials on a consistent basis – however Tom Phillips did manage to eclipse him this year. He is also a ferocious tackler and is equipped with the versatility to play up forward if needs be – an extremely useful trait given the capped interchange rotations. His knack of being able to kick clutch goals has been on show this year, bagging ten majors including a haul of four against Essendon. Steele is a big game player and has performed well in ANZAC Day clashes, the 2010 Grand Final Replay and numerous finals. Put simply, he is one of the leagues most consistent performers. Although this year has been a bit of a mixed bag. His performance against Sydney was marred by a particular incident which grounded Swans midfielder and popular Fantasy star Dan Hannebery. The hit was deemed to be high contact and a two week suspension was laid down. Now no player likes to miss out on playing a game of footy, let alone a fortnight, but what ever Sidey did in his spare time certainly worked. You get the sense he was hit hard by the MRP's ruling, but it's only fair as Hannebery was hit even harder! It definitely put the fire in the belly as the midfielder came out with a bang. He was typically influential against the Demons, collecting 26 disposals, 6 marks, 7 tackles, 2 goals and 122 Fantasy points but was even better the following week. He managed a huge 144 points which saw his ownership sky rocket. For the next five matches he scored 96, 109, 97, 131 and 107. But then his scores started to fade, the tons were not reached and Eddie McGuire's
mob lost two crucial games against the Power and Demons. Despite his 21 disposals, Sidebottom didn't trouble the scorers against the Giants in week 15 and his mark tally was down. As all champions do, Sidey re-found he superstar form and delivered a 119 point showing in the Magpies morale-lifting victory over the Western Sydney lads. This under-par form from round 11-15 has caused his price to drop to a season-low $476,000. The term 'ripe for the picking' has recently be used on West Coast's Andrew Gaff and Jack Steven, but Sidebottom under-500k is a serious bargain. The Crows over at Adelaide Crow-val is as tougher road trip as it gets, but it's a big occasion and as was said earlier in the piece, Sidebottom was born for crucial clashes. Still expect a decent score and hopefully a solid price rise.
Verdict: They play different roles for vastly different teams but Marcus Bontempelli and Steele Sidebottom have the potential to dominate games. Marcus only requires 20-odd touches to make an impact and is excellent in congestion. Sidebottom on the other hand is just as damaging but it's primarily his versatility and endurance which allows him to do this. I prefer Sidebottom though as he is a more proven Fantasy scorer and is $57k cheaper. But If it's out of Sloane, Steven, Bontempelli and Sidebottom as replacements for the little master, I would choose Sloane. Why wouldn't you?
Loading ...
GAJ Replacement – The Downgrade Targets
Oleg Markov ($186,000) V Clay Smith ($224,000)
Oleg Markov really made a name for himself against the Bulldogs – and its a great name. Born in the small European country of Balarus, Markov moved to Australia and in particular Adelaide. He won selection into South Australia's Under-18 Championships team after impressing with North Adelaide. Throughout this carnival, Oleg showed signs of his natural talent but was inconsistent. He produced a couple of trademark dashes through the middle of the park and added some genuine excitement. It's also worth noting that Markov played through this competition as an over-age 19-year-old. Oleg was impressive at the most recent draft combine, fishing fifth overall and, as expected, was particularly promising in the running tests. He is an athletic medium sized forward who uses his body well in one-one contests. With these specific strengths in mind, I could see Markov becoming more of an outside midfielder. However he will have to bulk up if he's to play on the inside. After the championships, many draft fanatics saw him being granted a lifeline in the rookie draft. This was obviously not the case as Richmond liked what the saw and took the plunge with pick 50. It took him more than half a year, but Damien Hardwick finally decided the Tigers season was all but lost and started blooding the youngsters and boy did they deliver. Jason Castagna looks a real tough competitor an either an inside midfielder, small/medium defender or even as a crumbing forward. Castagna score 96 Fantasy points from 19 disposals, 7 marks, 3 tackles and 2 goals. Markov was equally as useful, producing 18 disposals, 9 marks, 4 tackles and 95 points. Just a single game into his career and it's already obvious that his great assets are his speed, agility and ball use. As a certain Brian Taylor eluded to about five-hundred times on Saturday night footy, Markov's father Dmitri was a world champion pole vaulter. On the back of his encouraging showing against the Doggies, Markov's job-security looks solid – an important proposition when it comes to rookies. The teams disappointing ladder position and crushing loss to Port Adelaide saw Hardwick make four un-forced changes. I would think medium defender Nathan Broad dropped out for Castagna, Shaun Hampson came in for Ivan Maric, Liam McBean replaced fellow key position player Tyrone Vickery and Kane Lambert made way for highly rated draft pick Daniel Rioli. That leaves Markov taking the place of Shaun Grigg who was left out with a knee injury. Grigg is listed as a 'test' for this week and I'm sure they'll bring him in if fit. But you can't drop Markov after that. Depending on structure and how the Bombers line up, I wouldn't be surprised if Grigg returns at the expense of Rioli who failed to hit the scoreboard with his nine disposals.
There are is some cracking stories about comebacks in the AFL. Daniel Menzel's troublesome knees come to mind but Bulldog Clay Smith has been down a similar path. Smith has endured multiple ACL injuries and made his latest comeback in round 15 after dominating for Footscray in the VFL the week before. Here he was serviceable, collecting 16 disposals, 2 marks, 6 tackles and 69 Fantasy points. Quite a number of coaches downgraded to Smith who was to be utilised as bench cover. However his 18 disposals, 4 marks, 8 tackles, 1 goal and 96 Fantasy points against Richmond has opened the option of starting him on-field. If injuries did not hamper the 23-year-old, I'm confident he would have featured prominently at the top level. Clay was rated highly in his draft year and it was the Bulldogs who selected him with the 17th overall pick of the 2011 Draft. He was impressive for the Gippsland Power in the TAC Cup and was the south-east Victorian teams second pick in the draft behind Brisbane-turned Carlton medium defender Sam Docherty. Smith has the ability to play as either an inside midfielder where his pace, competitiveness, tackling and fearless nature allow him to perform well when given a crack. As the Bulldogs have the likes of Bontempelli, Macrae, Liberatore and Dahlhaus as mainstays in the midfield, players such as Smith, Stevens and Stringer are rotated through. When this is in action, Smith has performed well in a half-forward role where his intensive pressure is invaluable to the team. It was pleasing to see Smith mobbed by his teammates when he kicked a goal on the weekend. Some of these teammates are younger yet have played more games then Smith. They were clearly aware of the set-backs Smith has had to overcome. Last year GWS young guns Caleb Marchbank and Jack Steele made their debut's later in the year and were particularity useful as step-ladders to premium players. Clay Smith has come along at a similar time, is less expensive but could be equally as important as coaches look towards completing their teams. Yes, he comes with a risk of injury but his scoring potential looks higher than most rookies. Get him on to generate cash on the bench and don't be afraid to chuck him on-field.
Verdict: These two players have emerged in the past fortnight to become front runners in the rookie department. As is the case with the previous comparison, Markov and Smith are very contrasting players. Smith is your in and under, tough inside midfielder. I liken him to a less versatile Nathan Jones in the way he hunt the footy. I can see Markov featuring prominently for the Tigers in the remaining rounds but I would certainly advise coaches to get Smith as he can be played on-field and comes with MID/FWD DPP.
Loading ...