Ripe for the Picking – Jesus has Fallen
Sparksy looks who is ripe for the picking with seven weeks left in season 2016.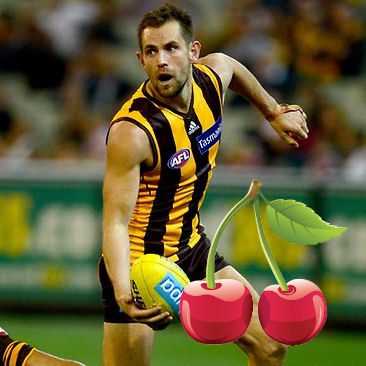 How are we all, Fantasy players? Those of you who don't have the bald-wizard himself will be a lot better than others but I have him and I'm still fairing pretty well, the problem I have is finding the bench cover without actually spending money (poor team planning I know). I'll dedicate a fair bit of the midfield section of this article to replacing GAJ but I've found the options slightly scarcer than I usually would and I'll explain why when it gets to it. But, without further ado, here are the players in each position who I think are good value. At the end of my Top 3 (sometimes more) I'll be giving what I personally think will be the Top 6 in each position at the end of the season instead of my '5 To Consider' as, at this stage in the season, you need to be striving for the best, or as close to it as you can get.
Defenders:
Heath Shaw ($500,000 BE 151)– The Giant boys were down and out after being smashed by the Pies for three quarters but that's great for non-owners as now, Slightly-Duller-Headache-Heath is affordable. The big question: Do you actually want him? The small answer: Yes. He has Brisbane this week which should be enough to make you lock and load but he also plays Port, Richmond, Gold Coast, West Coast, Fremantle and North. Of those teams, none consistently play a defensive forward and none consistently press which are Heath's two biggest fears. If he's left to roam free (which he should be) he'll have his mid-season form back to finish the season, especially as he has already torn Gold Coast and Fremantle apart once this season. This bloke was over $600k before the byes, you can now get him for $500k, even less than that if you wait a week! He's in my top 6 at the end of the season, I just don't think you can miss out on him. The problem with old Heater the past two weeks is his marking. Previously this season he's just gone around the backline, strutting his stuff without opposition and taking mark after mark after mark after mark etc. however Carlton and Collingwood both sent someone to Heath to stop him being the switch in play and it has seriously destroyed his fantasy numbers. He still sees enough of the ball, sure, but without the marks his score isn't as padded, not only does he miss out on 3 points for each mark but he doesn't get anywhere near as many kicks, especially if teams are sharpshooting and if Zac Williams keeps stealing his kickouts. I really think he's worth it though, high risk, high reward pick nowadays but, if you don't have him, strongly consider him.
Rory Laird ($480,000 BE 88) – If you don't have him then you're late to the party but that's okay, you've obviously come out from underneath your rock to read this article and I'll explain to you why you can still jump on board the Laird-train and ride it all the way to the end of the season. Adelaide have been absolutely killing it Fantasy-wise, they're currently one of the most restrictive team in the competition which is great because it means Rory doesn't have to play against one of the most Fantasy-restrictive teams! Not only that but he plays Collingwood, Essendon, Brisbane and Freo before the season ends, could you get a better draw?! (No, you can't). Adelaide also employ the slingshot game-plan which is perfect for half-backers like Laird and that's why he racks up the points, because Adelaide attack by defending. If you didn't get him after his Round 13 Bye then you're in luck, he's at the same price as he was, and I thought it was a steal to get him that cheap once this season! He's consistent, he's at 17.5% ownership and he's a keeper. Get on board if you can, he's worth every penny.
Jason Johannisen ($445,000 BE 102) and Matthew Suckling (#392,000 BE 78) – The two Doggies running off the backline (and forward line for Suckling) enjoy the same perks from game-plans as Adelaide do. Although it's a slightly different slingshot effect, the run and gun strategy is still there and it benefits the half-back line letting them push a long way up the ground. Suckling is the cheaper of the two BUT if you can remember all the way back to Round 2, JJo was set and forgotten in our teams. A couple of injury setbacks later and he's almost as cheap as he was at the start of the season. He hasn't cracked the ton yet since he's been back but he has been building up every week and will absolutely smash the Suns for 120 this week. The Dogs also have a beautiful run home and, if I didn't have GAJ to deal with this week, then JJo would be in my team come lockout Friday. Next week it is! Matty Suckles is already sitting in my team and I'm pretty stoked about it. He's currently only $1,000 above his lowest price this season and he should kill it coming home, not quite as much as JJo but he's also $50k cheaper! If you've got the cash to spare get Johannisen, if not get Suckling, very simple stuff.
My Top 6 Defenders:
Matthew Boyd – $534,000 BE 103
Sam Docherty – $500,000 BE 107
Luke Hodge (if DPP is received) – $486,000 BE 86
James Kelly – $506,000 BE 109
Rory Laird – $480,000 BE 88
Heath Shaw – $500,000 BE 151
Jason Johannisen – $445,000 BE 102
Midfielders:
Luke Hodge ($486,000 BE 86) – So, looking to replace Gary Ablett? Here's your man. Why? Hodgey has 111 and 118 in his past two games and people are spreading delicious rumours about Luke getting back his Defender status. I decided to find out for myself if he was and studied his maps and percentages and it all checks out guys, he's basically a loose backmen rebounding fifty and pushing up the field. So, that's settled, lock and load, cash in $30k this week and then slot him back in Defense next week right? Maybe, if it wasn't for the tiny little problem that Hodge has missed the majority of the season and was playing more of a midfield role before he got injured. Luke only has his previous two games to go on and, judging from the previous Pendle-saga, that's not enough to make the DPP Gatekeepers pull the trigger. The one thing that Hodge has in his favour over Pendlebury is the fact he's had Defensive DPP before. Put it this way, if you're bringing Hodge in purely because of his Dual Position chance, it's not worthwhile. If you want him because you need the cash or think he's one of the best on offer, then bring him in and you'll possibly be rewarded with a fresh DPP option next week. It's a no from me unfortunately but he is number one on this list because I wanted to put my two cents worth into the Hodge-hype. If he gets the DPP, he's the number one 'downgrade' target for Gary, but you'll have to wait a week to find out.
Lachie Neale ($536,000 BE 104) – If I don't bring in the most expensive player in the competition then I'll be getting this boy. Neale has been absolutely killer, not just this season but last season as well. He's got a huge ceiling and has even found a bit more consistency this season. He's actually pretty good value too, for a potential top 8 mid he's practically chump change! I do have two very big problems with Lachlan which is turning me off him: firstly, he has a tendency to go missing when he gets heavy tag, the good news is that not many teams try to tag him so he should avoid that for the rest of the season. The second, most important factor is that Fremantle have an absolutely dreadful draw to see out the season even coming up against Geelong this week. It doesn't take too much cash to get from GAJ to Neale and, if it wasn't for the draw he'd be my fifth best option after Dangerfield, Rocky, Steven and Sloane (possibly after Hodge if he gets DPP). You can't ignore the draw though, so please consider carefully before buying. Yes, he could absolutely smash out 4 or more 130+'s for the rest of the season, or he could chuck in a couple of 50's after being tagged against tough opposition and make you regret spending the small amount of money to fill the hole left by the Son of God. Tread with caution.
Andrew Gaff ($443,000 BE 62) – I brought Gaff in last week and the cash it made me was worth it alone, not even taking into account the fact that he can score pretty well. Get Gaff in now for Gary and you'll make almost $70k, keep him there for 3 weeks and deal with regular scores of 100 while upgrading other players with the money you've made then, when you're putting the finishing touches on your team, trade Gaff to a keeper who's lost a bit of cash at the time and there you have it folks, an easy way to make technically $100k in total. You could actually do a fair bit worse than keeping Gaff in your team. If you take out his injured 44 he has an average of 96.4, a low score of 66 and a high score of 131 which is pretty solid considering the price you're paying. I'm not saying you want to aim to keep Gaff in, it's more that if you bring him in now and you have too much carnage elsewhere to trade him out for somebody who can score a bit higher more consistently then you wouldn't mind keeping him there. If you need the cash, bring in Gaff, he's worth every little penny.
Before finishing up I'd like to give a quick honourable mention to Steele Sidebottom ($476,000 BE 103). At that price it's very difficult to pass Steele up but he's got a few things working against him. Collingwood's draw is a fairly nightmarish run home and I think they will struggle. Not only that but it seems that teams have decided to leave Pendlebury, Adams and Treloar alone and focus on shutting Sidey right down instead and it works, he's getting absolutely destroyed by tags. Not only that but Pendlebury just feels so much more consistent than Sidebottom does. He's an option nonetheless but I believe there's better out there.
My Top 8 Midfielders:
Patrick Dangerfield – $642,000 BE 121
Tom Rockliff – $578,000 BE 122
Jack Steven – $547,000 BE 99
Rory Sloane – $589,000 BE 102
Lachie Hunter – $551,000 BE 125
Dan Hannebery – $536,000 BE 110
Scott Pendlebury – $533,000 BE 122
Luke Parker – $539,000 BE 80
Rucks:
Stefan Martin ($426,000 BE 56) – Finally, some value in this section! If you don't have Goldy/Gawn hold on tight because you could make some easy money. Stef is the first pick of my ruck bunch because he's back! Getting a rest and Trent West being dropped has done him absolute wonders and now he's hitting the hundreds out like we've wanted from him all season. Three 100's in a row and a fairly safe draw home should definitely make all signs point to "Trade In!" on this bloke and 22% of teams agree with me, albeit most of them probably started with him and endured his whole trainwreck. I know that nobody is really looking to fill their R1 and R2 positions as they should have been sorted long ago but, if you don't have him and you won't/can't get him in, good luck to you my friends.
Sam Jacobs ($492,000 BE 91) – Sauce is a bit of consistency in the ruck department, just quietly going about his business and yet always getting it done. For the 12% that have him I'm extremely impressed, he's a bit of a PoD and yet you're not losing out on much if you have him compared to a Goldy/Gawn/Martin. Yes, all three of those can go a bit bigger than Sauce does but they're also prone to down scores whereas Jacobs has one score below 75. I still think Martin is the better option and Sam is more just here as a pat on the back for those that have him but there's much worse out there than Jacobs and I wouldn't blame you for bringing him into your team for stability if you still need an R2 or even if your on field team is complete and you want to spend a bit of money on an R3 (wouldn't recommend it).
Brodie Grundy ($480,000 BE 71) – My boy in Elite, Brody has been killing it and has anybody been noticing? No. 3.11% ownership and he has a last 3 average of 108.7! This kid is wild and he actually tore Mummy and the Giants ruck stocks and midfielders to absolute shreds on the weekend and I'm so glad I managed to get him very late in my Elite league. What a great PoD to have coming up to finals time as well. The thing about winning your leagues is to make your team great without making it 'Vanilla' or, in regular terms, like everybody else's team and Brodie is a great player to have sitting there as your R2 while your opponent has a typical, normal-person combo. If you have Grundy then great for you, you'll go very far in this competition as you're obviously a lot more aware than I am. If you don't have him and you need an R2 then he's a pretty solid option. I'd still go Stefan over Grundy but he's really proven himself this year and I think, come next year, he might be on a lot more people's lists!
My Top 2 Rucks:
Todd Goldstein – $506,000 E 107
Stefan Martin – $426,000 BE 56
Forwards:
Aaron Hall ($482,000 BE 88) – He's back people, after a stint in the twos the Hall we were expecting to experience all season is back and hungry to up his average. If you dropped Hall during his cold period or you never had him jump (back) on that bandwagon again and ride it straight into that AFL Fantasy sunset. He has 115 and 107 in his last two games, a beautiful run home with the likes of Fremantle, Collingwood and Essendon all being played before season's end and the only nasty team he's playing is GWS. He's also on a team whose midfield stocks are getting thinner by the minute which means Rocket Eade should have no choice but to play him in the guts which also means HUGE Fantasy scores to benefit us owners. You could even downgrade Aaron's teammate Bald Jesus to this bloke, pocket over $30k and then move Hall into the forward line via some DPP action next week and grab a juicy midfielder! He's a must have at this price and there are no exceptions, find a way to get him in if you don't have him. Number one target for this week.
Robbie Gray ($488,000 BE 84) – I've been trying to get Robbie into my team since his bye and I've missed out on 107 and 115 in the process because I just haven't been able to do it! Port's run home isn't quite as nice as Gold Coast's and Aaron Hall has the ability to go higher than Gray more consistently but they're both very very similar players and you should have both by season's end so, if you already have one of them get the other this week, if you have neither then go Hall over Gray but keep Gray right in your plans, and if you have both well you're a superstar Fantasy player and you don't need my advice. Remember, Hall first, Gray second, they're pretty much exactly the same player anyway!
Jack Watts ($443,000 BE 52) – That's right, I went there. Now I've got Watts in my Ultimate Footy team which makes his scores seem a little more padded, however his previous two scores don't need any sort of padding. A 120 against one of the most difficult teams in the comp and 114 against Fremantle and it looks like Watts has found his spot in Melbourne's Fantasy guns after all these years of expectation from us coaches. I'm not actually sure what's changed to make Watts get these scores or whether he's just getting a bit lucky, as I haven't been watching any of the Melbourne games lately but I'm assuming it's all down to an increase in work rate with Jack pushing up the ground more. It's very difficult to ignore two scores like this from a bloke who's meant to score well and you could definitely do worse than bring him in however he's not a keeper so bring him in, make some cash from him and then trade him up to a Top 6 Forward. Then again, if he keeps this up he will be a Top 6 Forward for the rest of the season and with 3.27% ownership, that would be something!
A very quick honourable mention goes to Luke Dalhaus ($482,000 BE 146) who should be back from injury within a couple of weeks and will go back to destroying teams for the rest of the season. He could be a great option to upgrade a bench rook when he gets back as he should be cheap as chips! But it will be getting on a bit in the season which could mean having to miss out to get somebody like NRoo or Zorko. He is very consistent however so strongly consider him as a PoD when he gets back. 6.06% ownership is a nice kicker going into finals as well!
My Top 6 Forwards:
Zach Merrett – $574,000 BE 104
Dayne Zorko – $551,000 BE 108
Dustin Martin – $545,000 BE 106
Aaron Hall – $482,000 BE 88
Nick Riewoldt – $535,000 BE 127
Robbie Gray – $488,000 BE 84
So, there you have it! Please remember that the Top 6 section is MY Top 6 section, it's who I personally think will be the highest averaging in their position for the rest of the season and who I'll be aiming to finish the season with. Hopefully this all helps you round out the season and complete your teams for finals, I'm a bit behind so I have some catching up to do but I'll get there! Hope you're all going amazingly, topping out your leagues and getting good rankings in the process and good luck for the rest of the season. Any questions, send them to @Sparksy361 on Twitter or comment down below, I'm generally pretty good at answering.
Happy trading!