Roy's Trade Talk – Round 17
The big news this week is the season ending injury to Gary Ablett, so first and foremost I will be looking at the best straight swap/cheaper replacements for him.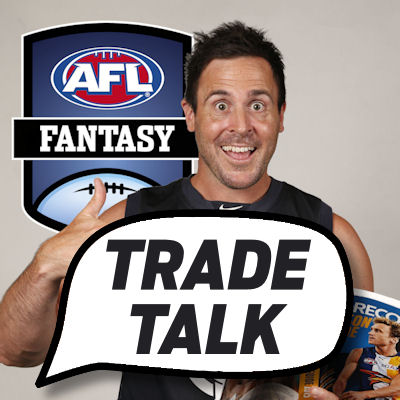 The big news is the injury to Gary Ablett (MID, $521,000) this week so first and foremost I will be looking at the best straight swap/cheaper replacements for him, keeping in mind we only want to bring in the guys who are the real deal for the run home. Lucky for us, there are some great options.
Gaz Options
Aaron Hall (FWD/MID, $482,000) is well under-price and a great pick for a number of reasons. The first being he is back in the midfield and back in form, coming off two straight hundred point games and a season high 33 centre bounce attendances on the weekend. He has a great run home and we all remember what he did at the end of last season without Ablett in the team. He has a break even of 88 and is an easy trade, especially given that he can be swung forward when the time is right for your team.
Luke Hodge (MID, $486,000) has come back into the Hawks side in season best form over the last two weeks with scores of 111 and 118 while seemingly taking marks at will. While you might hear people like Matthew Lloyd say Hodge should retire, that is a crock of sh*t! He is still easily one of the best players in the competition and well deserving of a spot in your final eight mids. He is an absolute bargain after dropping 129K since the start of the year, but with a BE of 86, he won't be this cheap again. He has great numbers against upcoming opponents the Swans and Tigers and would be an awesome selection, especially given he has to be a huge chance to gain DPP in the backline next week.
With scores of 131 and 98 in his last two, Andrew Gaff (MID, $428,000) is well worth a mention given he is priced so low. I don't have him in the same class as the two guys above, but if the cash saved improves your side significantly somewhere else… he is worth a look. He is down 151K from his asking price and has a BE of just 60.
Bryce Gibbs (MID, $517,000) is back to his best with a three game average of 111, after a mini form slump a few weeks back got him down to a nice price. He has one of the best runs home, especially over the Fantasy finals with a scoring frenzy on the cards with games against the Saints, Lions, Dees and Bombers helping your team to premiership glory.
Although Sam Mitchell (MID, $481,000) is not showing the high scoring consistency we witnessed at the start of the season, he is an absolute steal for this price. He has a five round average of 100 and a break even of just 87 which reinforces his value.
Click here to subscribe on iTunes.
Say Watt?
You couldn't do it, and I know by even mentioning this I will lose most of my Twitter followers… But it looks like Jack Watts (FWD/MID, $443,000) has turned a little corner. If you are still reading (and I know you considered clicking the x button) have a listen to these numbers. Watts has looked amazing in the last three weeks, getting kicks all over the ground whilst also having an impact on the score board. In that time he has averaged 115 which leaves him with a break even of just 52. He is owned by just 3% of the competition (Yes, for good reason I hear many of you saying) but with games against the Saints, Eagles and Suns in his next three… Surely worthy of holding down D5/6.
Ruckin' Bargain
If you are after some value in the ruck department, look no further than last years hero Stef Martin (RUC, $426,000) who has hit his straps in the last three weeks, not dropping below triple figures on his way to a three game average of 105. He has great numbers against all his opponents for the run home and is an easy pick as an upgrade.
How do you compare to the top 200 coaches?
Twitter Time:
@AFLFantasy @WarnieDT @RoyDT @CalvinDT Best low range premium foward? Either Hall, Gray, Montagna or Mitch Robinson as a POD

— Jayden Evans (@Evanston319) July 11, 2016
Hall is my pick of the week!
who do you boys see gaining dual position in the coming weeks? Worth going early in a hodge? @CalvinDT @RoyDT @WarnieDT

— Evans Eagles CC (@EvansEaglesCC) July 11, 2016
I think Hodge and Riewoldt will be the most relevant
https://twitter.com/Micr0Mari0/status/752410223097229312
Pay the bigger bucks on this occasion, Jack Steven
How many Dogs is too many? 3 back and 2 mid? Too much? JJ/Suckers in maybe was a plan #AFLFantasy @RoyDT @WarnieDT @CalvinDT

— Guy 🌱🏳️‍🌈 (@greysfan) July 11, 2016
With so many games at ES, don't stress, just get the best player available, and if that's a Dog, do it.
Use the comments section to discuss your trade ideas with each other,
Cheers,
@RoyDT