Gaz Goes – Ep. 88
Who do we trade Ablett to? That is the big question the boys try to answer on this week's podcast.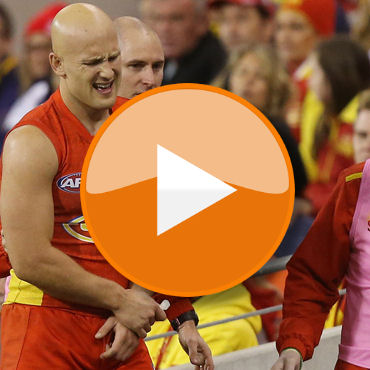 As we're getting much closer to being happy with our 22s, Gary Ablett goes down with a shoulder injury. The best options for the fifth most owned player are covered as well as answering your questions. All that and a whole heap more – including stats – here on the official AFL Fantasy podcast.
Click here to subscribe on iTunes. (Please leave a rating and review to help us move up the charts).
Look at the swagger. Haven't seen him sit that arrogantly ever. 🎙 PODCAST: https://t.co/2L3FhYaZo0 #AFLFantasy pic.twitter.com/IH0NyVSu4b

— Adam 'Warnie' Child (@WarnieDT) July 11, 2016
AFL FANTASY POINTS FOR AND AGAINST (LAST 4 ROUNDS)
| CLUB | PTS FOR | >100 FOR | >120 FOR | PTS AG | >100 AG | >120 AG |
| --- | --- | --- | --- | --- | --- | --- |
| ADE | 1751.25 | 4.25 | 1.25 | 1474.25 | 2 | 0.5 |
| BL | 1569.25 | 4 | 1.5 | 1639.5 | 4.5 | 1 |
| CAR | 1534.25 | 3.25 | 0.5 | 1616.25 | 5 | 1 |
| COLL | 1636.5 | 2.75 | 1 | 1589.75 | 3.25 | 1.25 |
| ESS | 1579.25 | 3 | 0.75 | 1703.25 | 4.5 | 1 |
| FRE | 1608.75 | 3.25 | 0.75 | 1711.75 | 5.25 | 1.5 |
| GC | 1543 | 3.75 | 1.5 | 1565.75 | 3 | 0.75 |
| GEE | 1592.5 | 3.25 | 1.25 | 1478.5 | 3 | 0.5 |
| GWS | 1603.25 | 4 | 0.25 | 1581.5 | 2.5 | 0.75 |
| HAW | 1634.75 | 4.25 | 0.5 | 1468.75 | 2.25 | 0.25 |
| MELB | 1745.5 | 5.5 | 2.25 | 1636.75 | 2.75 | 1 |
| NM | 1433 | 2.5 | 0.25 | 1511.25 | 2.25 | 1 |
| PA | 1511.75 | 3.25 | 0.25 | 1588.5 | 2.75 | 0.75 |
| RICH | 1648.5 | 3 | 1 | 1490.25 | 3 | 0.5 |
| STK | 1488.25 | 3 | 0.5 | 1658.25 | 3.5 | 0.5 |
| SYD | 1617.25 | 3 | 1.5 | 1576.75 | 3.5 | 1.25 |
| WB | 1596 | 3 | 0.75 | 1718.5 | 4 | 1.25 |
| WC | 1554.5 | 3 | 0.25 | 1616.25 | 4.5 | 1.25 |
AFL FANTASY POINTS FOR AND AGAINST (SEASON)
| CLUB | PTS FOR | >100 FOR | >120 FOR | PTS AG | >100 AG | >120 AG |
| --- | --- | --- | --- | --- | --- | --- |
| ADE | 1678.2 | 3.47 | 0.93 | 1515.4 | 2.4 | 0.93 |
| BL | 1446.53 | 3 | 0.87 | 1645.33 | 4.53 | 1 |
| CAR | 1556.07 | 3.8 | 0.87 | 1564.6 | 3.4 | 1 |
| COLL | 1595.6 | 3.2 | 0.67 | 1636.73 | 3.6 | 1.47 |
| ESS | 1617.27 | 3.87 | 1.2 | 1668.93 | 3.93 | 1.13 |
| FRE | 1540.8 | 2.87 | 1 | 1676.13 | 4.8 | 1.27 |
| GC | 1514.2 | 2.93 | 1.07 | 1644.13 | 4.27 | 1.07 |
| GEE | 1622.87 | 3.8 | 1.2 | 1490.47 | 3 | 0.8 |
| GWS | 1648.33 | 4.33 | 1 | 1486.07 | 2.2 | 0.4 |
| HAW | 1613.8 | 3.73 | 0.53 | 1530 | 2.6 | 0.8 |
| MELB | 1604.93 | 3.73 | 1.13 | 1609.6 | 3.73 | 0.93 |
| NM | 1542.53 | 2.73 | 0.73 | 1494.8 | 2.73 | 0.87 |
| PA | 1528.13 | 2.67 | 0.47 | 1609.4 | 3.67 | 1.13 |
| RICH | 1549.87 | 3.4 | 0.93 | 1544.4 | 2.8 | 0.8 |
| STK | 1576.67 | 3.53 | 1.47 | 1661 | 3.67 | 1 |
| SYD | 1627.53 | 4.27 | 1.53 | 1543.4 | 3.07 | 0.8 |
| WB | 1706.33 | 4.33 | 1.27 | 1614 | 3.33 | 0.73 |
| WC | 1572.4 | 2.8 | 0.47 | 1598.13 | 3.93 | 1.13 |