The Friday Scramble: Round 16
The byes are gone and now it is all about the run to the flag. Hopefully you got off to a good start last night and you can continue that over the rest of the round.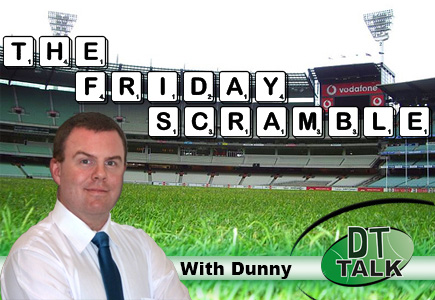 Bye Bye Byes!  But, this is where we need to get serious now.  As you move your round 15 bye players back onto the field, you should be finding that there aren't too many holes that need to be plugged.  Our aim was to come out of the bye period with a fully premium team.  Does that mean that our trading is done?  That we are all finished?  No.  Unless you have the best 22 averaging players in the comp then you can still improve.
Loopholing Along
As we do with each of these weeks that have a Thursday night game in them, we will start by having a look at how the loophole options went last night.
The key guys this week that you would have selected are as follows:
Robbie Gray – 115
Sam Mitchell – 84
Luke Hodge – 118
Jordan Lewis – 100
Travis Boak – 94
As always, we look at a score of 120+ as the one we should take for VC. The general consensus is that these scores probably aren't enough for you to lock them in .  Roy did predict an awkward score from Robbie and that is exactly what we got.  Hodge's 118 is nearly passable, but really with Ablett and Rocky playing each other in what could be a shootout between them in fantasy points, I would probably pick one of them (probably Rocky).
Trades
Obviously this is only related to RealDreamTeam and Supercoach as they are the games that have limited trades.  The biggest question that we all get asked at this point of the season is "How many trades should I have left?"  There is no one answer to this question, there are some variables that we need to take into account.
Are you a League or a Ranking player. 
If you are going for an overall ranking you need to get your team to be the absolute best that it can be as soon as you can.  In this case you can probably take the risk and run down your trades a little further.  However, you probably do want to save two or three trades for those injuries.  But really, I would only advocate this if you are really focused on ranking an even then if you have a realistic shot at the overall win.
League players, well ideally you would want to have a minimum of 4 trades at the start of finals.  If you are in the top 4 you can get away with 4 trades as you are a big chance to get the week off in the second week and then you won't need to trade that week.  If you are only likely to get into the bottom four, then you may want to have about 5 trades or more as you may need to trade a little more.
Now remember, this is an ideal situation.  Clearly if you aren't in the 8 and you are going for a league win, then you have to do everything you can to get in the 8 which may mean dropping down a few trades.
Who do you have on field?
Are you comfortable finishing with Kerridge or Liberatore on field?  These guys are probably not the best options for you in your final side.  So no matter how many you have left, you will probably want to use trades to get rid of them.  You are unlikely to win a flag with both these guys on field for you.  If that takes you down to 4 trades, then so be it.  You can probably wait a week or two before doing it though.
Selection Table
With a few extra games this week we have a bit more to see here this week.
Mason Cox being managed, thank the Fantasy Gods that was this week and not last week when heaps of us were relying on him!  Taylor Adams back in and unfortunately as many of us were worried about, this has meant that Tom Phillips has been omitted.  I wouldn't be trading him out, mainly because you won't have made much cash from him and I won't be surprised if we see him again at some stage in the near future.  Speaking of guys out, Ben Keays is paying the price as well as he misses, but as we all expected, Dayne Zorko is back.  It wasn't an injury that caused him to miss, it was a personal issue, so no problems there.
There was plenty of whispering that Barlow would be playing this week, sadly that isn't the case, but it sounds like he might be ok for next week?  So based on that I will be holding him in the limited trade forms of the game.  In Fantasy you can trade him out, but remember, you may not get him back in easily if you have other issues to deal with.
Another popular downgrade target last week, Nathan Broad has been omitted but then the Tigers have brought back Castagna for his third game.  I don't know about his (or anyone at the Tigers) job security at the moment, so if you do pick him up, don't expect it to be without any risk.  As for Broad, if you did bring him in, you may as well hold him now as your last player on the bench and just pray that he gets back in!  Tom Lee is out again for the Saints.  If you still have him, then you should do everything in your power to unload him!
The Bombers have basically swapped half their team!  Zaha, Berger and Stokes are the big names to miss out whereas nothing of much interest came in.
#AskDunny
@pkd73 Who do I play on ground out of Philips, C.Smith and SOS?

— Jacob (@JKniebe) July 6, 2016
This gets a little easier this week with Phillips now having been omitted, but for me, I probably go C Smith, only because he has more experience and they are playing the Tigers whereas SOS is playing against the Crows who should prevent the ball from getting down to him in the forward line a bit too much for him to score well.
Who is the best midfielder between 300 and 400K @pkd73

— Gareth Evans (@garethevans38) July 6, 2016
You didn't mention which format there Gareth, so I am going to look at AFL Fantasy first and there I would be looking at …. pretty much no one!  The best of the bad bunch would be maybe Brad Crouch but his spot in that team is far from solid!  In RDT we have a similar problem, no one that I would be wanting to bring in at this stage of the season at that price.  To be honest, I would be looking to do a downgrade somewhere else and get someone in the 500+ range.
Josh Smith to Jason Johannisen +20k in bank or Kade Kolodjashnij +108k in bank?

— jacob danias (@danias2000) July 6, 2016
Interesting one there Jacob.  I think I like Johannisen (Avg 91 from 5 games) more than KK (Avg 75.8 from 11 games) at the moment.  In both RDT and AF Johannisen has a BE of over 100, so you could look at waiting and watching him for one more week without paying much more than what he is at the moment.  But if you have to make the move this week I go Johannisen, he has a higher ceiling in my opinion for the rest of the season.
Who to play D6? Ruggles with a 3 rd avg of 81, or J.Smith against GWS? @DTTALK @pkd73 @AFLFantasy

— Sam Burnell (@SamBurnell1) July 6, 2016
Wow, I don't like either of those options with the Cats playing the Swans and the Pies against GWS.  The only thing that really swings it for me is that Ruggles has been playing reasonably well and they are playing at home.  I think also that the fast paced game of the Giants may be too much for Smith and the Pies at Spotless.
Things To Remember
I've said it twice, I'll say it again, in RDT and SC trades stick today!  You can't reverse trades. So make super sure of what you are doing.
Even though we don't have to worry about byes with our trades now, we still need to make sure we are selecting guys that will be playing each and every week.  So job security for your on ground players and at least one bench player is very important.
Check your captain selections by revisiting Calvin's Captains from Wednesday night.
Only 4 more league matches until we hit the finals.  So get your team in shape and get yourself as far up the ladder as you can!!  Best of luck for this round, not long to go now so don't lose focus!  Catch you all next  week.  @pkd73