Versus: Round 16
Tom is back with a few players going head to head in fantasy.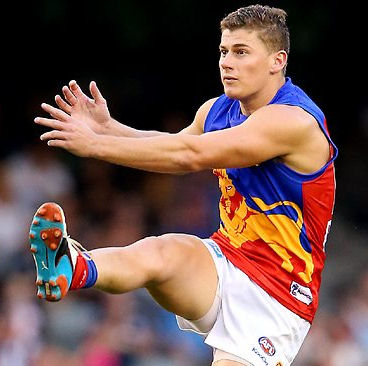 Tom is back with a few players going head to head in fantasy.
Dayne Zorko ($552,000) V Dustin Martin ($546,000)
The form of small forward/midfielder Dayne Zorko has been a shining light in an otherwise gloomy year for Brisbane. Despite his small statue, Zorko cracks in hard at the footy, has blistering speed and is a good kick. Zorko is currently enduring his finest season to date, averaging 24 disposals, 4 marks, 7 tackles, 1 goal and 111 Fantasy points per game. These statistics are significantly higher than his career averages. However it wasn't the smoothest of transitions from under age competitions to the top level. Although he played a great under-18 championships as captain of Queensland, Zorko eclipsed the eyes of AFL recruiting staff. But he didn't give up and joined local sunshine state team Broadbeach. At the time he was just 18 years old but still managed to take out the teams best and fairest award. Fast forward a few years and Dayne had added another four best and fairest's to his ever evolving trophy cabinet and even captained Queensland's under-21 team. Still, his size deterred recruiting staff. Finally, after concluding a magnificent 2011 season in the NEAFL, upper echelon teams simply had to take notice. Eventually after dominating in the reserves, Gold Coast picked him up with a priority selection. From them he was traded to their rivals, Brisbane, in return for pick 34. Last year Zorko finished in emphatic style and took out his inaugural Merrett-Murray Medal despite kicking less goals than seasons before. Zorko missed the opening game of 2016 against the Eagles which put off most Fantasy coaches. Since them, the mosquito club member has been electric. He has managed ten hundreds and just two scores below three figures (89 and 91). Unfortunately he missed the clash with Richmond at the 'Gabba' due to personal reasons but looks set to return to his brilliant form after two weeks rest. A run of games against lower opposition should not only help Zorko but will aid the Lions in there quest to avoid the wooden spoon. First they verse Gold Coast in the Q clash before facing GWS, fellow cellar dweller Essendon, Port Adelaide and the Crows. The Crows and Giants may prove tricky to ton up in but he has hit that mark against restrictive opponent Hawthorn earlier this year. Zorko has been the Lions best player this year and should be a member of your team as soon as possible.
Good old Dustin Martin has really started to hit his straps of late. His trademark 'don't-argue', booming kick and bold neck tattoo's make him a cult figure down at Punt Road. The explosive midfielder finished second in the Tigers best and fairest in 2015 after a career best year. It certainly took him a while, but Dusty has finally starting to pump out the big scores we've all come to expect from the 2009 pick 3. Many coaches even considered not starting with Martin and were made to look like geniuses as he opened his 2016 account with a score of 75. Although a 114 the week after silenced the critics. Martin then went on a stretch of five games with just one ton – a streak which has rarely accompanied Dusty in past years. But since the round e clash with Sydney, he has turned it up and is currently averaging 107.5 points over the past month (which includes an under-par 67 against the Roos). Dusty currently has a rising star nomination, four top three placings in the B&F and two All-Australian nominations under his belt but remarkably, still has the scope to improve. Dusty is ranked seventh for total disposals and sixteenth for fantasy points but also sits highly for clearances, inside-50's and bounces. I'm sure he would also feature in the top five for 'don't argues'. These stats prove that Martin plays a varied role in the Tigers midfield. He has the speed and confidence to play an outside role and also possess the brute strength required on the inside. Richmond are coming off a disappointing loss the the Power and are looking less and less likely to feature in September as the weeks go by. If fact probably the only event they will feature in during the ninth month is the Brownlow count with Martin firming as one of the front runners aiming to pluck the medal from Dangerfield's . If he's any chance of winning the prestigious award, he'll have to perform against the bigger clubs like the Hawthorn, the Bulldogs, GWS, Geelong and Sydney. These tough fixtures shouldn't alter Martin's level of production as he as effectively fixture proof and can easily ton against all clubs. The 25 year old was tagged by Ebert on the weekend but still managed 99 points in the loss. At $552,000 your paying big bucks but it's worth it for a reliable match winner.
Verdict: Zorko and Martin are without a doubt two of the most in-form forwards at the moment. 'Zork' is small in stature but provides pressure, hits the scoreboard regularly and has proven to be ultra consistent. He has shot up into uber-premium status in 2016. Martin, on the other hand, is a big bodied midfielder whose presence can be felt around stoppages. Dusty has always been a productive point scorer and is as safe as they come. The pair entered the AFL via vastly different routes but are now scoring freely. You honestly cannot go wrong with either but you can't argue with ten tons from twelve games. Zorko for me, just.
Loading ...
Rory Laird ($475,000) V Jason Johannisen ($456,000)
As a Crows fan, I love the way Rory Laird goes about it. He's only small but is ultra courageous, tough and is a great contributor in a flourishing Adelaide lineup. In many ways Laird had a breakout year in 2015. This was partly because of a change to a more attacking role due to Matthew Jaensch's season-ending injury. He finished second in the best and fairest, made the All-Australian squad and the AFL's best 22 under 22 team. He played every game and led the Crows in effective kicks and handball receives – statistics which Jaensch would've ranked high in. Despite his new role, Laird still retained his defensive game – restricting his direct opponent to just 0.7 goals per game. The nuggety defender was picked up by the Crows in the rookie draft but has improved every year since to cement his place in the team. As expected, his Fantasy scores have risen since he resumed the rebounding role. Last year Laird was one of the highest ranked defenders and finished with an average of 88 Fantasy points. Unfortunately, a broken toe suffered against Fremantle sidelined Laird for a month. But he has instantly returned to form with scores of 96, 115, 75 and 106. During this stretch of games, Laird has managed ten marks twice. Some coaches may class Laird as marginally under-priced at $475,000. Even though he is a defender, scores upwards of 90 should be expected week-in-week-out and given the Crows run home, even a hundred point average is within reach. The Crows have been the the perfect team when it comes to Fantasy over the past month. They score an average of 1808.5 points themselves and only concede 1406 against. Amazingly they rank number one for both of these statistics. The Crows play Carlton at the MCG this week. The Blues are a bit fifty-fifty for points against but the ball may not venture into the Crows defence all that often. Still, the ever-reliable Laird will find a way to score well whether that's through tackles, disposals or marks. Then they face Collingwood, Geelong and Essendon. In fact this game against Geelong is there only game which is classified as a hard game in terms of Fantasy points. After that, the only other top eight side they face is West Coast in the final round. Rory has recently been caught speeding on the road in Adelaide and he should be speeding into your team as the season reaches its climax.
It's been a mixed bag of a year for Jason Johannisen with the great highs of early rounds dampened by injury. Johannisen or JJ as he is more commonly known, is a rebounding defender. Born in South Africa, JJ has elite leg speed and uses the ball with damaging effect off the half-back line. Up until last year, JJ had struggled to make a spot in the Doggies team his own. However the arrival of senior coach Luke Beveridge has seen him become a valuable asset. He started the season on fire, top scoring in the Bulldogs smashing of Fremantle. Here his 121 Fantasy points sourced from 35 disposals, 9 marks, 1 tackle and 1 goal. Now if i'm honest, I was one of a few coaches who believed this was a bit of a one off. Well, I was more than happy to be proven wrong after JJ pumped out a stellar performance the following week. At this stage, you would've been very happy if your team was auto-filled with Bulldogs players. They boasted some of the highest scoring defenders going around like Johannisen, Murphy and Boyd along with valuable cash cow Marcus Adams. However, it was somewhat back to normal in round three where the pressure of a big game against the reigning premiers took its toll, resulting in a score of 67 Fantasy points from just 17 touches. All looked well the next week when JJ sat on 57 points at the half time in the game against Carlton. Then in the ninth minute mark of the third term, the ultimate Fantasy anti-climax took place in front of our very eyes. Jason unleashed a booming kick which split the middle of the big sticks. As owners rejoiced, JJ grimaced in pain. The ball reached it's intended target but it's kicker had suffered a hamstring injury which was to keep him out of action for nine matches. It was a cruel blow for the up and coming star, his brave owners and the Bulldogs who had lost inspiration skipper Bob Murphy to a season ending ACL tear just one week before. A real feature of the Doggies season so far has been the way they've managed to cover injuries – they lost just three games in JJ's absence. On the weekend, Johannisen turned a successful comeback into a fairy tail by kicking the sealer against flag-challengers Sydney. Now, the speedster has returned to action, he will be looking to recapture his early season form. Look out, JJ has a high ceiling and the capacity to win you a close head-to-head battle.
Verdict: Both players in the spotlight here are ball winning defenders. Laird plays a very hard-edged game and has a knack of taking crucial marks running back with the flight of the ball. JJ was ranked third in the AFL for bounces last year, loves to run and carry and is your typical attacking defender. This attacking mindset allows him to get forward and kick a goal, hopefully not injuring himself in the process. Each player has had a fairly substantial injury this year but seeing as JJ has only just returned, I'd go with Lairdy.
Loading ...
Jack Silvagni ($147,000) V Eric Hipwood ($201,000)
Talk about anticipation! Apart from maybe number one draft pick Jacob Weitering, has there been a more hyped debut this year? Despite the inevitable build up, Silvagni managed to contribute to the team and didn't look out of place on the biggest stage of all. If your part of the small minority unaware of Jack's family link to Carlton, which rock have you spent the last week hibernating under? Jack is the son of Carlton and AFL legend Stephen and grandson of Serge who was also a popular player for the Blues. Carlton picked up Jack in the 2015 draft via the father/son system. However unlike his father, Jack is a medium sized forward capable of impacting play further up the ground. During the week, as his debut was announced, coach Brendan Bolton reassured fans that Silvagni was picked purely because of his form in the reserved and also stated that Jack's family heritage had 'nothing to do' with his selection. Despite loosing the match to Collingwood, Silvagni showed signs and managed 15 disposals, 6 marks, 3 tackles and an impressive 78 Fantasy points. There were some coaches who either chose to or were forced to bring in Jack this week. They should be quietly smiling, knowing there perhaps risky decision had paid dividends, especially as Jack's job-security for the time being looks stable. At quarter time in this match channel seven showed footage of Jack, who was three at the time, running through the banner with his father. From long sleeves to the way he runs, Jack draws multiple similarities to his famous father. However he couldn't be more different on the field. I wouldn't expect 75+ scores every week, although he should be one of the better rookies for the run home. Until he further proves his Fantasy ability, playing Jack on-field for a couple of weeks is just too much of a risk in my opinion. When Essendon made a bid for Jack in the recent draft with a rye smile, Carlton didn't need to think twice about matching it. I suspect this choice will be talked about for many years to come.
Brisbane managed to select Eric Hipwood with pick 14 through their academy despite a bid coming in from Richmond. Many draft experts classified Hipwood as a bargain at pick 14 considering his 200cm frame, versatility, agility and strong hands in contested situations. His stocks rose considerably after staring in the 2015 under-18 championships. Here he averaged 21 disposals, 7 marks and was one of Queensland's best performers along with fellow academy star Ben Keays. Hipwood was forced to wait until round 13 to earn a place in the Lions senior team but like Silvagni, looked comfortable at the highest level. On debut he managed 9 disposals, 2 marks, 3 tackles, 1 goal and 50 Fantasy points. However it was his game against the Tigers last weekend which drew more praise. Eric contributed to the team by kicking 3 goals from five scoring opportunities. He also had 7 disposals, 3 marks, 2 tackles and 59 Fantasy points. Now as a general rule in Fantasy, stay away from young key position players as they will inevitably back fire on their owners through lack of cash generation, point scoring or job security. However I get a sense that Hipwood may be given the rest of the year to rove himself and gain much needed experience. Besides, Brisbane are at a stage now where they may as well blood the youngsters. We've seen Schache, Keays, Hammelmann and Mathieson get games so far this year and there will no doubt be a few more rookies to add to that list – so I'd imagine Hipwood's job security is fairly high. With that being said, the other half of the deal is Fantasy points. Hipwood will not be a big scorer. If your looking to trade him in, only let it be for a bench position. Hipwood is a real talent and emerged as one of the leading downgrade options. Looking at the youngsters Brisbane have, Schache and Hipwood have the potential to be a real threat to opposition in a few years time, Keays and Mathieson likewise whilst McStay and Andrews look promising down back. It's not all doom and gloom for Leppitsch's mob.
Verdict: Two exciting youngsters pitted against each other here. I really liked the game of Silvagni on the weekend. He showed a bit and looks to have a place in Brendan Bolton's side for many weeks to come. Besides, I don't think he'd be too popular walking into training on Friday after dropping Silvagni the night before! In many ways this comparison comes down to job security. As is mentioned above, I see Hipwood playing for the majority of the season considering the Lions current position. I'm going to go Silvagni as one, I may be bashed up by a few die hard Blues supporters and two, because I'd say Jack has the higher scoring potential. Big futures for both these players.
Loading ...