Jeppa's Juniors – Round 15
They're done. The bye rounds are over so lets get serious. There are plenty of premos on everybody's wish list and to generate the cash, we'll need a rook that will have a big impact for the remainder of the season. See who's on the radar ahead of another important week of trading.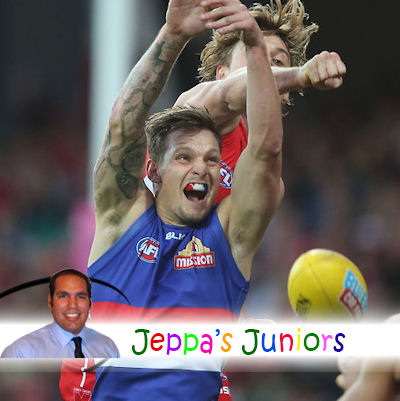 The bye rounds are done and dusted so now we can finally look to the business end of the season. No matter what your agenda is, taking a risk or two at this stage of the season can seriously pay off. For those that don't mind living on the edge, consider Stephen Coniglio, Jason Johannisen and Brett Deledio all of whom are owned by less than 5% of coaches in Fantasy and Dreamteam. If you want to get ahead, pick a point of difference!
THOSE THAT MATTER
Jack Silvagni (Fwd. $146,000, -9 be AF. $121,300 DT) – Watching Jack was uncanny. The long sleeves, the chest mark, the sideways movement…all like his old man. When Silvagni was named Thursday night I was skeptical trading him in given he's a young tall forward but he exceeded expectations on debut. 'Son of Jo' racked up 15 touches, 6 marks, 4 tackles and 76 Fantasy points. Bolton loved his work rate and he had a team high 7 score involvements too. Stats like that will keep in him the team and as Fantasy bench backup you have my blessing to trade him in. Wait the extra week for Dreamteam just in case. There is a risk that Silvagni plays only a handful of games.
Matthew Hammelmann (Def/Fwd. $131,000, 17 be AF. $121,300 DT) – Hammertime was poor back in Round 14 so don't be surprised if he's dropped this week. If Hammelmann is given another chance, I'd love him to play with a bit of freedom because he can be damaging with the ball in hand. If you don't own him, I'd look to others instead.
Clay Smith (Fwd/Mid. $190,000, 13 be AF. $233,800 DT) – As expected, Smith took his senior opportunity with both hands and played like it was his last ever game. Coming back from three knee reconstructions is bloody tough but the kid's got grit and now it's about playing good, consistent team footy. Against a tough side in the Swans, Smith had 69 Fantasy points from 16 possessions, 2 marks and 6 trademark tackles. This is right on his scoring range and even though he's a little pricey, I consider him the number one trade down option this week Note his dual position forward / mid status which makes him perfect bench cover.
Ryan Clarke (Mid. $164,000, 33 be AF. $121,300 DT) – Sourcing an accumulator at this time of year is rare but Clarke definitely knows how to find the footy. The young midfielder plays inside and is a tackling machine too. Unfortunately, North Melbourne has a pretty settled team and even if he does play, his job security will always be a concern but I remain hopeful. Scoring 70+ for a couple of games might suit a few coaches. It's a case of high risk, high reward.
Tom Phillips (Fwd/Mid. $208,000, 0 be AF. $182,800, -32 be DT) – Phillips owners should be a little nervous. A poor game last week combined with an early Taylor Adams return is looking to be a big problem. I'm hoping one off game doesn't result in Phillips axed but you never know with Buckley. In a perfect world, we get two more matches from Phillips and then we move on. Pray to the Fantasy gods!
Rhys Mathieson (Mid. $223,000, -10 be AF. $187,500, -45 be DT) – With 96 Fantasy points in his last outing, Mathieson has shown his ceiling and no doubt Fantasy coaches want more. Coming off the bye, Brisbane's next four opponents are the Suns, Giants, Essendon and Port so the outlook is good. If you don't own him and don't mind spending the extra then trade him in!
Jesse Joyce (Def/Mid. $158,000, 3 be AF. $152,300, -18 be DT) – A couple of decent on field performances and the Suns current injury list bodes well for Joyce. Initially, it wasn't expected that he would stick around in the seniors for long but Eade cant drop him in the short term. Playing a lock down defender role, Joyce isn't going to be a great scorer but he's a heartbeat with dual position status. Consider.
Jason Castagna (Def. $143,000, 12 be AF. $121,300, -12 be DT) – Castagna's hot form in the VFL has to be rewarded by Hardwick this week. The running defender has averaged an impressive 14 kicks, 11 handballs, 4 marks, 5 tackles, 1 goal and 102 Fantasy points from his last three outings. He failed to make an impression in his two AFL games earlier in the season but the lessons learned are now priceless. Castagna will probably take Broad's spot and should average close to 60 Fantasy points per game. A decent option for those needing a cheap defender.
Sam Menegola (Mid. $127,000, 25 be AF. $121,300 DT) – I suspect that Chris Scott is still not happy with his R14 loss to the Saints and Menegola is one of a few showing form in the magoos for the Cats. The mature age mid can score at a decent click but job security will always be a worry given Geelong's depth. Probably smart to wait a week with Menegola if he's named.
TOP 5 LISTS
Considering price, scoring potential and job security, here's my Top 5 rookie options for Round 16:
Fantasy
Clay Smith
Jack Silvagni
Rhys Mathieson
Jason Castagna
Ryan Clarke
Dreamteam
Rhys Mathieson
Jack Silvagni
Jason Castagna
Clay Smith
Jesse Joyce
Twitter Q&A
Is Hams' time up? Dropped/money making potential gone?

— Nooie (@Sprunt_co) July 5, 2016
Absolutely not. One bad game isn't a deal breaker and I expect Essendon to give him another opportunity this week. Hold him unless the upgrade is significant.
Is it too late to get Mathieson in? I want to get him in due to a lack of rooks seemingly available (already have Silvagni)

— Jason (@Jason12588) July 5, 2016
No but for Fantasy I'd grab Clay Smith ahead of Mathieson for his dual position status.
Time to trade Kerridge?

— Oscar (@ozziedabeast) July 5, 2016
Yep, he's not a Top 6 forward. Trade aggressively. Don't be shy.
Priorities of Davis, Blakely, Wagner and Dea? Cheers #JeppasJuniors

— Inactive (@JakePizzuto) July 5, 2016
In order I'd offload Wagner first (injured*) then Davis, Dea and Blakely last.
Who to field out of Smith, Ruggles, or Collins? #JeppasJuniors

— Nick McKinnon (@njmckinnon) July 5, 2016
Smith for sure.
thoughts on the best option out of Zorko, Volt and Hall?

— Luke Strudwick (@strudy23) July 5, 2016
Zorko the great!
Clay Smith, Mathieson or Silvagni – JS more important than money making ability and is Smith's DPP worth a little bit more?

— Taezer (@Taezer87) July 5, 2016
If we're talking sole job security then pick Mathieson. Yes, Smith's DPP is huge and timely I might add. I'm trading in Smith this week.
@JeppaDT who will score more clay smith or jack silvagni?

— Steven (@Steven18095391) July 5, 2016
Clay Smith.
Feel free to ask me a question below and don't forget to add me on Twitter @JeppaDT for all things Fantasy and more. Happy trading!