Calvin's Captains – Rd. 16
We are back to nine games for the weekend meaning our favourite captain options are back. Who makes the top 5 for Calvin this week?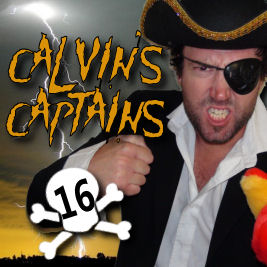 ROCKY v ABLETT
The battle of the round.
This will be huge, but Gary Ablett must watch-out for a tag from Mitch Robinson though. He tagged him along with a little help from Bastinac back in round four and on that occasion, Gaz was held to just 83. That's assuming that Robbo is right to play this week after a knock two weeks back. Prior to that, Gaz did score 146, 105 and 143 on the Lions, but is only coming off a very average score of 78 from last week.
Rocky on the other hand is coming off a bye and will be as fresh as a daisy. He had two fitness tests on the ground leading into his last two games but he'll be right to go this week at Metricon Stadium.
Although the Saints failed to score a ton against the Suns last week, our beloved pig has a super record on Gold Coast with previous scores of 123, 0*, 190 and 157*, with the * there being scores at Metricon.
Two weeks ago, the Hawks did what they pleased to the Suns with Mitchell (121) and Lewis (113) clocking up touches with ease and I'm expecting something big from the pig this week.
Dayne Zorko is another interesting one. 109, 119, 112 and 136 are his last 4 scores against the Suns. He had 147 in round 13 and is now coming off a two week break after missing round 14 due to personal reasons and the bye last week. Massive smokie.
LIVE on #Periscope: Calvin's Captains Rd 16 and more right here as Cal goes live https://t.co/acLEgb2GPS

— Calvin (@CalvinDT) July 6, 2016
THE ROOF IS ON FIRE
Etihad Stadium has produced some big numbers this year and this week… things will get very interesting.
Let's start with the Saints. They play the easiest team to score points against and will have a field day.
Nick Riewoldt tops the list as his lowest score is only 112 under the roof in his seven games there this year. He loves playing the Bombers too and over the last 8 years he has scored 112, 121, 111, 93, 135, 98, 91, 101, 106, 133 and 106. BOOM!
Last week, West Coast managed 5×100+ scores against the Bombers and Gaff and Masten clocked up 68 touches between them. Enter Jack Steven.
Steven smashes the Bombers and posted a game high 138 on them earlier this year. Before that, 142 and 124.
Leigh Montagna will also get busy and repay the effort he put out last week for his disappointing score against the Suns. He had 101 on the Bombers in round 9 and even posted 120 and 135 before that.
On the flipside, Zach Merrett plays the second easiest team to score on in a game that will see the points flow. My concern is…. Zaharakis is out so who will Seb Ross tag, if he does? Zach must be on the radar along with Goddard and therefore we must be very cautious here.
Zach has been in ripping form though scoring 123, 105, 115 121 and 115 in his last 5 games, averaging 116. The Suns had 3×115+ on the Saints last week and if Zach can avoid any attention, he'll be great as well.
RUCKIN' ROLL
Max Gawn is up against Freo this week, a team Grundy had 105 on in round 14. Their depleted ruck department is music to Max's ears as he travel north to play at TIO. He has averaged 126 in his last 3 games and even had 125 last year and that was when they had Sandilands. This will get nasty.
No Nic Nat means that Todd Goldstein will front up against Lycett this week. Berger had 31 hit outs against Lycett last week and Goldy will top that. He's only carrying a highest score of 101 in his last four games this year but he will be massive after a week off resting that tired and sore body, and troublesome knee.
SLOANE TO BE SILENCED?
Ed Curnow is a man on a mission and posting some wicked scores himself, and holding his opponent at the same time. Treloar (75) copped it last week and this week, maybe it's time for Rory Sloane to have his turn.
Sloane has been on fire scoring 125, 139, 107 and 140 in his last four games, but hasn't cracked a ton against the Blues in his last three. This is a big call… but Sloane will not get triple figures this week.
TOMMY TAGGER?
Will Tom Mitchell run with Patrick Dangerfield?
Tom has ran with some big name players this year and after just 62 last week, he might get the nod to do it again. Danger's record against the Swans is disgusting. 89, 83, 89 and 71 are his last four scores against them, making them his worst team to score against in the last 3 years. He has averaged 114 at home this year but is still coming off a tagged 95 from two weeks ago.
Last week, Hunter 133, Boyd 129, Bont 129 and Picken 111 all clocked up against the Swans and although I'm tipping Danger to be fine, it does come with a few question marks.
Selwood on the other hand has 7×100+ scores in his last 8 games against the Swans and is carrying a lowest score of 102 in his last four games this year. He had 125 on them last year and out of the two Cats here, he gets the nod from me.
VC OPTIONS- Thursday Night
On Thursday night, the Hawks play the Power at Adelaide Oval and it's another 'partial lock-out'. This means that only players in this game will be LOCKED in once the ball bounces.
Many people cashed in with the Loop Hole last week, by claiming Merrett's 123 and Sloane's 139 the week before.
They did this by putting the VC on a guy playing in the Thursday game and if they score well, you can keep that score by putting your 'C' on a non-playing player (even if they have the bye)… and then your captain will then score a 0 and therefore your VC score will be activated and doubled.
If they score like rubbish… you can just select a captain as normal and solider on.
Best options… well Robbie Gray must be gambled on after his 107 last week. After a slow start he finished in flying form. He had 110 on the Hawks last year and as for the Hawks, will they cop the double tag like the Tigers got last week. Ebert and Kane Mitchell we're brutal and might have their eyes on Lewis and Mitchell.
Jordan Lewis is carrying a lowest score of 106 in his last 5 games and has finally hit some great form. Over the last two years against the Power he has scored 94, 130*, 77 and 136*. The games there with the * are games at Adelaide Oval.
Both of these guys are great options, but be warned, they might score you an awkward number that will have you guessing on whether to take it… or leave it. My line is 119.5.
JUST QUICKLY…
Heath Shaw V Collingwood @ SPO –Shaw will be massive this week but his 42 a few weeks back scares me a little. He does love playing on his home ground and against his old team, he had 119 last year.
Dusty Martin V Bulldogs @ Etihad – Parker 158 and Hannebery 127 went bananas on the Dogs last week and Dusty even had 114 on them last year.
Dan Hannebery V Geelong @ the Cattery -96 and 99 on the Cats last year, but picking a captain against Geelong at home is mega risky.
Stephen Coniglio V Collingwood @ SPO – Pies do give up plenty of points and Cogs has been in form with 109 and 120 in his last two runs.
Lachie Neale V Melbourne @ TIO –Expect something big! Melbourne are the 4th easiest to score on over the last 4 weeks and Neale even had 123 and 125 on them last year.
Adam Treloar V GWS @ SPO – First time coming up against his old team, could go either way, and could even cop a tag. Huge pass.
Lachie Hunter V Richmond @ Etihad -133 last week still isn't enough for me to give him a top 5 position this week as the Tigers are just too tough to score on and can go lock-down at any stage.
Luke Parker V Geelong @ the Cattery – 158 and 140 in his last two runs, Parker has been on fire. 61 and 166 are his last two scores on the Cats, but it's too risky at the Cattery in a game that could go either way.
Scott Pendlebury V GWS @ SPO -124 last week as predicted and has scored 101 and 111 on the Giants in his last two. The Giants are better than that now and at SPO, I would be touching him.
Matthew Boyd V Richmond @ Etihad – Boydy had 109 on the Tigers last year and had 115, 152, 102, 115 and 105 before that. I heard a stat this week that defenders can't score on the Tigers, we'll… we'll see if that's true, this week will be interesting cause Boyd has other plans based on these numbers.