Roy's Trade Talk – Round 16
We are on the home straight and want to bring in players that are capable of finishing the season well.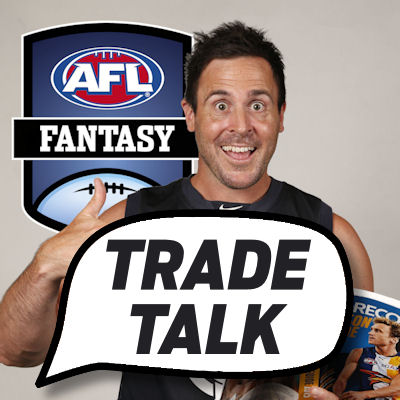 We are on the home straight and want to bring in players that are capable of finishing the season averaging in the top group for their position over that time. Here are some guys that I think are worth a look:
Forwards: 
With a three round average of 105, Toby Greene (FWD/MID, $490,000) certainly has the ability to be a top eight forward over the remainder of the season. Over the last few week, he seems to have really clicked as a half forward, kicking plenty of goals and finding enough of the ball to keep the score ticking over in between. I like his ceiling, with a top score of 141 this year but what is more impressive is the fact that 5 out of his 6 hundred have been over 110. He has a soft draw ahead and carries a break even of 95 leading into this weeks home game against the Pies.
Dayne Zorko (FWD/MID, $552,000) hasn't been getting the credit he deserves this year, averaging 112, while carrying a three round average of 117. Amazingly he has only dropped under 100 on two occasions this year and they were scores of 89 and 91. His most recent score was 147 against the Eagles and he should be great again against the Suns this week. He is coming off a two week layoff and looks set for a huge finish to the year, whilst carrying a BE of 89.
Midfielders:
As flagged last week, Luke Parker (MID, $520,000) was the cheapest player capable of mixing with the tops 8 midfielders over the remainder of the season. He certainly didn't let his 22% of coaches down against the Dogs with a dominant performance, leading all scorers for the round with 158, backing up beautifully from 140 in his pervious game. He is still cheap considering he has a three round average of 121 and has a BE of 50.
Rory Sloane (MID, $577,000) is arguably the form player of the competition with a three round average of 124 and he has massive scores of 140, 139 and 125 over the last month. His tackling has been a highlight, laying 13 in each of his last two games, while collecting plenty of the ball at the same time. He has a couple of tough games over the next four weeks but apart from that, there are plenty of easy opponents during the run home.
Defenders: 
Rory Laird (DEF, $475,000) certainly has the potential to mix it with the best over the remainder of the season and that is justified by his impressive form which includes 2 hundreds in his last three games. As mentioned with Sloane, he has a really good draw, with only a couple of games he may find tough to pump out big scores. He has a break even of 90 leading into his game this week at the Blues at the MCG, a venue he scored 106 at last week.
Zac Williams (DEF, $454,000) is owned by just 4% of the competition and he is the smoky to finish among the elite for the run home. He has a five round average of 92 and has been in sensational for since round 8. I love the look of the Giants draw with the Pies, Lions, Power, Tigers and Suns providing him a points frenzy over the next five weeks.  He is a good price considering his form and draw which is supported by an achievable BE of 80.
Rookie of the round:
If you weren't one of the 10% of coaches that jumped Jack Silvagni (FWD, $146,000) this is the week to do it. We was great on debut against the Pies with 76 and he lead the game in score involvement which will do wonders for his job security. He has a break-even of -9 and looks the goods in a time where cash cows could well dry up.
Twitter Time:
@WarnieDT @CalvinDT @RoyDT @DTTALK

What do you guys think of this trade?:
Petracca-> Silvani
Bryne-> Simpson/Docherty/Vince

— JAKE (@jakeshaw150) July 4, 2016
I like it, Simpson is my pick.
@FantasyFreako @WarnieDT @CalvinDT @RoyDT Need a replacement for Zaharakis, what do ya reckon Neale, pendles, Parker or Sloane? Cheers guys

— Doron Baruch (@baruch_doron) July 4, 2016
Lots of good names there, Sloane for his run home.
by the looks of your team, how many trades are required to classify your team as 'complete'? @RoyDT @WarnieDT @CalvinDT

— Charlie Roberts (@chazaroberts) July 4, 2016
I never consider it complete unless I had all my projected top players on each line… And that's never going to happen.
#AFLFantasy @WarnieDT @RoyDT want to trade Z Smith, should I get Martin or Mumford?

— Francis Curro (@Francis_Curro) July 4, 2016
Martin is a good pick now he is solo ruck again
@WarnieDT @RoyDT @CalvinDT Boys, if Wells isn't named this week, who is a good sideways FWD trade? Franklin?

— Brendo (@GreenBrendo) July 4, 2016
Yeah I like it
Pretty happy with my team after byes @RoyDT @CalvinDT @WarnieDT gone from 2507 to 563 overall. Only 3 rookies left on the ground.

— Aaron (@ABatge) July 4, 2016
That's a great effort mate!
https://twitter.com/SimonMartelli/status/749820267493412864
Petracca
Blakely and patracca out, Merritt and silvagni in? 100k left @CalvinDT @WarnieDT @RoyDT

— Aiden Niehaus (@aiden_niehaus13) July 4, 2016
Great trades
@WarnieDT @CalvinDT @RoyDT @JeppaDT Best Mid under 500K?

— Power (@2kpower16) July 4, 2016
Gaff is hard to ignore at that price
Enjoy the return to normality this week and discuss your trades in the comments.