Inside the Fantasy Numbers – Round 15
Pete is back to look inside the AFL Fantasy numbers ahead of round 16.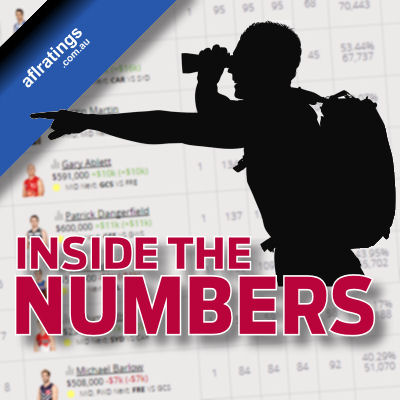 The most important part of the season is upon us all, the Bye rounds are now complete and the run home to overall ranking and a potential league title has become very real. Fantasy coaches that can assess value of players without becoming emotionally attached have the upper hand and can genuinely make moves that are very successful whilst maintaining an elite structure, those coaches that sit on their hands and expect more of the same could be in for a rude awakening in the last 8 weeks of the AFL Season.
Looking at several highly ranked teams in recent days there is a common theme through a majority of them, no cash and limited players to extract money from for not only the short term but for just this week. Decisions good or bad will be made as a result of being stuck in the hope that mid-range players can put in career best form whilst those that have played the patient game will inevitability storm home still cash healthy and quality rookies occupying bench spots.
The players listed below are available for all coaches based on current price, there is no selling of the house to acquire them but more likely can fit in to trade scenarios based on current team structure.
Defenders
Jason Johannisen $456K BE 114 Ownership: <4%
If you are willing to wait 1 more week due to a large BE or can't wait then JJ could be your guy, the Bulldogs play 5 of their last 8 games at Etihad Stadium and have recorded over 400 Disposals in 8 of 9 games under the roof with an Average of 438.7 per game. Johannisen recorded scores of 113 & 121 in the opening 2 games this year at Etihad Stadium, an average anywhere in the mid 90s for the remainder of the year would be considered a successful trade.
Zac Williams $454K BE 80 Ownership: <4%
Roy has been talking up Williams all year and quite rightly so, in his last 7 games Williams has scored fewer than 85pts in only 1 game with an average of 98.6 over the same period. The Giants are currently Ranked 3rd in AFL Fantasy points this season, Williams is an integral part of the Giants attack from defence and should maintain a minimum low 90s average for the remainder of the year.
Jarrad McVeigh $434K BE 67 Ownership: <9%
After a late start to the season due to injury owning McViegh is starting to pay dividends, he has averaged 93.6 from his last 5 starts which included 2 scores of 100pts or more. McVeigh averaged more than 90.0pts between 2012-15, whilst this year's average may fall short of that mark the remaining 8 games should deliver a minimum high 80s or low 90s at least.
Midfielders
Andrew Gaff $428K BE 60 Ownership: <5%
Gaff was a mention in this article last week an boy did he deliver with an outstanding 131pts against Essendon in Perth, again don't forget he scored 100pts or more in 15 games last year and opened this year scoring a tonne or better in 5 of 7 games. It likely Gaff will average a minimum of 100pts for the remainder of this year, what a bargain at $428K.
Brandon Ellis $441K BE 64 Ownership: <6%
Since Round 2 and throw out the disgusting Round 11 score of just 24pts Ellis has averaged 100.6pts, fortunately for the low score against Nth Melbourne in Hobart he is at decent price worth considering. Next week additional DPP's are added and including Ellis this week could pay dividends if he is added as many suspect, owning Ellis can be volatile but he should be good for a minimum low 90s average for the remainder of the season.
Marc Murphy $426K BE 136 Ownership: <5%
It might be worthwhile holding a spot in your midfield for Marc Murphy especially as the Blues have a very good draw to finish off the year, it is expected Murphy will return in 3-4 weeks leaving him the crucial final 4 games of the season for a payoff. With a huge breakeven it could be wise to wait 1 week but if you are all set for the cash it likely doesn't matter with limited time remaining in the season, expect an average of 95 or higher when Murphy eventually returns.
Rucks
Mark Blicavs $442K BE 70 Ownership: <20%
Apart from the Big 3 of Martin (Who is also great value at $406k), Goldstein & Gawn the other solid player for the position at Ruck is Blicavs, he has averaged 101.3pts in the last 3 games for an average of 90.3 on the year. Blicavs has scored 100pts or more in 5 games this year 3 of which have been at Simonds Stadium where Geelong play 4 of their remaining 8 games in the Home & Away season. A solid 90pts plus is expected for Blicavs to finish of the year.
Forwards
Joe Montagna $477K BE 114 Ownership: <18%
Whilst Montagna has provided a poor 80.0 average in the last 4 weeks his ceiling of points remain high in any game, expect a bounce back game this week against Essendon and more importantly Round 23 against Brisbane at Etihad stadium which is the AFL Fantasy Grand Final. An average of 100pts for Joey is not out of the question to finish off the year.
The last Forward is..
Who Am I?
As little as just a few weeks ago I was priced under $400K
I have scored 100pts or more in 4 of the last 6 games with an average of 95.2pts
I have averaged 7.8 marks over the same time frame
My team has a decent draw in the next few weeks where I could throw up some decent scores
I was put up as a potential pick in this weekly article several weeks ago and has paid off
Best guess in comments below
Good luck for Round 16