Cal's Scale of Hardness 2016
Calvin has got the cal-culator out and created his own unique formula for teams with the hardest (and easiest) runs home.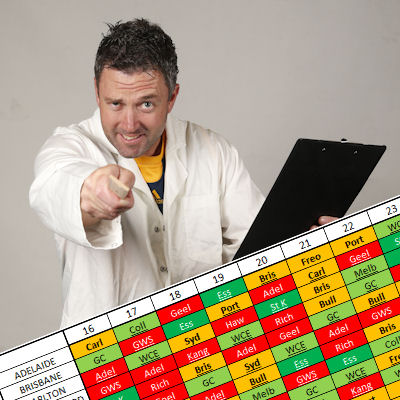 Of course, some teams are easier to score on than others. Nailing teams and players with great runs home could be what you need to win your league or the big prize at the end.
A picture paints a thousand words so I have made tables showing exactly which players have the best and therefore the worst runs home.
This was worked out using my cal-culator and a complex formula and excel spreadsheet filled with many pretty colours. Others will have their opinions on this, but basically, I'm right, they are wrong. Of course.
Without going into too much detail of this complex and precise system, the table on the right has been ranked in order of which teams have given up the most points. 50% of the weight in working this out comes from the last 4 weeks, which paints a picture of form and maybe any new change in game style.
The other 50% comes from what teams have given up over the entire year. This covers all bases.
Obviously, St Kilda and Essendon are stand outs. They have coughed up so many points this year and in the last four weeks making them easy targets to score on.
On the flipside, you don't want to be crossing paths with anyone in the red zone. These teams have been in lock down mode.
There you go… look at all those pretty colours.
It's simple to understand. This is the run home of all 18 teams and the teams they are coming up against. Alarm bells ring for Collingwood as they play 4 of the 6 red zone teams in the next 5 games. This shouldn't make you trade out a Treloar or a Pendles, but it might just change your mind in bringing them in.
Port have three tough games coming up, but we also need to focus on the last 4 games of the year as this is Fantasy Finals time.
Take a look at Carlton's last four games… wow! They will come home like a freight train and although they are up against the toughest team this week, they will finish fast.
The underlined games are home games for that team, but don't be totally fooled. Take St Kilda for example. This week they play Essendon but it's listed as the Bombers home at Etihad, which is still St Kilda's home as well. Same in round 18 when they play the Bulldogs. Basically, the Saints have 6 out of their next 8 games at Etihad (home ground) although it's only listed as 3.
Therefore, after adding up the ranks and cal-culating the data using the info I explained from above, these are the teams with the easiest runs and hardest runs coming up.
The Suns play just one red zone team (GWS) in their next 8 games. Great news for Ablett and maybe Hall for those who have held him or are bringing him back in. Carlton also have a nice run and as I said, they finish with a beautiful run home during Fantasy finals.
This should be used as a guide and a resource. This will help you make 50/50 calls. Stats change every game, and although some people will be flogs and hate on this, use it as you feel fit or just enjoy the hours of work that has gone into this, to help make you a better coach from the last 2 months.