The Friday Scramble: Round 15 – Bye Round 3
The last of the byes are here, thankfully the selection gods have been pretty good to us this week. But that doesn't mean there is no scrambling to be done!!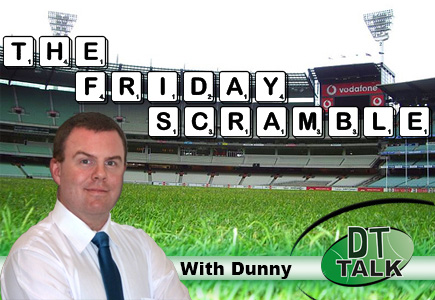 Talk about stepping up when we needed it!  We needed our rookies to perform over the byes and in round 14 they did just that!  Hopefully they didn't use all their good scoring in that week as we need to call on them just once more.  Now we just have to negotiate this week and then we are home free with all our premiums performing and playing every week…. Oh hang on, sorry, got a bit carried away there!
Loop Hole Logic
So last night we had our second Thursday night game of the season and this means it is our second chance at the loophole captain (if you don't know what I am talking about, check out  Calvin's Captains article from early in the week).
Last night we had a few players that we could have taken and these are the key guys that most would have taken….
Zach Merrett – 123.  Definitely take that score.  I certainly will be!  I always set 120 as my minimum for a loophole captain.  Points in the bank are the best kind!
Zaharakis – 50.  Clearly you don't need my advice here.  No way.  He scored just 3 points across the middle two quarters with a -3 and a 6.
Gaff – 131. Most definitely take this one.
Priddis – 103.  This one is going to depend on what else you have playing this week.  If you don't have much, then I would say you could take it, but I would be surprised if you don't have someone that could score better.
Remember, most of us think that 120 is the score that you should be looking at as your par.  However, remember, this also depends on the strength of what other players you have.  So if you don't have any other great options,  you may take a score of 110 maybe from your VC.
Selection Table
As we know we have teams on byes, so just make sure that you aren't trading those guys in unless you have at least 18 players on the field.
Wow, what an uneventful week of selections!  Not too many highlights which certainly helps us.  Probably the one that will affect the most will be the dropping of Sam Gray.  Now Kane Mitchell has come into the side but I would be very nervous about bringing him in.  He will probably not score highly and his job security would have to be questionable at best.
Kolodjashnij comes back in this week as does the ex Motley Crue drummer Tom Lee (sorry,couldn't help it).  I am sure most don't have Lee anymore, but in case you do then it will help out.  As for bringing him in, I wouldn't be doing that as I am sure you will have to trade him out soon!
Trent McKenzie is out with a quad injury and for that you probably should look at trading him out as he will be out for 3-4 weeks.
Johannisen is probably the biggest name to return this week.  He has a BE in AF of 114 and RDT of 133.  For that reason and the fact he is playing the Swans I would probably stay away from him for another week at least.
Jack Silvagni comes in for his first game, so if you need someone at a bargain price to bring in this week that is playing, you may want to consider him this week.
Bye Round Strategy
So for this week we now have 12 teams that have finished their byes (well only 10 clubs we can pick from now since there was a game last night).  So pretty much as long as you don't pick someone on the bye this week you are good to go.  This is where we start to look at strength of schedule and who the teams are playing in the bye rounds.
The two teams that I really like the run home of is Adelaide and Greater Western Sydney.  Both have pretty good runs.  Adelaide only play Geelong and West Coast of the current top 8 in the run home, but beware, the West Coast game is at home in the last round of the season, our GF.  GWS play West Coast and the Kangaroos in the run home.  And they face North in the last round at Etihad.  Both teams though should provide you with a heap of points in the run to the GF.  (Obviously GWS have the bye this week, so you don't want to bring them in just yet)
The team that I like the finals series of is Carlton.  They face St Kilda, Brisbane, Melbourne then Essendon.  The only players that I really like from Carlton are Docherty, Simpson and Gibbs.
The plans that I had was to come out of the byes with a full premium team, however, remember, they may not be the absolute best players, so you are never finished upgrading unless you have the best averaging 22 players in the comp.
Things To Remember
As with the last week, we are in Partial Lockout mode, so all trades in SC and RDT today are NON REVERSABLE.
Obviously your West Coast and Essendon players are locked out.
If you are using the loophole make sure you don't stuff it up.  Check Calvin's Captains if you need help.
Like most of you I am not sorry to see the back of the byes after this week and we can get back to regular programming!  If your league has been taking a hiatus from matches over the byes, I hope you haven't been kicking back and doing nothing, hopefully you have been trading to get your team up to be the very best it can be.  Catch you all next week, @pkd73