Versus: Round 15
Tom is back with a few players going head to head in fantasy.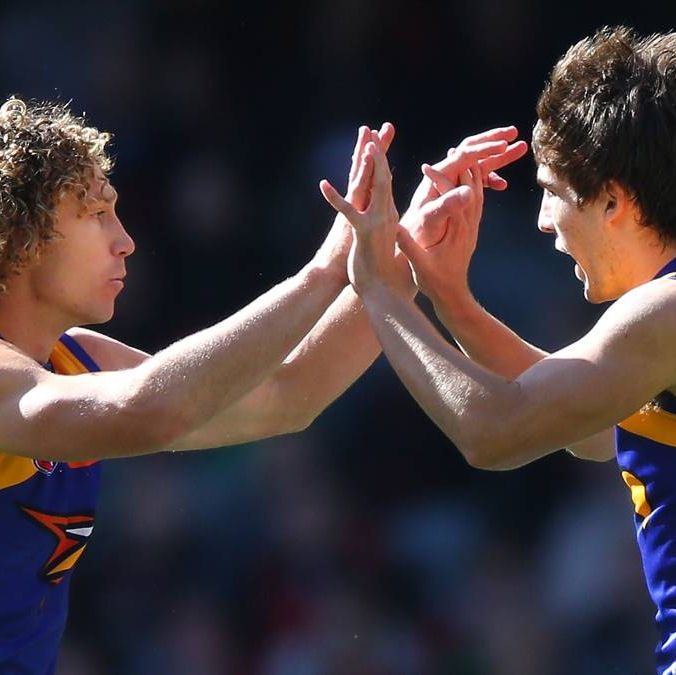 Tom is back with a few players going head to head in fantasy.
Eagle V Eagle
Andrew Gaff ($417,000) V Matt Priddis ($507,000)
Andrew Gaff is one of those players who always seems to sneak under the radar on the Fantasy scene. Last year he was excellent and played a big role in the Eagles road to the Grand Final. He hit the ton fifteen times in his 22 games and was particularly influential from rounds 8-17 where his lowest score was 100. Gaff was recruited from the Oakleigh Chargers in Melbourne and made his way west with pick four in 2010. After averaging 65 in his debut season, Gaff improved in 2012 to record an average of 86 Fantasy points. Unlike many stars of the game, Gaff's third year was slightly disappointing but the signs for the future were as clear as day. Since then, the Victorian has risen to a new level and last year averaged over 100 points for the first time in his career. He also polled 17 Brownlow votes, led the Eagles for disposals, kicks and inside 50's and was their best player in an otherwise lacklustre Grand Final performance. And this year was shaping to be just as good after he managed four 100's in the first five games. During this period his trademark gut-running allowed him to float back into defence to earn a cheap +6. Gaff is the typical outside midfielder who spends a lot of time on the wing. In many ways he's the release player, the one they look for to propel the ball into the forward 50. His marking and kicking have always been there, but tackling has never been a strong point. Normally the scores of players who don't lay tackles are affected, however Gaff makes up for this through sheer ball accumulating. Going into round nine, Gaff was averaging 99.6 points thanks to a couple of 111 point games. But his season quite literally took a hit when Power defender Tom Jonas launched an elbow into the scone of the wingman. Tom Jonas copped a hefty six week suspension for the incident that resulted in Gaff missing the clubs next match. Thankfully he made a speedy recovery and is back out there playing. Although in the three games since, Gaff has struggled to get back into full throttle. This has seen his price plummet to the foot of the $400,000 mark. Yes he's a bargain but he's just not hitting his straps at the moment. Perhaps a couple of easier games will see Gaffy return to his point-scoring ways. West Coast play Essendon, North Melbourne and the Blues in the next three and will need to win all those games to really cement there place in the eight. The Demons, Pies and Dockers round out the 'easy' matches before a tricky final three games against the Giants, Hawks and Crows. No, he's not in form, but at $417,000 with a BE of 103, an upgrade from Connor Blakely or Ryan Davis is well within reach.
From one Eagle to another in Matt Priddis. Priddis stunned the footy world by taking out the converted Brownlow Medal in 2014. But amazingly the Eagle was statistically even better last year. He averaged close to 30 disposals, 1.8 marks, 7.3 tackles and 102 Fantasy points. The more in-depth statistics reveal Priddis averaged 10 kicks per game and 19.7 handballs – a ratio that won't please coaches around the country. Perhaps this is the thing holding him back from a 110+ average. Priddis has played a balanced role in the Eagles midfield, averaging 11.3 un-contested possessions and 16.8 contested. A key component of Priddis' game is his tackling. Currently the third ranked tackler in the competition behind Liam Shiels and Andrew Swallow, 'Pridda' has been particularly fierce in recent weeks, laying twelve tackles in back to back rounds against likely finalists in the Bulldogs and Crows. In fact his lowest tackle count came in round one where he laid five but more than made up for it by collecting 43 disposals and a season high 137 Fantasy points. West Coast's top three midfielders Andrew Gaff, Luke Shuey and Priddis all complement each other well. Gaff has explosive speed and is damaging by foot but has struggled since being knocked out by Tom Jonas. Like Priddis, Luke Shuey has a hard edge around the contest, reads the ball of Nic Naitanui to perfection and loves to tackle. Priddis is the accumulator who does his best work in traffic. He's not in any way a classy, flashy player but he is one of the best in and under distributors going around. Priddis is an extremely consistent performer, almost always over the 80 point mark and is capable of going huge. You'd think a big score will generally only occur if he has 35+ touches as at least half of them are likely to be handballs. Don't be fooled by the surfer-like hair, Priddis could be your best pick of the season.
Verdict: Although they both play for the Eagles, Andrew Gaff and Matt Priddis play vastly different roles in the midfield. As stated above, Gaff is your genuine outside runner who links up play. Priddis on the other hand is the tough, workman like on-baller. Both collect stacks of disposals. He complements these with tackles whilst Gaff generally has high amounts of marks. It has to be Gaff however, he provides so much value and should return to form with the Eagles soft draw.
Loading ...
Aging Champion V Young Superstar
Nick Riewoldt ($564,000) V Zach Merrett ($563,000)
At 33 years of age you wouldn't expect Nick Riewoldt to be the best Fantasy key forward in the league, yet he has turned it up this year and produced some fantastic scores. Like his 144 against the Roos which was largely due to a stock standard 16 marks or his four goal effort against the Giants which yielded 137 points. In recent years Riewoldt has evolved into more of a winger or running half forward. He still kicks goals, runs until the end and takes stacks of marks, but has recorded some big disposal numbers for a forward. Roo struggled in his games at Adelaide Oval, scoring 55 and 64 against the two SA clubs although he was forced to play through injury against the Crows. Other than those blemishes, he has been brilliant and went on a run of seven consecutive tons from rounds 4-10. He has even been Calvin's number one Captain pick twice already thanks to his ever evolving ceiling. When the pressure was on in the final quarter against Geelong on Saturday, Roo stood up, setting the standard for his young team-mates. He covered the ground in typical fashion, collecting 26 disposals, 10 marks, 4 tackles and 116 Fantasy points. Remarkably he didn't have to rely on a goal or two to boast his score for the third game in 2016. His price has increased by $44,000 this season and is now at $564,000. Why on earth is his ownership at under 6%! Do coaches not trust the St.Kilda skipper. Do they hold back because of his age and possibility of a tissue injury. Yes, Dustin Martin is the number one target up forward at the moment and should finish in the top six come the seasons closure. But Riewoldt has a better average than the Tiger despite playing in a completely different role. Perhaps coaches elected to trade him when he missed the clash with Carlton through injury. He also had a bye in round 13 but those who held him were rewarded last weekend. If you did hold him, well done, lock him in at F1/2 for the remainder of the season. If you traded, bad luck, you'll have to get him back in at some stage if he keeps this form up. One of the best going round. Get on board as soon as possible!
Talk about third year breakout! What a great season young Bomber Zach Merrett is having. The added midfield time and game-style of the Dons have clearly aided Merrett's rise to the top of the Fantasy summit. So far it looks as if he is an enduring a similar season to Saint Jack Steven in 2015. Both players point scoring came somewhat out of the blue and was rather surprising as they both play for lower teams. Baring a disappointing ANZAC Day clash, Merrett has exceeded the 90 point mark in every game – an amazing feat for a player in a team with just one win on the board. Last year, the 20 year-old showed glimpses of what was to come in his 17 games before a foot injury effectively ended his season prematurely. His tackling impact when given a crack on ball was a real standout. He laid 98 tackles and drew praise from numerous members of the Bombers coaching panel. Merrett is also an effective kick and rather creative around the ball. He's up +7.2 on his career disposal average, +1.3 up on marks and tackles as well as +25.8 up on his career Fantasy average. Although he has the second lowest clearance numbers of the top 15 midfielders, Merrett has been more productive with pressure acts. In fact, 340 of his total points so far (1476) have sourced from tackles. Ten 100's and two 90's in thirteen games surely must lead to a massive ownership percentage, right? Amazingly, not in this case. Quite a few coaches opted to ditch Merrett in his bye round which has resulted in a current ownership rate of a click over 23%. Unless you have been living under a very large, dark rock with no internet coverage available, you'll know by now that Merrett is going along at a decent click. He's shaping as a top six forward on the back of some huge games including a 36 disposal showing against North Melbourne and a 136 Fantasy point showing against Melbourne where Zach played just 70% TOG. Up until this season Merrett is yet to poll a Brownlow vote. That will likely change this year. He always seems to find a way to ton up and should be fining his way into your team soon if you don't already own him.
Verdict: This really is a clash of the titans. Both were not expected to do as well as they have done. Riewoldt has just been so good at impacting play up the ground. His work rate is second-to-none. Not many players sprint 100m at full pace just to pick up a mark and kick. Merrett has to be one of the best young talents going around. He's so prolific and never seems to disappoint. There's an old un-written rule when choosing between two evenly matched players – go with the youngest. With that in mind, I would prefer Merrett. But seriously, get them both in.
Loading ...
Small Defender V Tall Defender
Tom Ruggles ($299,000) V Sam Collins ($258,000)
At times he's been dubbed 'struggles' following some poorer performances, but more recently, the former Geelong Falcons player has turned it up. In the pre-season many Fantasy coaches wondered whether Ruggles or injury prone youngster Josh Cowan would get the first crack. As it turned out, neither of the players played for the opening two rounds until Ruggles made the breakthrough against the Lions at the Cattery. Here, he played 87% TOG, collected 17 disposals (14 kicks, 3 handballs), 9 marks and 76 Fantasy points. The Cats used Ruggles efficient kicking when transitioning out of defence. Ruggles performance was good enough to remain in the team for round four against Essendon. After a positive start, Tom finished with 17 disposals, 2 marks, 1 tackle and 50 points. Unfortunately those who planned on starting him on-field after his impressive debut were left disappointed. He maintained his spot for round five but was dropped after a sub-50 point match. Recalled for round seven, Ruggles scored 68 before putting up back to back 58's against the Crows and Magpies. He was a late out against Carlton, leaving many with an infamous donut on-field. But in recent weeks, Ruggles has turned things around. He collected 18 disposals, 10 marks, 1 tackles and 83 points against the normally free-flowing Bulldogs before a career-best showing against St.Kilda on Saturday. Tom was one of the blue and white sides best players in the shock loss, amassing 21 disposals (14 kicks and 7 handballs), 9 marks, 3 tackles and a whopping 96 points. In some ways, the timing of this impressive game was unfortunate as Geelong have the bye this week. No doubt this will prove the perfect opportunity to either upgrade to a Docherty/Vince/Simpson type or even downgrade to someone like Broad. Either way, thank Ruggles for his recent showings and the $174,000 he has generated. Trade if possible but do you move him on ahead of Docker Sam Collins?
Collins was late to make his debut but with the Dockers injury list continuing to expand eventually a gap emerged in round ten. Recruited with the 55th pick in the most recent draft, Collins is a mature aged player originating from the Box Hill Hawks. Sam is a big 194cm key defender weighing 92kgs. He is versatile, reads the play extremely well and has promising aerobic capacity. At Box Hill Collins made the leadership group at just 19 years of age, won the most professional player award and is yet another mature-age recruit to shine at the highest level. Bulldog Marcus Adams, Sun Ryan Davis and Tiger Nathan Broad have all ignited and rejuvenated their footy careers this year and have been extremely handy for Fantasy. Collins impressed in the WAFL and earned a senior spot for the clash with St.Kilda at Etihad. He didn't set the world alight with 58 points but was solid down back. A week later, in just his second match, Collins managed 24 disposals, 11 marks and 97 Fantasy points. This game alone proved he has enough point scoring ability to start him on-field. Although he struggled for the next two weeks, Collins was impressive on one of the biggest stages of all – Friday night against Collingwood at the 'G'. At times Sam was matched up against two experienced heads in Travis Cloke and Jesse White and held his own. He was one of the Purple Hazes best players, with 18 touches, 6 marks and 4 tackles resulting in a positive score of 81. After the match the man himself said "It was definitely a challenge. I thought I acquitted myself reasonably well, but just like the other forwards I've played on, I'll go back and have a look, as I was beaten in a few contests but I'm keen to learn and speak with the coaches about that." The 'keen to learn' part stands out and sets a good example for his team mates to aspire towards. Already Collins looks like a born leader however the Dockers now have the dreaded bye this week. Just like Ruggles, this week is a great time to trade Sam Collins. For those who are trading, It was only a short stint in our teams for Collins but he aided coaches across the land.
Verdict: Like Riewoldt and Merrett, Tom Ruggles and Sam Collins are evenly matched but play contrasting roles for their respective sides. Ruggles is a hardworking defender who sets up the play from the back half. He's stepped up to fill the shoes of the injured Jackson Thurlow and was fantastic last weekend. Collins has notched up some reasonably high scores for a key defender since debuting. After watching a few interviews, he looks to have a great attitude and is impressive on-field too. Both players should make a few more dollars but If you can afford to, I'd look to trade out Collins as just ahead of Ruggles.
Loading ...