Jeppa's Juniors – Round 14
Two down, one to go. These horrible bye rounds are nearly over and for many of us it's now about getting back on track. With plenty of well-rested premiums available, making an upgrade is a must this week but every upgrade needs a downgrade so make sure you check out the latest crop of 'juniors' coming through.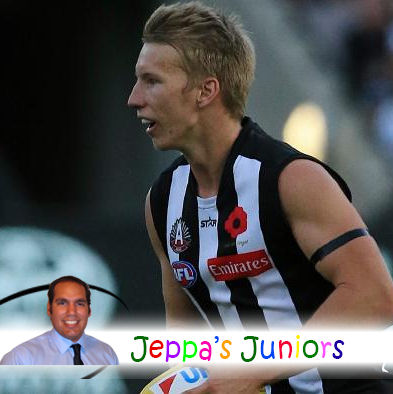 What a difference a week makes! We were cursing the performances of our rooks in Round 13 and they must have heard us because almost all of them exceeded expectations last week. Popular 'juniors' Connor Menadue 103, Josh Smith 96, Tom Ruggles 96, Lincoln McCarthy 85, Ciaran Byrne 82, Mitch McGovern 81 and Sam Collins 81 turned in on for their owners and the timing couldn't have been more perfect. A few newcomers dominated also…
THOSE THAT MATTER
Tom Phillips (Fwd/Mid. $179,000, -27 be AF. $121,300, -86 be DT) – Whether it is a premo or a rook, we look for players that can rack up possessions, take plenty of marks, tackle AND hit the scoreboard. Against Freo last Friday night, Phillips showed that he can impact all stat lines after finishing with 19 possessions, 6 marks, 3 tackles, 1 goal and 92 Fantasy points. Fantasy Freako tells us that he had a game high 11 score involvements too, which will please Bucks. My initial concern with Phillips was his job security but I reckon he's good for the next three weeks at least. Trade him in if you don't own him already!
Eric Hipwood (Def/Fwd. $201,000, 18 be AF. $166,300, -13 be DT) – This key forward has got some skills! For a player in his first season, Hipwood is awesome in the air and I'm quite envious of his raking left foot. These traits don't necessarily equate to a heap of Fantasy points but given Brisbane's current position, they need to blood their youth. Hipwood's not for me but he may suit a few after his Round 15 bye. Will average just under 60.
Rhys Mathieson (Mid. $223,000, -10 be AF. $187,500, -44 be DT) – After his overdue return to the seniors, Mathieson proved to be one of Brisbane's best last weekend. Playing mainly through the midfield, he racked up 24 touches, 3 marks, 7 tackles, and 96 Fantasy points. Personally, I didn't think Mathieson was a standout but he was definitely serviceable. The Lions have the Suns, Giants, Bombers and Port post bye so you definitely want him in your team now if it suits or for Round 16.
Aaron Francis (Def/Mid. $221,000, 44 be AF. $202,300 DT) – Francis is a highly rated youngster who can be a match winner when called upon. Essendon would be silly not to blood games into young him this season and the big appeal for Fantasy coaches is his dual position defender/mid status. Given his price, I think it's wise to see what he produces at AFL level on debut before jumping on board.
Will Hams (Fwd. $232,000, 2 be AF. $199,800, -25 be DT) – Is well rested and ready for a second assault on the AFL. Hams has averaged 72 Fantasy points per game in his three games this season and it will be blue skies against West Coast on Thursday night who traditionally leak a lot of points. I expect him to continue his forward, midfield role and if you're a non-owner and don't mind spending the extra then seriously consider this hardworking youngster.
Nathan Broad (Def. $138,000, 2 be AF. $121,300 DT) – If you're thing about brining in Broad this week, think again. The West Aussie was a late in for the Tigers last Saturday and he didn't do enough to hold his spot in my opinion. Even if Broad somehow gets named this week, I'd still avoid him unless you're happy to bring in as a throw away D8 but it's a bit early for that.
Clay Smith (Fwd/Mid. $176,000, 35 be AF. $233,800 DT) – Making a return from a knee reconstruction, Smith is killing it in the VFL. From his first two games in over a year, this young toughnut has averaged 31 touches, 4.5 marks, 6.5 tackles, 116 Fantasy points and more importantly been one of the best players for his side. The Dogs 22 is tough to break into at the minute but Beveridge has always rewarded good form and Smith wont die wondering. No word of a lie, he could be one of the cashcows of the season. Keep a close eye on him and note his dual position status.
Jonathan Marsh (Def. $226,000, 8 be AF. $204,000, -24 be DT) – There's a bit of hype surrounding Marsh after his 81 Fantasy points against the lowly placed Fremantle but don't be fooled. He's a lockdown defender and winning possessions isn't his first priority. Alan Toovey wants his spot back too so there's no assurance with Marsh's job security. No thanks.
Jason Ashby (Def. $174,000, 15 be AF. $200,600 DT) – Filled in for Matty Dea back in Round 13 and I thought he did enough to hold his place. Playing a half back role, Ashby will see a bit of the ball but don't expect massive scores. His time at AFL level might be short lived though if he can't maintain a decent level of form. A risky pick but there's not much else on offer in defence. I'm predicting an average in the high 50's. Consider.
Corey Wagner (Mid. $146,000, 8 be AF. $121,300, -13 be DT) – Even though he improved significantly in his second game, Wager isn't one I'd be chasing. The Roos have a few priority players returning from injury after their bye this week and Wagner is likely to be one on the outer as a result.
Matthew Kennedy (Mid. $191,000, 31 be AF. $170,800, 12 be DT) and Matthew Hammelmann (Def/Fwd. $131,000, 17 be AF. $121,300 DT) – Both youngsters were a bust in Round 14 and they're likely to be bumped to the reserves after their week off. Hammelmann especially played with 0 confidence, which was a complete contrast from his recent NEAFL, form.
Trent McKenzie (Fwd. $206,000, 53 be AF. $194,500, 21 be DT) and Daniel Currie (Ruc. $260,000, -14 be AF. $269,300, -25 be DT) – Both are out injured for at least a month so they need to go. It's unfortunate because plenty of us were relying on Currie to generate some extra cash.
TOP 5 LISTS
Considering price, scoring potential and job security, here's my Top 5 rookie options for Round 15:
Fantasy
Phillips
Mathieson (has the R15 bye)
Clay Smith (if named)
Hams
Ashby
Dreamteam
Phillips
Mathieson (has the R15 bye)
Trengove
Hams
Hip wood (has the R15 bye)
Twitter Q&A
should i trade both Ruggles/Collins or hold 1 of them due to their low break evens? if so who to hold? #AFLFantasy #jeppasjuniors

— Troy Foote (@tdfoote76) June 28, 2016
If you had to get rid of one for bye structure then offload Ruggles as Collins will still earn owners plenty.
@JeppaDT Need to trade 2 of: Mathieson, Hopper, S J Reid.. no other rooks with the bye this week. Thoughts?

— Alex O'Neill (@AlexONei11) June 28, 2016
Hopper and Reid. Mathieson is just getting started.
time to trade some freo rookies? can go blakley & tucker > montagna & laird.. won't have any rookies on field after byes with this

— Aaron Walton (@azza3006) June 28, 2016
An absolute no brainer, do it mate!
https://twitter.com/navinvis/status/747608949663293440
Yep. I'm trading him this week. Mathieson will be my M9 going forward.
Top 5 Potential Ruck Rookies to play late in the year @JeppaDT?#AFLFantasy

— aflratings.com.au (@aflratings) June 28, 2016
In order…Padraig Lucey, Archie Smith, Sam Naismith, Luke Lowden and Billy Frampton.
@JeppaDT any chance of 125k forward rupert wills debuting? Been in great form in the VFL, averaging 99

— Ariel Zelwer (@AZelwer) June 28, 2016
Not yet but he will play a few games before seasons end. One to watch!
https://twitter.com/vittwit/status/747743902539517952
1. Petracca is just getting warmed up in my opinion and he'll benefit from his recent rest. 2. Clay Smith is one who could explode when he gets his opportunity. 3. Sam Menegola will have get some games soon and could be anything. 4. I think Sam Collins has turned a corner and will earn owners plenty more dough. 5. Lastly, Andy Otten would be a handy inclusion for the Crows given his experience.
Feel free to ask me a question below and don't forget to add me on Twitter @JeppaDT for all things Fantasy and more. Happy trading!