Roy's Trade Talk – Round 15
Another round of the byes is thankfully out of the way and I am going to have a look at a fresh crop of players who are ripe for the picking after coming straight off their rest.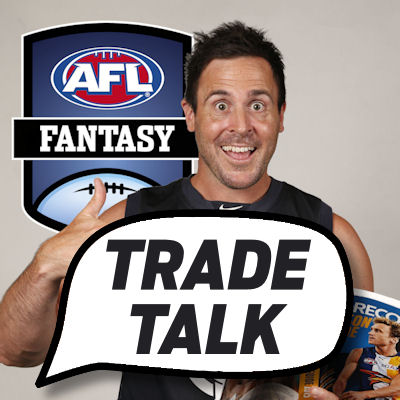 Another round of the byes is thankfully out of the way and I am going to have a look at a fresh crop of players who are ripe for the picking after coming straight off their rest.
Off The Bye 
If you are on the hunt for an under-priced midfielder, look no further than Swan star Luke Parker (MID, $488,000). Throughout the year we have certainly seen the best and worst of Parks, but when he is priced at under 500K, the good is hard to ignore. So far this season he has scored over 120 on five occasions, highlighted by 141 in round six and 140 in his last game before the bye. He is averaging 109 in his last three games to give him a break-even of 79 and he plays three out of his next four games at home.
Three weeks ago, Bernie Vince (DEF/MID, $519,000) was flagged as having more of a role through the midfield and his scoring since that point has been even more impressive than his already stellar season prior to that point. He has a three game average of 119 after scores of 120, 134 and 103 leading into his bye with all scores coming from well-balanced stat lines. This week he plays the Crows at the MCG which has been a happy hunting ground in recent times so his BE of 81 suggests good value.
If you are still to finalise your ruck department, why not round it out with Max Gawn (RUC, $529,000) The big fella has a three round average of 121 and a five round average of 110, which isn't a surprise after hitting the bye in fine form on the back of 146 and 132 respectively. Slight buyer beware with Gawn is that he is capable of the odd stinker, but the good heavily outweighs the bad. He has a break even of just 59, so he is good pick up this week.
Tom Mitchell (MID, $564,000) was in hot form leading up to his bye with scores of 163, 132, 98 and 114. Despite
this, he is still only owned by 16% of the competition.  Mitchell loves playing at the SCG and his numbers there are phenomenal, in fact out of his six games there this year, he has scored over 110 in five of them, with the Swans fixture to play three out of the next four there… It could be a tough month to watch as a non owner.  He has a BE of 100, but given he plays at home and has a five round average of 119, don't let that deter you from picking him up.
Zach Merrett (FWD/MID, $563,000) certainly isn't a bargain, but when he maintains such a high level of consistency, his price doesn't fluctuate a great deal. In fact, Merrett has only dropped under 90 on one occasion this year whilst averaging 114. He is owned by 23% of the competition and is certainly in the 'must have' category for the run home. His break-even is fair at 110, but realistically, you are not chasing a bargain here, sometimes you just need to pay up to get the best.
Trade of the week:
Leigh Montagna (FWD/MID, $491,000) is the man to bring in this week. He has dropped $112K since the start of the season despite his elite average of 101. The only reason he is so cheap is due to a shocker of a game against the Crows where he scored 36 and if you ignore that, he has a lowest score of 98 in the last seven weeks. Surprisingly he doesn't have great history against the Suns, but that won't stop him pumping out a big score this week and then his next four games are at ES where he has been in fine form.
Rookie:
Tom Phillips (FWD/MID, $179,000) got it done with an impressive 92 last week. He looks the pick of the bunch.
Twitter Time:
@RoyDT Leigh Montagna or Gary Ablett

— Kylie (@KylieT23) June 27, 2016
When I say Montagna is the trade of the week, I really mean for those coaches who don't have Gaz. Gotta get Gaz.
https://twitter.com/jaxonconnor11/status/747374569845972993
We get hundreds of Pod questions mate, Suckling… Man this article is contradictory! But this move makes sense.
https://twitter.com/Roweyy7/status/747372573390823424
Run with the original trade
@RoyDT @CalvinDT @WarnieDT Is it alright to trade out Wells and Walters and go to Riewoldt and Merrett?

— Power (@2kpower16) June 27, 2016
Against everything I would do, but how can you say no to that?! A tradition upgrade of rookie would probably be better long term however.
is it Connor Blakely's time, if it means getting Ablett in? Also is Hams a good in for C.Cameron?@CalvinDT @WarnieDT @RoyDT

— Aiden Niehaus (@aiden_niehaus13) June 27, 2016
Yep, the upgrade to Gaz is good but I would wait to find someone cheaper than Hams… Hopefully Silvani.
Cheers, discuss your trades in the comments!
@RoyDT