Mid-Year Report – Ep. 86
After a solid round where the boys moved up in rankings, they review the season to date by reporting on each other like they would with their school reports.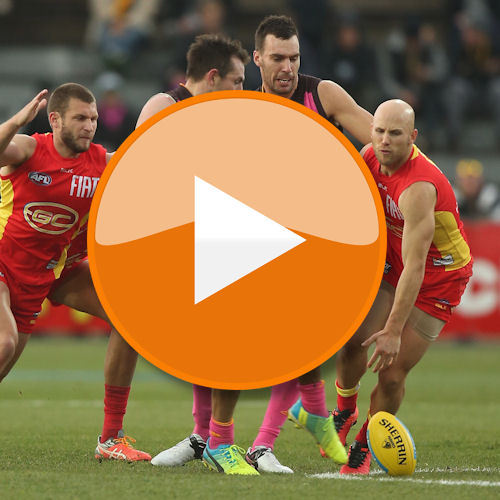 Two bye rounds down and we hit up round 15 full of confidence after moving up in the rankings despite some cannons misfiring. The boys look at the best players for the year, the biggest price hikes and drops and then review each others teams as they write a couple of extra reports on top of the school ones that are being busily finished. Your twitter questions are answered and there are a heap of great stats given to finish off the podcast.
Click here to subscribe on iTunes. (Please leave a rating and review to help us move up the charts).
AFL FANTASY POINTS FOR AND AGAINST (LAST 4 ROUNDS)
| CLUB | PTS FOR | >100 FOR | >120 FOR | PTS AG | >100 AG | >120 AG |
| --- | --- | --- | --- | --- | --- | --- |
| ADE | 1835 | 5.33 | 2 | 1323.33 | 1.33 | 0 |
| BL | 1583 | 4.5 | 1.75 | 1619 | 3.5 | 0.75 |
| CAR | 1624.33 | 3.67 | 1 | 1529.33 | 5.33 | 0.67 |
| COLL | 1653.67 | 2 | 1 | 1664.33 | 3.33 | 1.33 |
| ESS | 1595 | 3 | 0.67 | 1775.33 | 5.67 | 1.33 |
| FRE | 1715.25 | 4.75 | 1 | 1599.25 | 3.5 | 1.25 |
| GC | 1447.67 | 3 | 1.33 | 1791.33 | 5.67 | 1.67 |
| GEE | 1621 | 3.5 | 1 | 1490.5 | 3 | 0.5 |
| GWS | 1632 | 4.5 | 0.5 | 1538 | 2.25 | 0.5 |
| HAW | 1665.5 | 4.5 | 0.5 | 1478.5 | 2.5 | 0.5 |
| MELB | 1589 | 4 | 2 | 1699 | 3 | 0.67 |
| NM | 1500.5 | 2.75 | 0.75 | 1458.75 | 2.5 | 1 |
| PA | 1561 | 2.33 | 0 | 1624 | 3 | 1 |
| RICH | 1576 | 4.33 | 1 | 1435 | 2.67 | 1 |
| STK | 1413.67 | 3.33 | 0.33 | 1768.67 | 4.67 | 1.33 |
| SYD | 1692 | 4 | 1.33 | 1586.33 | 4.67 | 1 |
| WB | 1591 | 3.33 | 1.33 | 1679 | 4 | 0.67 |
| WC | 1457 | 1.67 | 0 | 1796 | 5.67 | 2.67 |
AFL FANTASY POINTS FOR AND AGAINST (SEASON)
| CLUB | PTS FOR | >100 FOR | >120 FOR | PTS AG | >100 AG | >120 AG |
| --- | --- | --- | --- | --- | --- | --- |
| ADE | 1664.62 | 3.31 | 0.85 | 1510.77 | 2.38 | 0.92 |
| BL | 1450.07 | 3.07 | 0.93 | 1638.43 | 4.36 | 0.86 |
| CAR | 1570.54 | 4 | 0.92 | 1549.23 | 3.31 | 0.92 |
| COLL | 1591.46 | 3.15 | 0.62 | 1660.54 | 3.85 | 1.62 |
| ESS | 1632.38 | 4 | 1.23 | 1666.92 | 3.92 | 1.15 |
| FRE | 1547.21 | 3 | 1 | 1656.14 | 4.43 | 1.21 |
| GC | 1477 | 2.46 | 0.92 | 1690.15 | 4.77 | 1.23 |
| GEE | 1636.5 | 3.93 | 1.21 | 1486.64 | 3 | 0.79 |
| GWS | 1660.57 | 4.57 | 1.07 | 1469.36 | 2.07 | 0.36 |
| HAW | 1614.29 | 3.86 | 0.57 | 1542.43 | 2.64 | 0.86 |
| MELB | 1574.15 | 3.31 | 1 | 1612.62 | 3.92 | 0.92 |
| NM | 1551.5 | 2.71 | 0.79 | 1488.29 | 2.71 | 0.93 |
| PA | 1535.38 | 2.54 | 0.46 | 1615.31 | 3.92 | 1.23 |
| RICH | 1538.92 | 3.69 | 1 | 1524.85 | 2.62 | 0.85 |
| STK | 1598 | 3.85 | 1.62 | 1658.08 | 3.62 | 1 |
| SYD | 1632.23 | 4.38 | 1.46 | 1542.85 | 3.08 | 0.62 |
| WB | 1707.38 | 4.4615 | 1.23 | 1604.08 | 3.46 | 0.62 |
| WC | 1555.31 | 2.615 | 0.46 | 1623.62 | 4.08 | 1.23 |