The Friday Scramble: Round 14 – Bye week 2
The first our our Partial Lockout weeks in the second of our Bye weeks. Bloody hell! As Bill Lawrie would say, it is all happening! That can only mean one thing! Scrambling.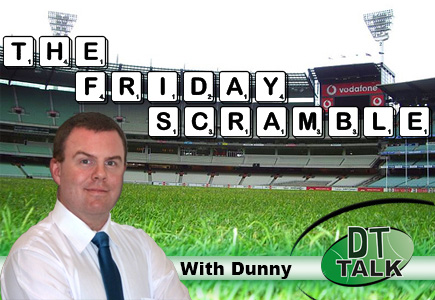 So we have survived the first one and now we are in the second round of the byes.  This is where things start to get fun.  We have 6 teams that are finished their byes and should be there week in and week out for the rest of the season.  So we can now start to trade these blokes in and getting rid of some of the riff raff in our teams.
But, the fun doesn't finish there, this week we have had the first of our Thursday night games.  There are three more of these to come.   Did you try out the loop hole last night?  Did you forget to move things around and left a premo on the bench?  Well.  Whatever you did, let's have a look at it!
Thursday Night Loophole!
Did you have a crack at it.  Well if you did, you probably took one of Laird or Goldstein.  Here is what I think about those you may have taken.
Laird – 75 No.  Simply not enough.
Goldstein – 101  No.  Not a bad game for him, but not enough to take.
Thompson  – 98 No, once again not bad but not enough.
Sloane – 139 YES.  Take that score to the bank and lock it in.
M Crouch – 126 Yup, if you took him as your VC then you must be one of his mates, or had no one else in the game that you could slap the VC on.
Ziebell – 108 Probably not, only take that if you have no one else that you can put the C on.
Remember the golden rule over the Thurs night games.  120 is generally our par score for a VC Loophole to be activated!
Partial Lockout
REMEMBER -We are in Partial Lockout mode today.  In RDT and SC you CANNOT reverse trades at the moment.  All trades stick.
However, in AFL Fantasy you can reverse trades, as long as they didn't include any Adelaide or NM players and as long as you didn't use DPP to do any trading.
Selection Table
Here are my thoughts on some of the in and out decisions this week.
Seriously, time for a rant!  What the hell are some of these coaches doing to us.  Yes I am looking at you Leon Cameron.  Bloody hell, Managed.  Hopper managed!  Now I know they don't care about Fantasy like we do, but it would be really nice if they could do this during the other rounds when we don't really care, but during the bye rounds we need these blokes!!!
Other big outs are Zorko who is out for personal reasons which will hurt a lot of teams.  The other out that will be a concern to most is Sam Reid for the Giants who many of us were looking to bring in this week.  The worst bit about that was that he has been omitted which means his spot is tenuous even if he does come back in after their bye.  Tom Lee is out again and this time don't bring him back in!
One of the great reliefs for us this week was seeing that Tom Phillips was named for Collingwood.  Other names we were happy to see were Rhys Mathieson is back for the Lions and the forgotten Connor Menadue is also back.  Now we don't think these guys are keepers, but they will certainly provide us with some cover this week!
Mumford back in this week will help those that are struggling in the ruck division at the moment.
#AskDunny
what are your thoughts on Trent Mckenzie? Decent option to play at D6?

— jacob danias (@danias2000) June 22, 2016
He is cheap and should play, but his scoring has been far from impressive or consistent.  He would be a risk, if anything I would say he would make excellent bench cover for you.  I would be more comfortable with him at D7 than on the field.
Bye Week Strategy
So in the second of our bye weeks, we need to not only consider what we are doing this week, but what we can do next week.  So you should be planning one week ahead and making this week's trades with that in mind.  Make sure you have enough cash to do what you need next week just in case the downgrade target you have isn't available.  Always have a plan B.
Things To Remember
Double Check your team if you have reversed trades during the week to make sure you didn't leave any guns on the bench.
Read my section above on Partial Lockout again.  Trades in SC and RDT will stick today and can't be reversed.
Hope you all enjoy the last 5 games of the weekend and get yourself a big score.  Keep upgrading your team, remember, after next week we want to try and have a fully upgraded side, or close to it.  Then we can make a run to the finals!