Versus: Round 14
Tom puts some players up against each other the trade in and out ahead of round 14.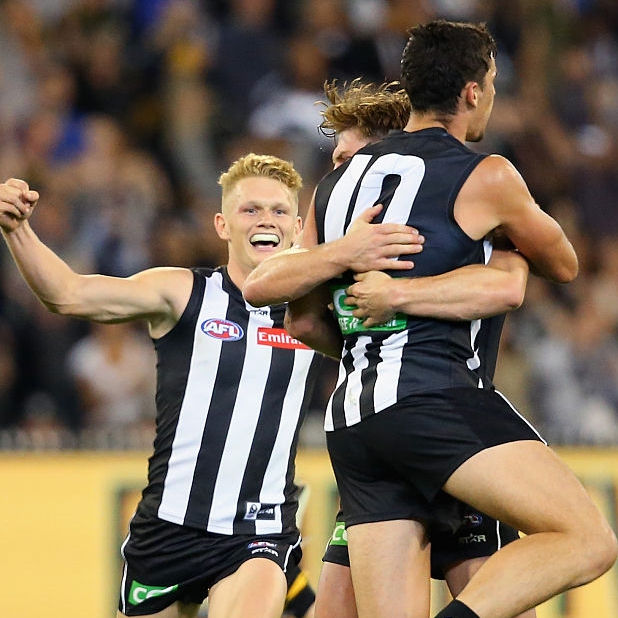 Tom puts some players up against each other the trade in and out ahead of round 14.
'Topped Out' Rookies
Josh Wagner ($333,000) V Darcy Byrne-Jones ($326,000)
Melbourne picked up attacking defender Josh Wagner with the sixth pick of the 2015 Rookie Draft. The 21 year-old is a great size at 189cm but, like many successful Fantasy backmen, it's his kicking skills which won him a place on an AFL list. Since being upgraded to the main list ahead of his round three debut, Wagner has been a mainstay of the Demons defence. Clearly coach Paul Roos likes how Wagner is hard at the ball yet smart with ball in hand. Josh, the older brother of North Melbourne's Corey, played all of his junior footy in Queensland, who he represented at under-18 level. Unfortunately Wagner wasn't drafted as an 18 year old, but his hard work and determination for NEAFL side Aspley. A stand out year with the Queensland outfit resulted in an inclusion into the NEAFL state team and the NEAFL Team Of The Year. It's no surprise that Wagner and his brother have great talent. Their father Scott and grandfather Barry both played big roles for football in the sunshine state. After starting the year priced at $125,000 in Fantasy, Wagner's stocks have now risen to $333,000. It's fair to say Wagner was shaky on debut against North and played just 63% TOG, but after that he produced scores of 98 and 83 as coaches started to jump on board. From rounds 6-13, Wagner's form has been surprisingly consistent for a rookie, with his last five scores being over 65 points. But as the saying goes, all good things must come to an end, and Wagner's price looks to have stopped increasing. A reason for this could be his scoring in losses. Wagner has played in six losing sides for an average of 58.6 points. However he averages 82.6 when the famous club wins. Although they pose a threat to their opposition at the MCG, Melbourne face the likes of Adelaide, West Coast, Hawthorn and Geelong in their run home. First they have a well-deserved bye, which could be the perfect time to upgrade Wagner and creep closer to completing your team. If no one else stands out, say your final goodbyes and trade the Demon defender.
It's fair to say Darcy Byrne-Jones helped out a lot of coaches in the first half of the year. Fantasy coaches were left with a crucial decision when Wagner and Byrne-Jones both emerged for debuts in round three. On Debut, Byrne-Jones battled hard to finish with 48 Fantasy points. He kicked a goal with a thin ripple of blood streaming down his face – an image which sums up the way Darcy plays. After that, Byrne-Jones impressed us with scores of 84 and 83 against premiership contenders GWS and Geelong. A series of 60's followed by two sub-50 weeks saw his price seemingly plateau around the $280,000 mark – up $155,000 since the start of the season. But a 99 against Melbourne at TIO Traeger Park not only earned him a rising star nomination, but also saw many coaches resist the urge to trade. In the Powers big win over Collingwood at the MCG, a 48 point second half got Darcy to 80 Fantasy points from 20 disposals, 5 marks and 4 tackles. However the worrying signs reappeared on the weekend with the young defender collecting only 41 points against the improving Dockers. Four free kicks certainly didn't help his cause! For a rookie defender, Byrne-Jones has been quite consistent and has shown he's good for a 90 point game on his day. But we are now on the other side of the mountain, gradually getting closer to the bottom where the odd 60 and 70 from rookies simply doesn't cut it anymore. Most good coaches would have three or maybe four players on-field who they will be looking to upgrade in the near future. Even the likes of Connor Blakely and Ryan Davis, who have been scoring well for the past month, will have to be upgraded. Players such as Josh Smith, Wagner and Byrne-Jones should be accounted for first, in my opinion, especially with their bye rounds this week. Like Wagner, thank Byrne-Jones for the position he has filled, then trade him off.
Verdict: Before we hit the trade button, pause for a moment and reflect on the great service the Josh Wagner and Darcy Byrne-Jones have provided us. Admittedly, it is definitely time for them to go but it's these types of rookies which help build winning teams. No doubt both will have to go as soon as possible but I would ditch Byrne-Jones just ahead of Wagner because after all, 72 against the Swans in Sydney isn't too shabby.
Loading ...
Unique Midfielders
Rory Sloane ($549,000) V Ed Curnow ($542,000)
In the absence of Patrick Dangerfield, Crows midfielder Rory Sloane has taken his game to a new level. It din't all go to plan for the first three weeks though. He went without a ton and recorded a high score of 88. At this point it looked as if Sloane would drop off with the loss of the star midfielder – wrong! Instead Sloaney laid 10 tackles on his way to 112 Fantasy points against the Swans. A solid 96 against Hawthorn was once again sourced from disposals and tackles. Over the course of the next seven weeks, the long-haired cult hero posted some massive scores including 135 against Fremantle, 147 against Dangerfield's Cats and 140 versus the Saints. Sloane doesn't hold back on-field. He has enormous endurance which often sees him finish games well in 'junk-time', is a fierce tackler and has good hands overhead for a 183cm player. His Fantasy price dropped for the first month of football but has increased ever since. Sloane has averaged 24.5 disposals, 4.1 marks, 6.8 tackles and 102.3 Fantasy points so far. Interestingly, of these key stats only Sloane's marks are down on his career average. Perhaps this is due to a slightly different role which allows him to spend more time around the ball at stoppages in a more Dangerfield-like role. Sloane's stellar season certainly hasn't flown under the radar. He currently occupies a spot in AFL Player Ratings team of the year, is fourth in the AFLCA votes and sits equal sixth in the Brownlow Medal predictor with 12 votes behind Dangerfield himself, Luke Parker, Joel Selwood, Luke Shuey and Max Gawn. He is also the warm favourite to take out a second Malcolm Blight Medal as the Crows best and fairest player. Sloane is a great player to watch and will no doubt be even better as a POD in your team. With the Crows draw for the remaining games much sweeter than the first half, expect Sloane to be firing on a cylinders. He might even tackle his way into a top midifield position in the coming weeks.
I can't remember too many 'run with' players averaging 102 Fantasy points and 127 over the past three games. I'm talking about Blues star Ed Curnow. What an amazing season he is having. Just three scores under 100 and four over 110. Like his recently drafted brother Charlie, Ed Curnow is strongly built and regularly provides impact in a variety of roles in the midfield. But whatever his role may be, Curnow knows how to find the pill – he has gone under 20 touches just once. When comparing his 2016 stats to his career numbers, Curnow is +6 for disposals, +0.1 in marks, +1.8 for tackles and +23.4 for Fantasy points. On top of these encouraging stats is the fact he is ranked 10th in the competition for tackles. This ranking was aided by hauls of 10, 12, 13 and 9. Curnow has started impacting the scoreboard more often in the past weeks with two goals in three games. coincidentally these two weeks were his two highest scores of the season.The Blues are poised to strike just outside with six wins and six losses after failing to win a game for the first month. They are fresh off the bye, making Curnow a perfect trade in target but face tricky opposition in the run home. GWS at Spotless Stadium will be a very hard game to say the least. Although the Giants just managed to hold of a spirited Essendon team, they are extremely hard to play over in their backyard. However Essendon midfielders Cooney, Zach Merrett, Goddard and Zaharakis were their teams leading scorers on Sunday afternoon. Curnow averages close to 95 against current top eight teams and should be good for a 90+ return against the Giants. Then they face Collingwood, Adelaide and West Coast all at the MCG followed by Sydney and Hawthorn. A great finish sees them play St.Kilda, Brisbane, Melbourne and Essendon in the final month. Although Carlton don't play another game at Etihad Stadium, Curnow has gone two tons from three and his owners will be hoping he doesn't drop off. One of an handful of premium jets with POD status, Curnow is a solid buy and has the potential to win you a league flag! It's a ballsy move but his form on paper is incredible.
Verdict: I love a good POD, especially one that has the ability to get you over the line in a head-to-head match-up. Rory Sloane and Ed Curnow are the type capable of doing just that, with multiple big scores coming from both players. But I'd go with Sloane because you just never quite know with negative-minded midfielders, one week they'll explode and the other pump out a 50. Get on the Rory bandwagon and why not chuck him the loophole 'VC' tonight against the Roos.
Loading ...
Collingwood Stars
Scott Pendlebury ($567,000) V Adam Treloar ($567,000)
Arguably the Rolls Royce of the competition is Collingwood captain Scott Pendlebury. 'Pendles' has been a Fantasy legend for a number of years. His season average has not dropped below 100 since 2008. Whether he's rummaging around stoppages or resting up forward, Scott gets stacks of touches and rarely wastes any either. Whilst the Magpies have been disappointing, Pendlebury has certainly not. Even Fantasy points leader Patrick Dangerfield has a smaller 'low score' than Pendles who has failed to ton up just four occasions. In 2015 his low score was 77 as Pendlebury finished the season as the second ranked Fantasy player. Although he is full of class, poise and skill, Pendlebury is also a great tackler and is often involved in fierce stoppage battles. It's incredible to think he is yet to register a game with under 25 disposals, a statistic which is very visible in Fantasy. However he is not one of the highest scoring midfielders this year because he doesn't seem to post many scores of over 130, unlike Zach Merrett or Lachie Hunter. But his consistency is what places him so highly come the end of seasons. As others drift in and out, Pendles keeps scoring hundreds and for that reason, is a safe captain choice. Taking a closer look at the Magies run home sees them travel interstate just twice – hmmm. First up, fresh off the bye is Fremantle who are finally hitting some decent form. The Dockers have conceded 1.75 scores of 120+ over the last four weeks, ranked sixteenth. Pendlebury played the Dockers once last year and scored 101 points but had 122 against them in 2014. Carlton follow in round 15 before a tricky run of games including GWS at Spotless Stadium, Adelaide at the Adelaide Oval, North Melbourne at Etihad' and the Eagles at the 'G'. The way the Pies are playing, the opposition should start as favourites in all four of those games. Richmond, the Bulldogs, Gold Coast and Hawthorn round out the year. These fixtures shouldn't really effect Pendles that much but it's certainly worth considering if your trading him in. At $547,000, Pendlebury is perhaps slightly undervalued and has had ownership levels of much higher than the current 17.91%. Can't go wrong.
There was an article published on AFL.com which questioned who was the better pick up, Dangerfield or Treloar. Now, since this article was released Patty has gone on a point spree, rewarding his owners with massive scores. In my eyes, Dangerfield is one of the best pick ups in AFL history but for Treloar to feature in a comparison with Danger shows how good his 2016 season has been. Treloar is similar to captain Scott Pendlebury in the way he uses the footy and his cleanness in congested spaces. After being picked up by the Giants as a 17 year-old zone selection, Treloar wasted no time, averaging 82 and 88 in hi opening two seasons at the new club. But, as is the case with many younger players, Treloar wished to return 'home' to his native Victoria. An infamous war broke out between Richmond and Collingwood, but it was the black and white outfit who signed up one of the best young talents. So far in 2016, that move looks to be paying dividends for Treloar. Adam has improved on his career best year in 2015 by averaging 30 disposals, 4 marks, 6 tackles and 110 Fantasy points. For some reason Treloar was barely mentioned for the first few weeks of the season but is well and truly on the radars of most good Fantasy coaches. Perhaps we didn't start with him because of the doubt over who would assume what role in the Pies midfield. Pendlebury was tried off half-back in a role change somewhat similar to the Bulldogs Matthew Boyd early one but that didn't really work. Steele Sidebottom was suspended early, brilliant from rounds 4-10 but has dropped off in the last couple of weeks. Taylor Adams' season has been riddled by injury, Dane Swan likewise and Levi Greenwood has spent time playing a negating role. I'm not sure it's possible to quietly average 110 but somehow Treloar seems to be doing it with a current ownership of 6.6%. Stick him in the guts of your team and you'll be repaid with tons aplenty.
Verdict: This ones interesting as the Collingwood pair are actually very similar, both in Fantasy and on the field. They are clean, silky smooth and add a touch of class to an otherwise tough and contested midfield group. At $567,000 Treloar and Pendlebury are two of the higher priced midfielders but are as consistent as they come. If I'm brutally honest, a finer detail such as kick:handball ratio along with having the runs on the board see the great Scott Pendlebury just edge out his team-mate here.
Loading ...