Moneyballin' – Round 14
It's a stretched out weekend of very few games in the 2nd week of Bye rounds – which is perfect for DFS! Get involved with the large range of contests and win some cash with our niftyMoneyball tips.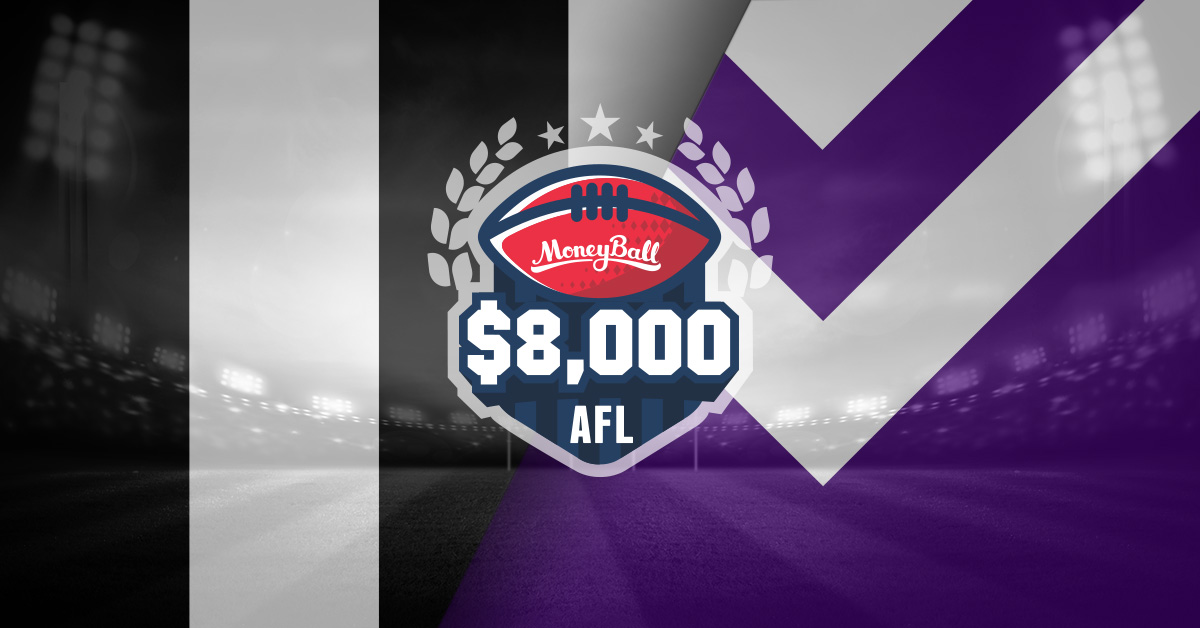 Tbetta here, and welcome to the self-proclaimed top resource for keen Aussie Rules Moneyball punters! DFS (Daily Fantasy Sports) is taking off around the world and Moneyball have the perfect platform for you to turn your AFL Fantasy prowess into cold hard cash. Signing up is easy – head to moneyball.com.au and you could be ballin' within minutes.
If you're unsure how DFS works, be sure to head to the 'Help' section for all the info you need to start cashing in on your AFL Fantasy knowledge!
Let's start Ballin' by checking out the excellent Match Committee Podcast below, starring your favourite DT Talk lads and brought to you by the legends at Moneyball:
Click here to subscribe on iTunes.
AVOID:
North is the gold standard when it comes to restricting Moneyball points conceded to FWDs, ranked 1st in that category over the past five weeks.  If you don't believe the raw stats, then anecdotal evidence with the usually lively Gunston and Breust failing to even reach 50 last week against the Kangaroos has to seal the deal.
As a result, I'm thinking twice about guys like Taylor Walker ($7,300 FWD) and Eddie Betts ($7,000 FWD) based strongly on opposition strength. While a few numbers fall in their favour – Walker has kicked 17 goals in his past five games, Eddie has pumped out 2 tons in the last three weeks and they top-scored for the Crows against the Roos in Round 1 this year with 105 and 94 MB respectively – the Roos are a different team defensively now and I'm backing the opposition analysis on this one.
Join the massive $8,000 guaranteed Crows vs Kangaroos Special here!
Of course, with another Roos game comes another obligatory Ruck Watch paragraph. Todd Goldstein ($9,700 RU) managed just 84 MB last week in tandem with Majak Daw ($4,200 RU, 61 MB), which means he's failed to reach the MB ton in three straight games. Goldy's obviously not 100% fit and therefore, not worth Ferrari money for his Mitsubishi output.
SMOKEY:
He's still slightly more expensive than we would like, but Brad Crouch ($7,600 MID) has something to prove and could go bang – just like his brother Matt Crouch ($6,700 MID) did with 134 points upon return a few weeks ago. The Brad variety has averages of 34 touches, 4 marks, 10 tackles in his last three SANFL outings, proving he's clearly AFL-standard and now he has the stage to prove it.
TOP PICK:
The obvious ruck pick might be Sam Jacobs ($8,300 RU) after 260 MB points over the past fortnight, but it's always a worry picking a ruckman coming up against the oppressive Goldy, no matter how hobbled he is. So why not avoid rucks altogether?! Josh Jenkins ($7,300 RU) is available as a ruckman in Moneyball and has the wood on North, kicking 5 goals against them in Round 1 this year.
It's worth clarifying here that I'm not endorsing Jenkins as risk-free per se, as he definitely falls into the Forward category and therefor may suffer from North's blanket defence. I am, however, fully supportive of thinking outside the box and possibly getting an edge over those who'll lock Jacobs or Goldstein without a second thought.
On the rookie front, Trent Dumont ($3,500 MID) fired off a team-high 114 Moneyballers last week to cement his spot in the team for a few weeks. While he probably filled a position that will be soaked up by Cunnington/Swallow returning this week, he's by far the best value pick on offer in a saturated market.
AVOID:
The big question we need to ask ourselves is, "who does Michael Barlow ($8,200 MID) head to this week?", then avoid them like the plague. No one's really bothered to tag against the Pies all year but after Lyon claimed that this new defensive role has reinvigorated Barlow –  who's busted out totals of 118, 100 and 158 while keeping his opponent to a maximum of 76 in the past three weeks –  how can we expect him to stop?

Scott Pendlebury ($9,900 MID) is the obvious candidate given his influence over games, but don't be surprised to see him head to a bigger ball-winner like Sidebottom ($9,400 MID) or Treloar ($9,900 MID). All three are north of $9k, so dodging the Barlow tag grenade is the key to success on Friday night because you simply can't come back from wasted pick for such big coin.
It is interesting to note that the only time a Collingwood player has been tagged all year, it was Curnow heading to Treloar to hold him to 96 MB points from 27 touches – his 2nd lowest possession tally for the season.
SMOKEY:
Hayden Crozier ($5,600 FWD) may have been drafted as a high-flying forward, but he's impressively carved out a niche as a back flanker in the past few weeks. They've gifted us scores of 98, 115, 89 and 90 MB and he represents value as long as he's masquerading as the Dockers' barometer.
Value, tick. Consistency, tick. Jump on.
TOP PICK:
Averaging 102 MB in past three, Brayden Maynard ($5,500 DEF) has been enjoying his role as a distributer across half-back for the Pies and there's nothing to suggest that it won't continue in Round 14. Maynard's clearly been entrusted with more responsibility in the past month and has been consistently solid in that span. For his price, he's smashing all expectations.
Get involved in the $8,000 guaranteed Magpies vs Dockers Special here!
In a broader sense, Freo have been spewing points to defenders, ranked #2 both over the  season as well in just the past 5 weeks. Maynard obviously falls neatly into that category, but make sure you don't sleep on his defensive-minded brethren. Jeremy Howe ($7,100 DEF) pumped out 5 straight scores of 90 before last week's Demon disaster, while 3/5 of Ben Reid's ($6,100 FWD) last scores have been up at 106 or better; both should feature regularly against Fremantle's infamously mediocre attack.
AVOID:
He's dirt cheap and undeniably a talents midfielder, but Matthew Kennedy ($3,500 MID) was anchored up forward against the Bombers and we have to act on the assumption that he will continue building a résumé there. Ultimately, he was fortunate to snag 3 late goals to reach a mere 53 Moneyballers – simply not enough even at his lowly price.
Mitch Robinson ($7,800 MID) has been pumping out 120 points per game in his last three, but it's not his offensive capabilities that I'm worried about. No, it's the fact that he's been tagging the opposition's biggest ball-winners, with all of his recent victims in Sam Mitchell (88), Bryce Gibbs (58), Lachie Neale (55) and Matt Priddis (81) struggling in his presence and amongst the top 2 possession-winners at their clubs.
Given that Trent Cotchin ($9,000 MID)  an uninjured 31.3 disposals per game this year and Dusty Martin ($8,800 MID) isn't too far behind, I'd be shocked if Robbo didn't head straight to one of these fantasy guns. The strength of numbers is a bad omen for Cotch, but I'll be avoiding both with a risk-averse mindset.
SMOKEY:
Tom Ruggles ($4,600 DEF) could be a cheeky beneficiary of a leaky Saints backline, especially after coming off a career-high 89 MB last week. ST's figures of 18 touches and 10 marks are definitely duplicable against the Saints, but far from guaranteed. I think he's cheap enough to be gambled on.
I'd prefer he was a bit cheaper given his lack of exposure this year, but Reece Conca ($6,900 MID) has had flashes of fantasy relevance in the past and returned from injury nicely a fortnight ago with 22 touches and 6 tackles for 93 MB against Gold Coast. That was in an inside mid capacity too, which is encouraging for future scores.
TOP PICK:
I like Jack Steven ($9,700 MID) for a whole swathe of reasons this week, so let's tick them off:
Geelong hasn't tagged in weeks, but not that it matters. Curnow was ineffective against Steven last week, as the hard-running Saint just engaged Hulk mode on n his way to 139 Moneyballers.
He's been in blistering form, 3 of last 4 scores have been 135 or above. Crazy.
Geelong are #4 in terms of most MB points conceded to opposition MIDs in the past 5 weeks, so there will be plenty of points to absorb between the arcs.
Is it possible that I'm even keener on Stefan Martin ($7,400 RU) than Steven? Stef just oozes value, dropped big dollars after a timeshare with West that crippled his output… but surprise, surprise – as the sole ruckmen once again in Round 13, he busts out a 118-point gift for his many fantasy coaches. Check out his splits:
Averages from 4 games with West in the side: 22 hitouts and 64 MB
Averages from 8 games without West in the side: 31.5 hitouts and 100 MB
Martin is back and with West out of the picture, he earns bona fide must-pick status this Saturday.
AVOID:
Luke Hodge ($8,500 MID) has a great fantasy pedigree but it might be a bridge too far to expect him to return to AFL footy and simultaneously blow our minds with a monster Moneyball showing. Add in the fact that even before he succumbed to injury, he dished up 3 scores under 80 MB this year from 4 games, then we can comfortably take our $8.5k elsewhere without feeling remotely guilty.
SMOKEY:
Tom Nicholls ($7,000 RU) is one of the few promising ruck options this week, particularly within his modest price range. His résumé boasts recent scores of 87, 99, and 98, impressively averaging a massive 9 tackles over those 3 games. Jump on board while the work ethic is up and the price is down for Nicholls, especially as he's barely a stroll from what McEvoy/Ceglar find themselves priced at.
TOP PICK:
All teams enjoy stepping over the Suns in the fantasy stakes, but it's the forwards who really do the damage, with the Gold Coast ranked #1 for points conceded to FWDs over the past five weeks. Jack Gunston ($8,500 FWD), and Luke Breust ($7,500 FWD), despite quiet Round 13 showings, are the obvious beneficiaries; but don't be surprised to see role players like Puopolo and Sicily step up too.
Meanwhile, the historical stats for Gary Ablett ($8,500 MID) sound made-up – he's a Hawks specialist, pumping out 6-straight 130+ scores in Moneyball's close cousin (AFL Fantasy). Incredible numbers that completely spit in the face of the theory that it's hard to score against great sides, given Hawthorn's dominance over many years.
However, is today's Gaz the same Super Gaz that we've enjoyed since he burst onto the fantasy scene in 2007? The Hawk-destroying machine that I advertised above? I've delved into the numbers surrounding his rocky start to the year and I think he's back – here's why:
Rounds 1-8: 43% of possessions contested, 100 avg
Round 9-12: 56% of possessions contested, 122 avg
Gablett is at his absolute best when he's winning his own ball. He's clearly doing that again, which is extremely promising because he can't rely on his teammates to get it to him these days. Back him in!