Jeppa's Juniors – Round 13
The first of the bye rounds is over and it doesn't get any easier this week with a host of premos and handy cashcows having their scheduled rest. Some of us will be relying on newcomers suiting up but the quality options are limited. See Jeppa's thoughts here.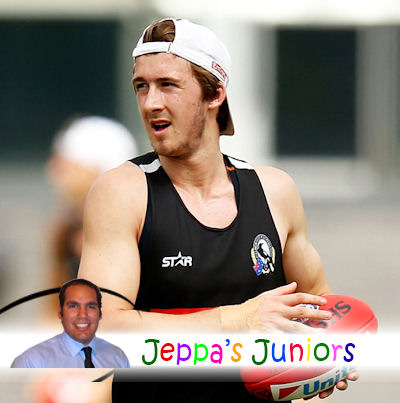 As far as bye rounds go, last weekend worked out well for most coaches. There were no late outs other than Dea and hardly any injuries meaning many of us fielded a strong 18. Thanks to guys like Danger, Rocky, Zorko, Neale, Trengove, Stefan, etc. I was fortunate enough to score 2051 in Fantasy and a reasonable 1867 in Dreamteam.
This week you should be looking at trading in a premo or two that had the Round 13 bye. Aside from the obvious, Treloar, Montagna and Docherty are a few on my radar. For those needing a cheap downgrade, the options are average. Quality rooks with assured job security just aren't there at the minute but I bring you the best available.
After last week's feedback, I've stuck to a concise article structure as per last week.
THOSE THAT MATTER
Tom Phillips (Fwd/Mid. $141,000, 0 be AF. $121,300 DT) – He didn't turn heads in his first outing a couple of weeks back but with our options limited, Phillips needs to be seriously considered. His dual position status as a forward / mid is super handy and he did score a reasonable 64 Fantasy points on debut. Forecasting improvement and time through the Pies midfield, it's not all doom and gloom picking Phillips. Job security is a problem but I'll be taking the plunge by picking him this week. Here's hoping. All I want is a month of solid senior footy and scores in the 60's, which is achievable in my opinion.
Eric Hipwood (Def/Fwd. $189,000, 28 be AF. $166,300 DT) – You can see why the Lions gave up pick 14 in last year's draft for Hipwood. A booming left foot, fantastic mark and clean hands…once this youngster puts on some muscle, he's going to be one of the best key forwards in the game. As far as Fantasy goes this season, Hipwood is very raw and his 50 Fantasy points last weekend doesn't set the world on fire. You can do better.
Trent McKenzie (Fwd. $220,000, 66 be AF. $203,700, 56 be DT) – The oracle of Fantasy football, @WarnieDT isn't the only one that thinks McKenzie is a decent option. Cannon isn't technically a 'junior' but he comes cheap after an indifferent start to the season brought about by a couple of injuries. In past seasons, McKenzie has consistently hit scores in the 70's and his job security is far better than the rooks currently available. I'm not up for spending the extra but it might be worth it over these bye rounds. Consider.
Matthew Hammelmann (Def/Fwd. $125,000, 25 be AF. $121,300 DT) – A solid month in the NEAFL has seen this young, key forward turned defender rewarded with a debut against the Tigers on Saturday. Normally, I don't recommend young talls but we don't have much else as cheap. Fortunately, Hammelmann has been in the system a couple of years and his assets are marking, kicking efficiency and attack on the ball. Last week in the NEAFL his stat line read 23 kicks, 4 handballs, 16 marks, 2 tackles and 133 Fantasy points. Obviously we take that with a pinch of salt but the qualities of a good footballer are there and hopefully it works out for him this week. Given Hammelmann and the Lions have the Round 15 bye, I won't be trading him in just yet but he may suit a few. Not his dual position status as a defender / forward.
Rhys Mathieson (Mid. $187,000, 8 be AF. $121,300, -43 be DT) – Injuries at the Lions den means the Beast's odds of returning to the big time are pretty dam good and I'm expecting him to play. Scores of 59 and 56 in his first two games aren't electrifying but we have to give him the benefit of the doubt given what's available. Post byes, Mathieson is bench back up but this week it would be nice for him to make his mark in the midfield at Brisbane. With a long-term outlook in mind, I still like Mathieson as a downgrade option.
Josh McGuinness (Def. $125,000, 25 be AF. $128,200 DT) – Is another Lion cub we could benefit from. The medium defender plays similar to the injured Harwood and I'm hoping he is considered for senior selection this week. If he's named, it's probably smart to watch in the big time for a week before jumping on. Expect scores in the 50's early on from McGuiness.
Matthew Kennedy (Mid. $188,000, 28 be AF. $170,800 DT) – Kicked three goals on debut and looked awesome but scored just 50 Fantasy points. Playing deep forward, Kennedy was prevented from wining a heap of possessions and as a result I wouldn't recommend picking him up especially with his job security woes. A future star but he's not Fantasy relevant this season.
Corey Wagner (Mid. $134,000, 30 be AF. $121,300 DT) – Struggled to find the footy in North's forward line and he scored just 23 Fantasy points as a result. Wagner doesn't have a Fantasy game and he'll be dropped this week anyway so avoid, avoid, avoid.
Josh Cowan (Def. $130,000, 26 be AF. $161,700 DT) and Sam Menegola (Mid. $127,000, 25 be AF. $121,300 DT) – We're gona need to be a bit more patient on these two. Both are coming back from injuries setbacks and they'll need to spend a bit more time in the VFL before being considered for senior selection. Keep an eye on both!
Daniel Currie (Ruc. $260,000, -14 be AF. $269,300, -21 be DT) – Just a quick note on many coaches' R3. Currie is listed as a test for the Gold Coast Suns and the club has confirmed that if he's cleared fit by the medical staff then he'll play this weekend (source). Hopefully the Docs assessing him are Fantasy fans!
TOP 5 LISTS
Considering price, scoring potential and job security, here's my Top 5 rookie options for Round 14:
Fantasy
Phillips
Hammelmann
Mathieson
McKenzie
McGuinness
Dreamteam
Phillips
Mathieson
Trengove
Reid
Jansen
Twitter Q&A
@JeppaDT #AFLFantasy Hey Jeppa is there any chance of a DEF rookie like Broad to debut this week? Looking for a round 13 bye rookie. Thanks

— Kingzy1Kenobi (@gorilladz) June 21, 2016
Broad won't be debuting this week. His recent VFL form has been very average. Look to Hammelmann but he has the Round 15 bye.
Top 5 Rookies to keep an eye on in the late part of the season (Fantasy Finals) for teams not in contention for Finals?#AFLFantasy @JeppaDT

— aflratings.com.au (@aflratings) June 21, 2016
Good question as usual Pete. In order…Aaron Francis (Ess), Nathan Broad (Rich), Nathan Drummond (Rich), Anthony Morabito (Freo) and Rupert Wills (Coll). Add Clay Smith from the Dogs if he can break into their 22.
Should I downgrade Blakely for bye structure even tho he hasn't reached his top price yet?

— Seb Birrell (@MrBarrellroll) June 21, 2016
I'm in same predicament…I can trade Blakely and upgrade to anyone or keep the young mid and enjoy solid scores and further price increases. It' smart to hold Blakely.
Hey Jepp, looking to burn a ruck on bench. Which rookie is likely, if any, to come in?

— Peter Tsokas (@Tock27) June 21, 2016
Sam Michael from Essendon.
Trade Wagner, Walla or Dea

— Inactive (@JakePizzuto) June 21, 2016
Trade Walla first.
should I be trying to move dead weight (non-playing rookies like Brand and Kommer) or let them sit now + focus on dngrade/upgrade?

— Wylie Wells (@WylieWells) June 21, 2016
Continue to upgrade as long as you can field 18 players through the last two bye rounds.
I need to free up some cash in the backline, is Jesse Joyce an option?

— James Pettit (@jameswep) June 21, 2016
No, Joyce is off limits for Fantasy coaches. The Suns have a host of players returning from injury.
https://twitter.com/ryang0707/status/745207035084443648
Aliir has no job security unless Richards or Grundy are injured. Not for me.
@JeppaDT have I missed the boat on crozier? Looking to trade him in for wells? Thoughts?

— jacob danias (@danias2000) June 21, 2016
Yep, that ship has sailed.
Feel free to ask me a question below and don't forget to add me on Twitter @JeppaDT for all things Fantasy and more. Happy trading!