Calvin's Captains – Rd. 14
Here we go again, the second bye round is here. It's tough, so pick yourself a good captain to ease the pain.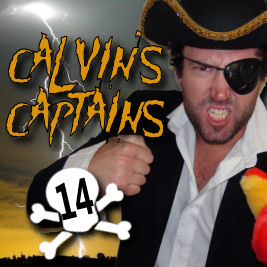 Here we go again. Another top 10 captain heading your way and this week… I have worked overtime separating the top 3 below. Mega tough, but trust me… I've got it in the correct order and for the record, it's the exact order I'll be picking my captain from.
TOP 10 for ROUND 14
#1 – Tom Rockliff v Richmond @ the MCG
Rocky is the #1 ranked player on form over the last 3 weeks averaging 154. He hasn't put a foot wrong and we must trust the pig again.
There is no chance he'll cop a tag, against a team he didn't play in 2015 due to injury but scored 137, 116 and 115 on them in his last 3 games. He loves the MCG and has scored 111, 165 and 137 there in his last runs and ticks all the boxes again.
The thing I don't like is the fact that the Tigers have only given up 3.3 tons a game over the last four weeks, ranking them as the 6th hardest.
But after digging a little deeper (as I do for you guys) I found out some stats that tipped Rocky over the line this week as my #1.
Against the Tigers, scoring has been tough… however, in the last three weeks, Ablett (120), Wells (126), Dal Santo (125), Goddard (134), Merrett (115) and Kelly (110) all scored well. The top of the tree players have been getting it done, despite the fact the Tigers have been restrictive.
On a separate topic, Stefan Martin should also be good after he finally managed a decent 111 last week. The last recognised ruckman to play against Hampson have scored well with Nichols (89) and Tippett (93) producing solid number. Expect Stef to do the same this week.
#2 – Patrick Dangerfield v St Kilda @ Etihad Stadium
I so badly wanted to have Danger as #1 this week and many still will.
Carrying a lowest score of 107 in his last 9 games, Danger is clearly the best player in the league right now and sits at #2 in Fantasy on form with an average of 146.
He averages 24pts more in wins than loses this year and loves playing at Etihad where he has scored 143, 187 and 122 this year. He had 122 on the Saints last year and the Saints are still mega easy to score on… in fact, they sit at #5 in points they are giving up over the last 4 games. They are so easy to score on, Carlton lost to them in round 12, and still managed 5 players over 110.
So why is he below Rocky?
These score against the Saints haven't been massive.
Over the last few weeks, these are the top scores that players have been getting against the Saints. Simpson (117) and Docherty (115) top scored for the Blues, both defenders. Jenkins (156) and Sloane (140) lead the onslaught in Adelaide and in round 10, ball magnet Lachie Neale (104) could have done much better but was the only guy over 100+ for the Dockers.
I also believe that Rocky can go 130+ with more ease than Danger, and has done this year. In games he hasn't been injured, Rocky has done it 4 out of 6 times, 3 out of 3 in the last three weeks. Compared to Danger who has achieved the mark 3 times in 13 games, but two out of two in the last two weeks.
Will St Kilda tag him? Possibly with Mav Weller. Selwood has struggled against the Saints in his last two games due to tags with scores of 88 (Seb Ross) and 70 (Weller). Weller hasn't been tagging in recent weeks and I highly doubt he will again. But it's a possibility.
But still… he still sits a bee's %$#& behind Rocky this week and will be awesome regardless.
#3 – Gary Ablett v Hawthorn @ Aurora Stadium (TAS)
This top 3 have been going nuts over the last three weeks and to put into perspective of where Gaz sits in this, check out where their scores rank over the last three weeks against each other.
187 – Danger
184 – Rocky
143 – Danger
142 – Rocky
135 – Rocky
124 – Gaz
120 – Gaz
120 – Gaz
108 – Danger
Although Gaz has been unreal… he's just not in the league of Rocky and Danger based on the numbers.
But then I see this….
157*, 132, 139, 175, 147, 135*, 109, 120, 131, 123, 115.
Those freakish 'pig like' numbers there are the scores Ablett has had on the Hawks in his last 11 games. Are you serious?
Ablett is ranked #5 on form with an average of 121 and the * up there in that line of numbers are games he has played against the Hawks at Aurora Stadium.
The Hawks are the 4th hardest team to score against at the moment and the top scorers against the Hawks in recent weeks have been Dumont (106), Merrett (115), Vince (120) and Hanley (107).
I'm trading Gaz in this week and expect a solid 135 instant reward.
#4 – Lachie Neale v Collingwood @ the MCG
The Pies are the easiest to score against and have also given up the most 120+ scores in the last four weeks as well. It's simple, Lachie will loves this one. He had 128 last week and 120 on the Pies last year.
#5 – Jack Steven v Geelong @ Etihad Stadium
It'll be tough against the Cats but even in a smashing last week, the Bulldogs still managed 4×100+. Steven loves the roof as well and has scored 3×130+ scores there in each of his last 3 trips. He has form on his side and even had 102 on Geelong last year.
Click here to subscribe on iTunes. (Please leave a rating and review to help us move up the charts!).
#6 – Jordan Lewis v Gold Coast @ Aurora Stadium (TAS)
Sam Mitchell has just 1×100+ score next to his name in his last 6 games, so I'll be taking Lewis here against the 4th easiest team to score against over the last 4 weeks.
Lewis' form has been sharp and currently carries a lowest score of just 106 in his last 4 games. In his last three games against the Suns he has scored 120, 119 and 122. This week, he goes for his 11th straight 100+ score in Tassie, at a ground that just bleeds Fantasy points. Expect a lot of 100+ scores in this game.
#7 – Dusty Martin v Brisbane @ the MCG
Loves the MCG with scores of 137, 123 and 123 coming in recent runs there. Had 137 last week and 108, 115 in his last two against the Lions. He's a small chance of a Robbo tag I guess and that's why, he and Cotchin sit a little lower than they probably should in this week's top 10.
#8 – Adam Treloar v Fremantle @ the MCG
In his career, Treloar has played the Dockers 3 times to average 108. He had 127 in his last game and is currently the 5th highest averaging player in the game.
#9 – Trent Cotchin v Brisbane @ the MCG
As I just said, probably the most likely option for a Robbo tag this week, and his form certainly warrants it. 121, 118, 120 and 127 are his last four scores and he loves playing the Lions with 119, 110 and 138 coming in his last 3. The tag of RedBull Robbo is my biggest concern here.
#10 – Scott Pendlebury v Fremantle @ the MCG
If the rumours are correct, he's been carrying a niggling injury and proved that by only posted 83 in his last game. The bye would have done him the world of good. He has had 101 and 122 on the Dockers in his last two games and loves the MCG. He has scored 133, 124, 114, 118 and 127 there in his last 5 and should be back to his best this week.
WHERE'S HEATH SHAW?
Yes, Heath Shaw does play back home this week where he has scored 109, 176, 132 and 135 this year but I think it will be tougher against the Blues. They've had is measure in the past not letting him score a ton in his last three games and only allowing 1×100+ score in his last 7 against them. It's just too risky… go with one of the big three at the top. Much safer!
THE LOOP HOLE – Thursday Night
On Thursday night, the Kangaroos play the Crows at Adelaide Oval and it's a 'partial lock-out'. This means that only players in this game will be LOCKED in once the ball bounces.
If you put your VC on a guy playing in this game and they score well. You can keep that score by putting your 'C' on non-playing player (even if they have the bye)… and then your captain will then score a 0 and therefore your VC score will be activated and doubled.
If they score like rubbish… which I tip most players will, you can just select a captain as normal and solider on.
At the end of the day… it's a free hit, but you'll lose (or waste) your VC as a back-up option for the weekend.
Guys like Rory Laird and Todd Goldstein will be popular options if you have a crack. But, Adelaide is the second hardest team to score on over the last 4 weeks and the Roos are the third hardest. I can't see the scores being overly big in this game, and therefore, I wouldn't blame you if you passed on the 'Loop Hole' altogether this week, saving your VC incase you really need it.