Roy's Trade Talk – Round 14 #ByeWeek2
Want to know who to bring in after their completed bye? Look no further.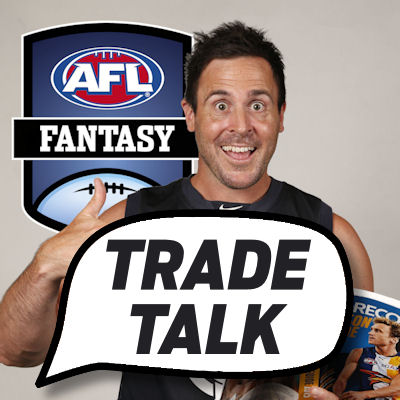 This week I am going to look at a few players from various positions that are coming off their bye.
Defenders
Kade Simpson (DEF, $513,000) After looking tired and completely over it last season, Simmo is having a career year under new coach Brendan Bolton. He has been on fire for the Blues, rebounding off half back and even pushing forward for the odd goal. His marking has been a feature, only dropping below six on one occasion, while reaching double figures twice. He has a five round average of 106 and carries a lowest score of 96 in the last nine games while dropping under that on just one occasion this year.
Sam Docherty (DEF, $517,000) Is another player thriving under Bolton across half back, with marks also a feature, also dropping under six on just one occasion this season. He has been in phenomenal form with a five game average of 109 which includes a hot streak of 5/6 tons, including an impressive 140. The buyer beware with the hot form of these two is that their last five games have been at ES, which is perfect for their role, it will be a lot tougher this week @GWS, but they both still come highly recommended.
Rory Laird (DEF, $478,000) Has bounced back from his injury layoff in impressive form with scores of 96 and 115 in rounds 11 and 12. He is very reliable, scoring 80 or over in seven of his eight games this year and he has a good ceiling with a top score of 136 in round two.  He has a decent month ahead with games against the Roos at AO, before meeting the Dees, Blues and Pies. He is carrying a BE of 85, and is great value while under 500K.
📊 Who would you pick up out of Simpson, Docherty or Laird? Can only pick one. #AFLFantasy

— AFL Fantasy (@AFLFantasy) June 20, 2016
Midfield:
Gary Ablett (MID, $521,000) If you are one of the 65% that don't own Gaz, it is time to bring him in. He is in outstanding form with a three round average of 121 and this week he faces the Hawks… Sounds scary doesn't it? Well don't fear, his numbers against them are through the roof, especially at Aurora where he faces them this week. He has a break even of 76 and should easily continue his three game streak of 120+ scores.
Who doesn't love a unique superstar to help them win the flag? Adam Treloar (MID, $567,000) is owned by less than 7% of the competition despite his career best average of 110, including a five game average of 112. In the last 9 weeks he has dropped under 100 on just two occasions with a low of 93, while going 115+ in 6 of those games. He has been dominating at the MCG and plays his next two games there against the Dockers and Blues. He has a BE of 133, so won't be going anywhere price wise but he would be great to have regardless of price.
Ruck:
Sam Jacobs (RUC, $482,000) looks to be back to his best with a five game average of 100 and scores of 134 and 112 in his most recent games. He has a tough match-up with Goldy at AO this week before facing the Dees and Blues who he boasts impressive numbers against.  He has dropped 51K and has a BE of 74.
Click here to subscribe on iTunes. (Please leave a rating and review to help us move up the charts!).
Forward:
Dustin Martin (FWD/MID, $531,000) is a player all serious teams need to have by the end of the season and given his recent form, the sooner the better. He has a five round average of 111 which has included three scores over 120 and an impressive 137 in his most recent hit out. He plays the Lions at the MCG this week and will smash his break-even of 95.
Nick Riewoldt (FWD, $579,000) He comes at a cost and is returning from injury but his five round average of 111 is hard to ignore, especially from a forward. He has seven scores over 110 this season as he fully embraces the role between the wing and forward 50. After playing the Cats this week, he has a very tasty draw which should return some huge scores. He absolutely smashes it at ES and they have seven more games there this season. If cash is an issue, consider Leigh Montagna (FWD/MID, $503,000)
Twitter Time
Love your work boys!Thoughts on downgrading Goldy to Stef to free up a chunk of cash? @WarnieDT @RoyDT @CalvinDT

— Rosco Mac (@RossEMac) June 20, 2016
It certainly has merit if you use the cash wisely. However, Goldy is the best ruck and we haven't seen Stef score well against a decent ruck for a while, so I would stick to a traditional downgrade/upgrade elsewhere.
https://twitter.com/Micr0Mari0/status/744806314954526721
Like them all, but I would go with Treloar
@RoyDT @WarnieDT @CalvinDT Looking forward to the podcast as always lads! Should be thumping! 👍🏻operation get dusty this week for me!

— Josh Aspey (@JoshAspey) June 20, 2016
Yep, smart move!
is James rose a fantasy piglet

— lior (@lior434) June 20, 2016
Yes mate, as per my weekend wrap on AFL.com.au
#AFLFantasy @WarnieDT @CalvinDT @RoyDT Who should I trade tippet to providing can afford anyone. Except stef as i already have him

— Joseph Dawson (@Joey_eagle23) June 20, 2016
Considering the byes, Jacobs is a good option
@RoyDT @WarnieDT @CalvinDT thoughts on BJ? 5 tons from the last 6, should be 6/6 but sat out a quarter v hawks/

— Nathan Baynes (@one38and7the36) June 20, 2016
Impressive, but well down the line for me
Cheers,
@RoyDT