Inside the Fantasy Numbers – Round 13
Pete from aflratings.com.au has gone inside the numbers and crunched some epic stats ahead of round 14.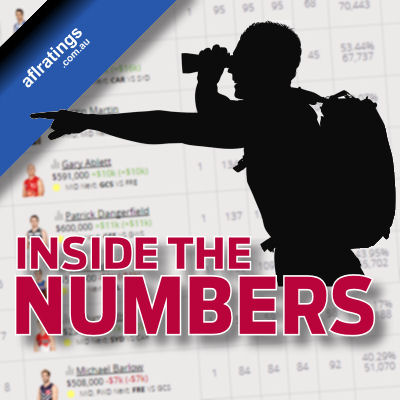 Week 1 of the Byes has now been completed so the scramble begins to trade in players that are now available for the remainder of the season, there are plenty of premium targets to choose from that are under-priced and have the capabilities to perform well.
This week 3 Potential targets will be posted from each of the clubs returning from their Bye, whilst it is easy to put up the 3 best scoring players managing to squeeze all of those in to limited trade and salary format can be quite difficult. A wildcard player will be listed as the 3rd option that may or may not suit your team, but just in case your team is cash poor they may be worth considering.
Adelaide
Rory Sloane
Sloane has averaged 116.2pts from his last 5 games, 4 games he has scored 100pts or more and 2 have exceeded 140pts or more. The best part aspect when looking at introducing Sloane on to your roster is that the Crows play only 3 current Top 8 sides for the remainder of the Home & Away season, what could be of more importance to your team is a Round 20 fixture against Brisbane at the Adelaide Oval which is week 1 of AFL Fantasy Finals.
Rory Laird
Despite missing 4 games between Rounds 7-10 Laird is averaging a healthy 96.4pts this season, he is well on track to better his 88.4 average from last year. Laird is averaging 26.1 Disposals per game in 2016 which is currently Ranked No.1 at the Crows, he has scored 100pts or more in only 2 games this season but in both games he achieved a minimum 10 tackles.
Wildcard – Brodie Smith
If you are battling financial issues in your team right now but need to upgrade to a defender capable of providing a decent average then Smith may be a possible option, in the last 3 weeks he has averaged 90.7pts including 102pts against the Giants in Round 10 which is his only 100pt games in 2016. Don't expect Rory Laird type numbers.
Carlton
Sam Docherty/Kade Simpson
After looking for possible differences to choose one over the other quite simply the option is to have both, between Rounds 4-12 Docherty has averaged 101.7pts and Simpson 103.6pts per game. Critically Carlton play Essendon in Round 23 (AFL Fantasy Grand Final), Rounds 20-23 doesn't look so bad either with games against St Kilda, Brisbane & Melbourne respectively.
Ed Curnow
Whilst the popular play will be Bryce Gibbs the POD play could be Curnow, unbelievably he has scored 100pts or more in 9 games this year at an average of 102.6pts per game. Marc Murphy was injured early in Round 10 against the Cats and Curnow's average has spiked to a 127.7 average in his absence, prior to the Marc Murphy injury Curnow averaged 94.2pts. The Blues have another genuine scoring option in the midfield, expect a decent average for the remainder of 2016.
Wildcard – Marc Murphy
Murphy is likely set for another price drop upon his return from injury, once again if you are struggling for cash reserves then he is a definite option to compliment your midfield especially considering the Blues schedule in the final 4 games of 2016.
Who Am I?
I am currently priced under $400K
I scored a season high in Round 13
My Career high is 141pts
I am quite popular owned currently by over 10% of coaches
I have kicked 5 Goals this season
This is my 7th season in the AFL
Answer below
Collingwood
Scott Pendlebury
Limping off the MCG with an iced Ankle/Achilles is worth noting, but the form for Pendlebury leading up to the Queen's Birthday game against Melbourne is also worth noting. Pendles averaged 119.0pts between Rounds 7-11 and has scored 100pts or more in 8 of his last 10 games, if he is named this week against Fremantle take note of Michael Barlow's recent tagging history and Pendles moderate BE of 120.0.
Adam Treloar 
Priced at exactly the same as Pendlebury heading in to Round 14 Treloar has not disappointed this season, he has scored 100pts or more in 8 of 12 games so far with 3 games exceeding 120pts or more. If you are looking for a POD at Collingwood then Treloar is a genuine option averaging 110.4pts this season, he is owned by just under 7% of teams compared to Pendlebury's slightly less than 18%.
Wildcard – Jack Crisp
Crisp has underperformed as a fantasy player this year compared to last; he is averaging 81.5 so far this season well down on his average of 91.4pts of a year ago. Once again if cash is a problem Crisp could be a viable option, he averaged 97.3pts in his final 4 games prior to the Magpies Bye which included 2 games scoring 100pts or more.
Gold Coast
Gary Ablett
Ablett should be a prime target for many coaches this week, he started the season averaging 118.3pts in his first 3 games but fell away dramatically to average just 85.6pts between Rounds 4-8 only to regain his form in the last 3 games with an average of 121.3pts. With another week to freshen up Ablett should be highly ranked amongst midfielders to finish the season, a low BE of just 76.0 and at $521K should be enough to entice any coach.
Dion Prestia
Don't let Prestia fall off your radar as he does have a huge ceiling of points as represented by his season high 149pts against Sydney in Round 11, he has scored 100pts or more in 4 games this year and currently has a 93.3 average in 2016. Since the start of the 2013 season Prestia has scored 100pts or more in 24 of 61 games at a Strike Rate of 39.3%, expect an average of close to 100pts for the remainder of this season.
Wildcard – Dan Currie
Dan Currie is one of the more important bench players rocking in currently just over 30% of teams, with an average of 87.7pts in his last 3 games for the Suns he can provide very good bench coverage for the remainder of the season. Hopefully he can return to AFL action sooner rather than later after finger surgery post Round 9.
Richmond
Trent Cotchin
Cotchin could be a great POD for the remainder of the season as he is currently owned by fewer than 7% of coaches, he has scored 100pts or more in 8 of 10 games with a season average of 106.6pts. In the last 4 weeks leading in to the Bye Cotchin averaged 121.5pts per game, there could be an instant reward for owners this week as the Tigers play Brisbane at the MCG on Saturday.
Dustin Martin
If only there were Fantasy points for fends-offs as Dusty would be in the elite category, he has been exceptional for the most part in recent weeks averaging 110.0pts between Rounds 6-12 which includes a season low 67pts in Round 11. Martin should be high on the agenda if you don't already own him, just over half the AFL Fantasy coaches own him right now.
Wildcard – Brett Deledio
Currently sitting just under $500K is Brett Deledio averaging 95.9pts per game in 2016, he has scored 100pts or more in 3 of 7 games with just 1 score fewer than 90pts. Despite an interrupted pre-season Deledio is tracking well for a strong finish to the year, he averaged 100.8pts per game in his final 4 games in the lead up to the Tigers Round 13 Bye.
St Kilda
Jack Steven
Steven is currently averaging 110.1pts per game in 2016 and is priced at $561K (-57K compared to his 2016 starting price), he has scored 100pts or more in a whopping 9 of 12 games including 4 games that exceeded 120pts or more. In his last 4 games Steven averaged 127.0pts per game, he should be a high priority for any coach looking for success in 2016.
Leigh Montagna
Most owners are still getting over the 36pts scored by Montagna against Adelaide in Round 11, don't be to put off by his season low as that game was sandwiched by 5 games in which he scored 100pts or more (7 Games of 100pts or more in 2016). Montagna has a season high of 160pts against Collingwood in Round 3, along with Steven he should be a high priority for coaches looking for success this year.
Wildcard – David Armitage
After a solid year in 2015 averaging 107.0pts Armitage finds himself priced at $479K averaging 91.8pts per game, his highly fluctuating scores are slightly concerning for current and prospective owners but certainly not his huge ceiling of points as displayed in his 158pt effort in Round 10 against Fremantle. If Armitage can replicate his 2015 season average  for his remaining 10 games then he represents great value, this is a potential great POD as he is owned by fewer than 3% of AFL Fantasy coaches.
Who Am I Answer: Matthew Suckling
Good Luck for Round 14