Bye Upgrades – Ep. 85
The boys chat strategy coming out of the byes and a whole host of other things.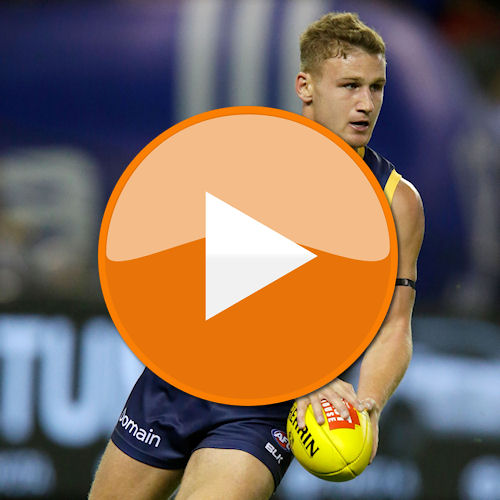 The first bye round is over and the lads do their best to suggest the best strategy to improve your team as the weeks go by. Who are the best options from the returning players gets answered in Twitter Time.
Click here to subscribe on iTunes. (Please leave a rating and review to help us move up the charts).
AFL FANTASY POINTS FOR AND AGAINST (LAST 4 ROUNDS)
| CLUB | PTS FOR | >100 FOR | >120 FOR | PTS AG | >100 AG | >120 AG |
| --- | --- | --- | --- | --- | --- | --- |
| ADE | 1812.33 | 5.67 | 1.33 | 1349.67 | 1.67 | 0 |
| BL | 1621 | 4.75 | 1.75 | 1649.75 | 3.75 | 0.75 |
| CAR | 1662 | 4.67 | 1.33 | 1534 | 4.67 | 1 |
| COLL | 1653.33 | 3.33 | 0.67 | 1803.67 | 4.33 | 2.33 |
| ESS | 1594.5 | 3.25 | 0.75 | 1757.75 | 5 | 1.5 |
| FRE | 1707 | 4.5 | 1 | 1609.75 | 4 | 1.75 |
| GC | 1511.667 | 3.67 | 1.33 | 1728.33 | 5 | 1.33 |
| GEE | 1613.5 | 4.25 | 1.25 | 1529.5 | 3.75 | 1 |
| GWS | 1616.75 | 3.75 | 0.5 | 1547.25 | 2.25 | 0.25 |
| HAW | 1641 | 4.5 | 0.5 | 1506 | 3 | 0.25 |
| MELB | 1560.5 | 3.75 | 1.75 | 1666.25 | 2.25 | 0 |
| NM | 1490 | 2.5 | 0.75 | 1461.75 | 3.5 | 1.5 |
| PA | 1562.75 | 2.5 | 0 | 1586.75 | 3 | 1 |
| RICH | 1617.33 | 4 | 1.33 | 1527.33 | 3.33 | 1.33 |
| STK | 1515.67 | 4 | 1.67 | 1728.33 | 4.67 | 1.33 |
| SYD | 1692.25 | 4.5 | 2 | 1542.25 | 3.75 | 0.75 |
| WB | 1662.25 | 3.75 | 1.75 | 1708.25 | 4.75 | 0.75 |
| WC | 1496 | 2 | 0 | 1734.5 | 5 | 2.25 |
AFL FANTASY POINTS FOR AND AGAINST (SEASON)
| CLUB | PTS FOR | >100 FOR | >120 FOR | PTS AG | >100 AG | >120 AG |
| --- | --- | --- | --- | --- | --- | --- |
| ADE | 1663.25 | 3.42 | 0.75 | 1515.67 | 2.42 | 1 |
| BL | 1460.38 | 3.15 | 1 | 1642.85 | 4.38 | 0.85 |
| CAR | 1570.08 | 4.08 | 0.92 | 1545.67 | 3.08 | 1 |
| COLL | 1574.33 | 3.17 | 0.5 | 1677.42 | 4 | 1.75 |
| ESS | 1632.38 | 4 | 1.23 | 1666.92 | 3.92 | 1.15 |
| FRE | 1547.15 | 3.08 | 1.077 | 1645.31 | 4.54 | 1.15 |
| GC | 1486.92 | 2.58 | 0.92 | 1680.83 | 4.75 | 1.25 |
| GEE | 1636.54 | 4.15 | 1.31 | 1483.08 | 3 | 0.85 |
| GWS | 1665.85 | 4.46 | 1.15 | 1461.15 | 2 | 0.31 |
| HAW | 1599.85 | 3.77 | 0.54 | 1556.62 | 2.77 | 0.85 |
| MELB | 1574.15 | 3.31 | 1 | 1612.62 | 3.69 | 0.83 |
| NM | 1559.15 | 2.77 | 0.85 | 1473.46 | 2.77 | 0.85 |
| PA | 1535.38 | 2.54 | 0.46 | 1615.31 | 3.92 | 1.23 |
| RICH | 1535.42 | 3.67 | 1 | 1542.25 | 2.67 | 0.92 |
| STK | 1603.412 | 3.92 | 1.75 | 1659.92 | 3.83 | 1.08 |
| SYD | 1632.23 | 4.38 | 1.46 | 1542.85 | 3.08 | 0.62 |
| WB | 1707.38 | 4.46 | 1.23 | 1604.08 | 3.46 | 0.62 |
| WC | 1555.31 | 2.615 | 0.46 | 1623.62 | 4.08 | 1.23 |