The Friday Scramble: Round 13 – Bye Week 1
The First week of the Bye rounds is upon us and just to top it off the Fantasy Gods have decided that we don't need any ruckmen! If there is ever a time to scramble, the byes are it!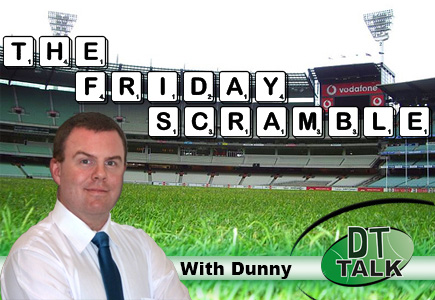 Well we finally got here.  The bye rounds.  But remember this is a marathon not a sprint.  For me I look at the bye period as a three week challenge to fully upgrade my team as much as I can and to improve my overall ranking as much as I can.  And if you have been planning for the bye weeks you should be able to do both of those things.  Like I have said, I am usually a meticulous planner for the byes but this year I haven't been as well planned.  So I am winging it a bit this year, mainly because it is a bit later than normal.
Bye Thoughts
One of the things we all need throughout the bye period is a bit of luck, and with the injuries from last week that got just a little bit harder!
There will be a lot of people giving advice on the bye rounds, and yes I am one of them, but one of the things that I will be very careful of during the byes is that any player I trade in, particularly the downgrades, must be a huge chance to be playing right through the byes.  There is no point bringing someone in that has questionable job security in R13 as when you need them in R14 or R15 whichever they are playing in, they may not be there and that will hurt you again.
Sideways trading for a one week injury / bye is always risky and it can be even more risky in the bye period in the limited trade version of the game.  All trades at this stage should be focused on improving your team. Obviously guys like Nic Nat, Tippett and Dahlhaus all need to be traded out though as they are all out for a long time.
Selection Dramas!
So not only do we have the guys I have mentioned above out this week we have had some other issues at the selection table presented to us.
How many of you were relying on Lycett to be your knight in shining armor this week?  Well the fact that he has been dropped doesn't help you a great deal!  Just whilst we are talking rucks, something that might actually help us is that Trent West has been dropped, so for those of us with Stefan Martin that is a great sign.  We all know he plays much better without Trent in the side.  Another ruck issue with Mumford out with an ankle issue.
Marcus Adams returns this week as does Sam Mitchell.  Also we have rookie George Hewett back, but I am sure most have traded him out by now.  Tippa is back for the Bombers as we thought and Hartley finally returns also.
#AskDunny
Kerridge has been great but dont see him as a top 8 forward (come years end).Thinking of trading him to Zorko…Good or bad?

— George Nikolopoulos (@GeeNiko) June 16, 2016
Agreed that he probably won't be a top 8 forward, however, he is looking good at the moment.  Trading him will be a matter of timing for you and when it works best for you.  I plan to leave him as one of my final upgrades given he is doing so well.  As for Zorko he has been very good.  The only concern that you might have about him would be the scoring with the return of Rocky.  Having said that, I still like Zorko.  So, I make this trade, but as one of my last upgrades.
@aflratings @DTTALK What do I do if I have both NicNat in ruck and Tippet forward? It's making my head hurt….#AskDunny

— Paul Bloodworth (@Blood1971) June 16, 2016
Umm  first thing would be pray for a miracle?  And if that doesn't work look for the delete my team button?
Seriously though, you just need to think your way through this.  Both of these guys have R14 byes, and the fact this has happened before the byes start is probably a good thing.  What I would recommend doing is trading one now and then another next week.  This is of course all dependent on the amount of cash you have.  So the one you trade this week would be a R14 or R15 bye player so they play this week, then the second trade would be a R13 player.
https://twitter.com/callumreader6/status/743247752776146944
I say yes.  In AF, Biggs has a higher BE and he also does in RDT.  I don't worry so much about that when trading in the bye period though (but when it works out it is a complete bonus).  I am more worried about making sure that my bye structure is working and that I am maximizing players on the field.
Things To Remember
Adel, Carl, Coll, GCS, Rich and Stk all have their byes this week, so obviously move them to the bench and get your other guys on the field.
Only the guys on the field will actually score for you (except in the standard donut/emergency setting).  So make sure you have that working properly.
In Supercoach, all those on byes don't lockout until the start of the last game of the round so you can move/trade/use them for VC Loophole right up until the start of the last Sunday game.
All trades this week must have the next two weeks in mind.
Make sure you have a plan B.  As we have seen this week, not everyone will always be available.
Hopefully you can negotiate your way through the next few weeks successfully.  Just remember it isn't only you that might be struggling to get the 18 on the field.  As our mates at FootyRhino say, two out of three ain't bad, so aim to win at least two of your league matches in this period (in RDT and SC where league matches are still going).  But most importantly, don't drop the ball as you will certainly be able to improve your ranking with a few good weeks when others are struggling.  Catch you all next week, @pkd73