Versus – Round 13
Tom is back with a bye round special of Versus – who do you upgrade to?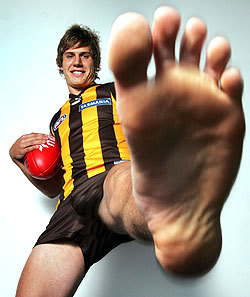 As coaches dive into the first bye round, it is important we don't get too focused on these weeks. Make sure your still making you team better, not just trading out players who have the bye for the sake of it. Don't forget to upgrade! Rookies like Ciaran Byrne, Liam Sumner and Josh Smith all have the bye this week and are beginning to top out in price. This week shapes as the perfect week to offload them and without paying top dollar, there are a few viable options on the market.
Ciaran Byrne To…
Pearce Hanley ($423,000) V Grant Birchall ($400,000)
Byrne's countryman and Brisbane utility Pearce Hanley has swung right into the Fantasy frame after being added defender status last week. Hanley has been inconsistent to say the least so far in 2016, with scores of 57, 61, 68 and 60 denting what would otherwise be a great average. He showed a glimpse of his best against the Swans, collecting 25 disposals, 5 marks, 12 tackles, 2 goals and 144 Fantasy points. A tackle count of 12 is particularly unusual for the outside runner and heavily contributed to a big score. After shining with the Gaelic ball back in Ireland, Hanley was picked up by Brisbane with the 38th pick of the 2008 Rookie Draft. He emerged as a possible draftee after taking out the Ron Barassi Medal as Ireland's best player in the 2006 Under-17 International Rules Series. Since then, Hanley has really emerged as a player, added flair to a relatively dull Lions side and proven what a valuable breeding ground Ireland can be for Aussie Rules Football. The key areas which stand out with Pearce is his versatility (which has seen him play on the wing, off half-back, in the middle and more recently up forward), precise foot skills, run and carry and leadership. Although he is not the captain, Hanley has a knack of lifting the team on and off the field. But is he the real deal in Fantasy given his new-found flexibility? Looking at his scores so far this season you'd admittedly have to say no, especially with the likes of Simpson, Docherty and Laird hauling in big scores of late. However back in 2014, when he was also a defender/midfielder, Hanley averaged 98 Fantasy points from 20 games to back up returns of 82 and 85 in the previous two years. With 96 points under his belt against Fremantle on Saturday, Hanley's price has reached $423,000 and with a Round 13 BE of 81, is shaping as a cheaper upgrade option. Of course, prioritise the out and out premium defenders if you don't already have them but don't rule out the Irishman. Get him in now before his round 15 bye.
Dashing veteran defender Grant Birchall has been a mainstay of the successful Hawthorn team since his debut in 2006. Born in Tasmania, Birchall is a 193cm attacking weapon when coming out of defence thanks to his greatest asset – kicking. Like Hanley, Birchall is deadly by foot and crucial off the back flanks. He has been one of the Hawks most unsung players throughout their premiership years. On Friday night against the lowly Bombers, Hawthorn and Birchall produced arguably their best performances of the year to date. Birchall collected 30 disposals for the first time in 2016 along with 10 marks, 1 tackles and 112 Fantasy points. The premiers won with ease and 'Birch' was one of the stand outs. However this season hasn't quite been up to the same level as recent years. He has been consistently around the 75-80 Fantasy points mark with the occasional 60 but that doesn't cut it at this stage as we look towards completing our teams. Unlike premium defenders such as Heath Shaw and Bernie Vince, Birchall doesn't have a high ceiling. He has recorded eleven tons since the start of 2014 but none have exceeded the 120 mark. What makes Birchall relevant, in my opinion, is his upcoming run of fixtures. Hawthorn play North Melbourne on Friday night before facing Gold Coast down at Aurora Stadium in Birch's home state – Tasmania. Although he has produced 70 and 73 in the two games at Aurora this season, the Suns conceded 12 scores above 80 against Richmond and he should be able to score reasonably well. However the majority of his points may have to come from outside of the defensive 50 as the ball shouldn't venture down their too often. The brown and gold team have the bye in round 15 before going head to head with Port Adelaide, Sydney, Richmond, Carlton and Melbourne. Lets hope Grant can continue on from his encouraging 112 point outing and become a handy D6 target.
Verdict: Both Hanley and Birchall are deadly by foot, making them ideal off the half back line. Whilst Hanley has been the better point scorer, eclipsing Birchall by 78 points, the Hawk has hit some good form recently and should have a better second half of the season. Hanley is playing in arguably the leagues worst team but Birchall has won four premierships with probably the best team of the modern era. I'd go Hanley though because he has the higher ceiling and DPP increases his value.
Loading ...
]
Liam Sumner To…
Toby Greene ($483,000) V Robbie Gray ($482,000)
Midfielder/forward Toby Greene has been a terrific Fantasy player since the Giants inaugural season in 2012. Selected with pick 11 as apart of the introductory package allocated to the NSW team. Greene made a huge impact straight away, averaging a massive 96 Fantasy points from 19 matches. He dropped off in 2013, averaging 76, but shot back to premium status with a 102 point average the following year. Since then Greene continued to prove a solid Fantasy option, playing primarily in a goal kicking midfield role. Greene has a good work rate, is tough around the contest and regularly impacts the scoreboard. His goal kicking ability has reached new levels in 2016, averaging 2 six-pointers per game (26 goals in total) including four hauls of three and two of four. As a result of a more attacking role, Greene's disposal and mark numbers a slightly down on his career averages. In the opening round of this season Greene picked up a small niggle which hindered his performance and resulted in a sub-par score of 56 points (12 disposals, 3 marks, 3 tackles, 1 goal). He returned with a bang the following week against Geelong playing in a more central position, collecting a season high 34 disposals and 113 Fantasy points. In the Sydney derby he amassed 22 disposals but only 52 points. Greene went massive and further illustrated his high ceiling in rounds 4, 5 and 6 with scores of 117, 141 and 95. After missing the clash with fellow expansion club Gold Coast. The 22 year-old has averaged 97 points and 3.25 goals in the previous four games to record an overall average of 94.6 points. The Giants, full of confidence after smashing the cross-town rivals, are about to finish with an excellent set of games. They play Essendon this week so expect a massive score from Greene. A bye round splits matches against Carlton and Collingwood at the fortress that is Spotless Stadium. Brisbane, Port Adelaide, Richmond and Gold Coast are their next opponents. With four of the Giants remaining games being played at Spotless Stadium (where Greene has averaged 105 in 2016), Greene is a very good option as an upgrade target for Liam Sumner.
At his best, Power star Robbie Gray is capable of changing games. When he receives the ball at a stoppage, Gray has the ability to breeze through heavy traffic and pin-point a target – a bit like Scott Pendlebury. It has been quite remarkable to see Gray return to such great heights after a very serious knee injury threatened to derail his footy career. Since returning to action in 2013 and has gone from strength to strength since. In 2014 the Power were fantastic and Robbie Gray was a key factor behind their Leicester-like resurgence. He kicked 42 goals and was awarded with an All-Australian selection, Port's best and fairest and the AFL Coaches Player Of The Year. In 2015 Gray impacted more games through the midfield, averaging an impressive 8 clearances. Here he took out a second consecutive All-Australian and best and fairest. Robbie entered the 2016 season on fire, scoring 125 Fantasy points (26 disposals, 4 marks, 5 tackles, 4 goals) against St.Kilda and 127 (37 disposals, 4 marks, 5 tackles, 1 goal) in the showdown. Another 30 disposal game led to 95 points in round three but poor showings in the Power's losses to GWS and Geelong disappointed his owners who had jumped on board after his scintillating start. Robbie then missed the next three rounds through injury but came back with a 111 against the Eagles. Scores of 103, 86 and 113 in the last three weeks have proven he is amongst the leading forward/midfielders. In-fact he didn't start 2016 with forward DPP for the first time since 2011, although he did pick up this status in round 6. Port Adelaide face Fremantle, Richmond, Hawthorn and North Melbourne in a mixed bag of fixtures for the next month. Gray's work around stoppages often lead to him dishing out a quick handball instead of a kick which is a bit of a downside for Fantasy coahces, however he finds so much of the ball it shouldn't be too much of a problem. A 104 point average at Adelaide Oval is encouraging, along with his discounted price and BE of 80 but be careful as he has the round 14 bye.
Verdict: Gray and Greene are both goal kicking midfielder who have the capacity to push up and play a role across the half forward line. Having said this, they are also terrific around stoppages, particularly Gray. As is mentioned below, GWS have an outstanding midfield with plenty of depth which has allowed Greene to wield his magic closer to goal. On the other hand, Port's engine room has been disappointing with only Wines and Gray averaging over 90. The Giants run home is too good to miss and I would lean towards Greene in the hope of some big 130+ scores.
Loading ...
Josh Smith To…
Josh P Kennedy ($538,000) V Dylan Shiel ($539,000)
So far this year, Swans inside midfielder Josh Kennedy has been solid without stealing the Fantasy limelight from players like Tom Mitchell, Luke Parker and Dan Hannebery. Like them, Kennedy is an excellent contested ball winner, often leading the league in this category. Last year 'JPK' racked up five tons in the first eleven games but uncharacteristically posted three scores under 80 points. But it all changed after a break in round 12. For the remaining rounds, Kennedy was incredible, with a run of eleven games over 30 disposals leading to nine tons (seven over 110) and two nineties. In this period, JPK was by far the highest Fantasy scorer. As a result, Kennedy polled 25 Brownlow votes (the leading Swans player) but was not selected in the All-Australian team. Remarkably, Kennedy's 2016 average disposals, tackles and Fantasy points are up on his career numbers in these areas. The thing that makes Kennedy so relevant as we begin the latter half of the season is the hope he can replicate his back half of 2015. Currently priced at $538,000 with a BE of 97 and round 14 bye, Kennedy has the potential to finish as a top Fantasy midfielder. Collingwood midfielder/defender Josh Smith has effectively reached his peak at $311,000 and has the bye this week. A trade to someone like JPK will cost you $227,000 but is a logical upgrade. Sydney fac the Demons this week at the SCG where Kennedy has averaged 115 points so far in 2016. Melbourne have conceded an average of 2.25 100's against but no 120's against in the past four rounds but JPK will find a way to ton up, whether it's through tackles, disposals or the odd goal. Crucial games against the Bulldogs, Cats and Hawks then follow but Kennedy is a big game player and will love the physical contest. Possibly the Swans most reliable player, JPK is a great trade in option.
I'm a big fan of GWS young gun Dylan Shiel. Full of class, Shiel is a small but ultra productive on-baller with line-breaking pace and good kicking skills. He came into the 2015 season out of contract but re-signed with the competitions youngest product. There's no doubt Shiel would've been a hot prospect if he hadn't repaid the faith. Shiel was a true example of the third year breakout when he averaged 90 Fantasy points in 2014 and a 92 point average last year could've been improved upon if it wasn't for a reasonably significant knee injury suffered in round 15. Although we are only half way through season 2016, Shiel is averaging 101 points, ranking him the 16th best Fantasy player. One of the best aspects about selecting Giants players in their low ownership rates. Shiel (3.69%), Callan Ward (2.43%), Tom Scully (4.27%), Stephen Coniglio (2.64%), Josh Kelly (1.32%) and Lachie Whitfield (0.88%) are all owned by less than 5% of coaches and are averaging over 88 points. As a unit, their mids are up there with the best and have recently taken the scalp of premiership favourites Sydney. The Swans midfield did not register a ton for the first time this year with Luke Parker, Kieren Jack and Dan Hannebery well below their best. Similar to what team-mate Stephen Coniglio did earlier in the year, Shiel is currently on a run of 100's. For the last five weeks he has hit the ton and has had just one score below 85. Shiel, along with most of the Giants players, is impressive at Spotless Stadium with an average of 112 points. Although he may posses electrifying pace, Shiel doesn't have the biggest tank with just one game over 80% TOG. This has led to a points per minute of 1.1126 which ranks fourth for players with over 10 games this season (behind Zach Merrett, Patrick Dangerfield and Tom Mitchell. He's got the runs on the board so why not add a POD to finish of your midfield.
Verdict: Although I love what the GWS midfielder offer in Fantasy, I have to go with Kennedy here. I mean, how good was he in the second half of last year. He would've rivalled Nat Fyfe for the Brownlow if he had started like that. He has it all – high ceiling, consistent, reliable, discount price, low BE. Be careful of his bye next week but get on board the JPK train. Don't disregard Shiel though!
Loading ...
Thanks for reading. Hopefully this got you thinking about a few players I would put in the 'shortcut premium' category. They all have the potential to be out and out premiums in their respective lines and are available cheap. Good luck in the bye rounds but don't let them completely dictate your trades!