Ripe for the Picking – Say Good-'Byes' to Your Worries!
Here's your thumping bye round trading guide thanks to Sparksy.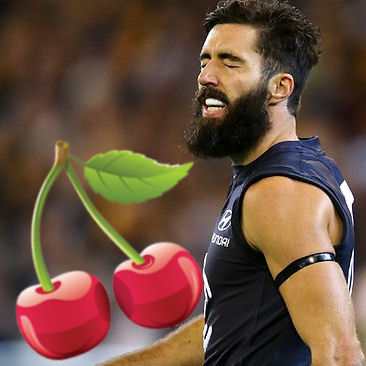 Hey Fantasy players, how are we all feeling going into these byes? I'd like to quickly start by apologising for the lateness of this article. I managed to break my old laptop which meant I had nothing to write this on but I have since gotten myself a new laptop (which is awesome!). I've also had my University exams getting in the way (I know, life sucks right) but they are over and I am here to help you through your byes! So, without further ado, I bring you the players who are 'Ripe for the Picking' through the byes.
I have structured this into three separate sections – one for each bye round. The idea is that you should be using these three rounds to build up a bit of cash and have your team close to full (not complete but full) of premiums by the end of it. There are plenty of cheap premiums to pounce on throughout these byes and I'll do my best to list them for you. As it is the byes options are scarce so I will provide what I can for each position for each bye, there won't be a '5 To Consider' like I usually do. Please also note that the options given aren't players that have that particular bye but rather the players you should be looking to bring in during that bye round.
Round 13
Byes – Adelaide, Carlton, Collingwood, Gold Coast, Richmond and St Kilda.
Defenders:
Zachary Williams ($445,000 BE 73) – Okay, so I mentioned this bloke in my last article but seriously, get around him. I'm trying to load up on a couple of Round 15-ers this week with a couple of Round 13-ers in mind for next week and Zac will be coming in this week for SO many reasons. His draw! Essendon, Carlton, Bye, Collingwood, Brisbane. Yes, that's right. This bloke playing for a top 8 side has three of the bottom five sides and a Carlton side (that just got smashed by St Kilda) at home. That's got me excited. Honestly, absolutely crazy run. Not only that, but Z-Will has a last 5 of 100.2 and he actually looks like his tendencies to have a shocker are diminishing with every week (wait for him to pump out a 10 disposal 30 points this week now). He also still has a 3.19% ownership, WHAT THE HELL?! I don't even want to write this article because he's too good to pass up and I have to tell you all about him. Thank god you aren't all in my leagues. Lock and load. Seriously, get around him.
Jimmy Bartel ($496,000 BE 95) – I've actually underrated James thoroughly after him burning me earlier this season. He is so consistent and he just loves floating around the ground and popping up for a +6 when you least expect it, whether it be up forward or down back. He has a nice draw coming up with the Bulldogs and Saints before his bye and Sydney (at home) and Fremantle after his bye. If you need a set and forget option this round then J-Bart is definitely the man to go for as Boyd, Kelly and Vince all have the Round 14 bye and Heater is still priced ridiculously high and is likely to be unreachable for most people. He's averaging 91 all up and hasn't gone below 90 since Round 5, need I say more? Jimmy will most likely be a Top 6 Defender so keep him on your radar for the whole season.
Grant Birchall ($400,000 BE 51) – Third option, if you don't have the cash to get to Williams then Birch is an alright option and here's why. Grant hasn't been his old self this year (or last year for that matter) but he still goes quietly about it, averaging about 80. The problem is that Hawthorn have so many left foot dead-eyes that Birch isn't depended on as much anymore and it costs him possessions. Last week Birch had 112 against Essendon, so probably about 92 against any other team, add to that an 82 against Melbourne and an 87 against Brisbane and he's been doing alright albeit against dud opposition. However, his next 5 isn't anywhere near as appealing with Gold Coast being the only team that consistently gives up a few points. My reasoning for Birch being here is that there aren't many defenders you can rely upon weekly. Yes, Birch pumps out the odd 60 but so do most of the premium selections we have on offer. Plus, by his bye round, Birchall could have made you an extra $30k easily. I'm not saying it's a low-risk strategy or even a good one, but it's food for thought.
Midfielders:
Sam Mitchell ($463,000 BE 97) – Sorry guys but there isn't much in the way of value in the mids this round, but that's okay because there is plenty on the way! This bloke is really the only one that I would consider, possibly Mitch Duncan ($493,000 BE 91) or Jack Trengove ($335,000 BE 52) but Duncan seems to be fluctuating a bit in price these days and Trengove is very expensive in Fantasy considering he could be a bust. SMitch is perfect value, and I'm still weighing up whether to get him this week or not. If I don't get him this week, then I will have to wait until after his Round 15 bye which will mean missing out on an enormous score against Gold Coast in Round 14. After the bye Hodgey should be back which will give Mitchell a bit more freedom as opposition teams will have to try and shutdown both of the Hawks' veterans. He came back to some sort of form in Round 11 against Melbourne with a solid 109 whilst receiving a Vince tag in the first half but it is still not the same as the scores he was pumping out before teams realised he was the player winning Hawthorn games and decided to shut him down. He's also a big chance to be one of those players that get a two-week rest before the bye, missing the Gold Coast game down here in Tassie, but I'm not sure Hawthorn can afford to do that with Gold Coast getting some players back and finding some form whilst also coming off the bye. It is seriously a huge 50-50 for me here and I'm not sure which way to go. Uncertainty is never great during the byes so maybe it's a miss but, if he starts producing 150's again then we're all going to be scrambling to find room for the extractor himself to fit into our midfields.
Rucks:
Stefan Martin ($392,000 BE 106) – I say it week in, week out, but there truly isn't a heap of value in this position. Tippett and NicNat are injured, Lycett has been spudding it up, Jacobs, Grundy and Mumford (and to a lesser extent Kreuzer) are serviceable but three have the bye and all four are susceptible to an off day. Tom Nicholls has been okay since coming back in but I think we're all hoping for Dan Currie to come back and you can't really afford to have both. If you don't already have Jackson Trengove then his Round 14 bye and price make it difficult to justify bringing him in. Tom Hickey has also been great in patches but not consistent enough to set and forget so just forget instead. There's seriously nothing going on in this department, you either have Goldy, Gawn or Blicavs, or you will be ranked outside the top 30,000 by the end of byes. However, this man could be back. Old mate Stef has absolutely destroyed the Fantasy world this year, showing everybody how stupid it is to spend so much money on a ruckman. Not only that but he was actually poor enough that he forced Leppa to bring in Trent West to help him out, and then he got worse! The good news could possibly be that West could be dropped this week. He hasn't been good either and Brisbane are blooding their youth in Eric Hipwood who is bang on 200cm tall. While Eric won't do much (if any) of the ruckwork, Brisbane aren't going to drop Schache to make way for him and it's not like West has been anywhere near the standard of an AFL ruckman, so my bet is Brisbane drop him let Stefan go about his business once again. If this happens, and only if, consider Stef as a downgrade for Tippett or NicNat as it could mean the return of our big bad premo. Possibly. Maybe. Or he could just keep being pathetic, I don't think I even care about him anymore.
Please Note – This will be the last time I mention the rucks as there isn't enough to write three different paragraphs on ruckman. Round 14 sees Sauce Jacobs return which could be a viable option but I still think you need a Goldy/Gawn/Blicavs combo. If you have any other ruckman you want to consider post a comment and I'll try my best to answer.
Forwards:
Isaac Smith ($461,000 BE 83) – One of the three speed demons on the Hawthorn team and the only one who can competently dispose of the ball on a consistent basis, or at all for that matter (thanks Brad Hill). Gaining forward status has made Smith a bit more fantasy relevant. He's gone below 90 only four times this season, 89, 81, a 39 when Hawthorn got demolished by GWS and a 63 in their Round One loss to Geelong. Issy accumulates the pill a lot and he's always exciting to watch so it's not a bad choice picking him in your team, especially for this price. He also loves a sausage roll or two which pads his scores even more and would be one of the reasons for his forward status. Even with a sub-40 score, Smithy is still averaging 90 and he should be good for about that for the rest of the season, possibly slightly more. The real kicker is his 2.2% ownership meaning you can get a 90 every week that barely any other team will get. Strongly consider.
Michael Barlow ($485,000 BE 100) – He's back, or at least he seems to be. With a last three average of 97, Barlow has shown Ross Lyon how stupid he was for dropping him and helped Fremantle snag their first two wins of the season. Unfortunately, those three scores have been against very lowly opposition and Barlow seems to be taking on some sort of strange tagging role which just proves to me that Ross Lyon has gone crazy and doesn't care about this season anymore. The good news is that Fremantle have Port Adelaide and Collingwood before their bye which are two teams that traditionally give up a heap of Fantasy points. We all know Barlow can bring his own Sherrin to a game when he's on (and when he doesn't have to "tag" or whatever it is you can call what he's doing), so he's probably worth the risk, especially at $30k below his starting price. Shouldn't be a Top 6 Forward by the end of the season due to all the nonsense Fremantle are making him put up with, but he definitely has the ability to be if he is given a free run at it.
Mitch Robinson ($472,000 BE 70) – The new Ryan Crowley, except he can actually get a disposal himself. The only good game-plan Brisbane have put into effect all season is turning Robbo into a shutdown player. The ginger beast was made for this role; he hits so hard that by the third quarter the guy he's playing on doesn't even want the ball. Not only does he effectively shut down pretty much anybody he's sent to, but he also racks up disposals. I have him in my Ultimate Footy team and he's extremely dependable. Not only does he have a 99.3 last three average and 2.48% ownership but Brisbane also have a great Fantasy run for the rest of the season with plenty of point-allowing teams left to play. As with Zorko and Rocky, it doesn't matter who Brisbane play or how badly they lose, these three will always do their best to hit the Fantasy scoreboard.
Round 14
Byes – Essendon, Melbourne, Port Adelaide, Sydney, West Coast and Western Bulldogs.
As the byes go on, you want to aim to bring in players who have already missed, so in Round 14 try and bring in players who had the bye in Round 13, same as Round 15 aim for any Round 13 and 14 players you want.
Defenders:
Rory Laird ($478,000 BE 84) – Both Sam Docherty ($517,000 BE 102) and Kade Simpson ($513,000 BE 91) are must haves that come off the Round 13 bye, and if you don't have them then get them, both are absolutely killing it coming off 114 and 117 respectively. Seriously, last week Carlton didn't even look like they wanted to go forward, they just all chipped it to each other across the halfback line and my eyes were +6's every time Docherty got the ball. It was beautiful. But Lairdy looks to be back after his toe injury, smashing out a lazy 96 and 115 in his two games back. Adelaide also have a great run home, playing Collingwood, Essendon, Brisbane and Fremantle between Rounds 17 – 21 is an especially juicy patch, and plenty of home games along the way helps. Adelaide also proved they're the real deal beating West Coast at Domain which is a huge feat. Laird is a great upgrade target to aim for in Round 14, I know I'll be going for a double upgrade and he is definitely on my list.
Midfielders:
Gary Ablett Jnr ($521,000 BE 74) – The son of god lost his powers there for a little while, but now he's back and with style, notching up 3 consecutive 120+ scores and he absolutely tore it up on the weekend. I watched parts of the game and it was the GAJ show, he was everywhere and he looked like he actually wanted the pill, unlike pre-rest Gaz who looked lost and scared whenever he got anywhere near the ball. Gold Coast also play St Kilda, Brisbane, Fremantle, Essendon and Collingwood before the end of the season and Junior is already an absolute legend, he should actually average 120 for the rest of the season. Don't miss out on Gary at this price if you don't already have him, I traded him out and I'm hoping the Fantasy Gods bless me this week so that I can do a GAJ/Laird upgrade next week, so exciting!
Forwards:
Leigh Montagna ($503,000 BE 120) – Joey has seven 100+ scores. That's right, SEVEN! Add to that scores of 98 and 99 (practically tons) and you've got to wonder why he's priced so low. Well, it's because of the 36 he had two rounds ago that's still sitting there in his price equation for the next two weeks, hence the BE of 120. Great news though! Joey will be even lower in price come Round 15! Bring him in if you want for Round 14 but you can wait until Round 15 and get him a little cheaper, possibly below $500k! He's not unique but he will be in the Top 10 Forwards come the end of the season so you can't afford to not have him really, especially as St Kilda have a fairly Fantasy-friendly run home and, even when they play the difficult teams, that doesn't seem to bother Joey. Definitely get him in the next couple of weeks if you want value.
Matthew Wright ($413,000 BE 69) and Dale Thomas ($409,000 BE 69) – Both of these blokes are very similar to the aforementioned Grant Birchall in the fact that they're consistently around the 80 mark and capable of something bigger. Both of them play off the half-forward line and push up on the wing to get disposals and both of them dominated the Saints last game. Carlton's last four games are against St Kilda, Brisbane, Melbourne and Essendon and these two seem to tear below average teams to shreds. They're not keepers but they're definitely worth watching and keeping in mind, especially coming towards the end of the season. They're not for me but they're value and going to average 80 for the rest of the year so, if you don't have the money to get to a keeper but need to get rid of a bleeding cash-cow, these are fair options.
Round 15
Byes – Brisbane, Fremantle, GWS, Geelong, Hawthorn and North Melbourne.
Defenders:
Bernie Vince ($509,000 BE 71) – So Bernard had a huge Round 12 game against Collingwood, and that's even worse for non-owners than the fact that they didn't get to bask in the glory of his 134. Due to his Round 14 bye, the price rise Bernie gets from his 134 and the previous 120 against Hawthorn will have to wait another week which means he won't be anywhere near as much value as he is right now. Vince is relishing some extra time in the midfield, originally gained through the Viney suspension and apparently Roos likes having the ex-crow in there because it seems he's there to stay, and with 42 disposals why not? Bernie will be a Top 6 Defender which is why I'm annoyed at him having a Round 14 bye instead of a Round 13 bye. Hopefully, come Round 15, I can find a way to get Bernard into my backline.
Jasper Pittard ($435,000 BE 66) – Pittard is another one of my Ultimate Footy team and I almost traded him a couple of weeks ago only for him to keep on absolutely killing it. Averaging almost 89 and owned by just under 5% of the competition, I like the fact he's a PoD and I love his consistency, going under 75 once all season. I don't really understand why Pittard isn't owned by more of the competition, it kind of reminds me of a lower-scoring Sam Docherty. I still have a lot of mistakes to fix in my team but, if I get them all sorted, Pittard is definitely on my radar.
Midfielders:
Lachie Neale ($564,000 BE 145) – Okay, now here's one I love. Lachie Neale had a shocker against Brisbane on the weekend and came up with a sub-60 score after receiving the Robbo tag. Now Neale actually has the Round 15 bye so you can't actually pick him up for Round 15 (well you can but that wouldn't be very clever) but in Round 16 after the byes Neale is going to be at a perfect price to snap up and is pretty much a must-have. I don't really need to provide any stats, this bloke should definitely be a Top 8 Midfielder by the end of the year, as long as nothing drastic happens. 108.2 avg, 8 tons, a 99 and a 98, 4 x 125+, it's a no brainer. Make sure you're planning ahead people, don't screw your team around too much with the byes.
Adam Treloar ($567,000 BE 131) – Treloar is in exactly the same boat as Neale except he will be ready for Round 15 provided he gets a normal score in Round 14. After a "lowly" 93, Treloar's price is as low as it probably ever will be for the rest of the season. He has the Round 13 bye which means his BE of 131 won't come into effect until Round 14 but I don't think he will achieve much lower than that. Heck, he is definitely capable of actually making his 131! His low score is 85, that's right, not his average, his lowest score this year is an 85. He has 8 tons, three 90 scores and an 85 and he's owned by 6.46% of teams. That's just silly people. This is the cheapest he will ever be and we should all be looking at getting these sort of consistent premos in our midfield, especially by Round 15.
Tom Mitchell ($557,000 BE 88) and Dan Hannebery ($562,000 BE 129) – The Swans' midfield is about as stacked as it gets and that means that Luke Parker plays forward. Bloody hell. Out of all the Swans' midfielders I could have the only one I've got is Luke bloody Parker. These two however are locks and you should have at least one of them by Round 16. Hannebery is the consistent one in a sense as you're always going to get a 105-110 from him as expected and anything between 95-120 is acceptable from him. Titch has a much higher ceiling but is much more of a disappointment when he pumps out a 90 as you know you can expect a 160 from him. I would definitely go Titch over Hanners but buyer beware: Horse Longmire loves stuffing about with Titch as much as possible. I honestly think the bloke will have permanent psychological damage from his stint at the bloods due to the amount of times Horse has screwed him over. The only other thing wrong with Titch is that he's a week early. With the Round 14 bye you want him to have a crappy BE this week and reach it just and then a low one for Round 15, however it's completely plausible that Tom smashes his BE by 80 and goes up $20-30k in price before his Round 14 bye. If that happens, go to Hannebery, easy done.
Andrew Gaff ($436,000 BE 121) – The recipient of the most disgusting act I've seen in football for some time. Gaff was knocked by Tom Jonas' pathetic excuse for a "contest" on 44 points in Round 9 and has since experienced what I call "The Kozi Effect" affectionately named after everybody's favourite Sainter. Gaff just hasn't been right after that KO but I'm hoping that his Round 14 bye helps him out a bit. Sometimes concussions tend to linger for a week or two after the actual occurrence and Gaff could just be feeling it a bit, or maybe he'll never come right again, who knows? Definitely worth watching, if Gaff is at his best he's a player you wouldn't mind ending up with in your final midfielders if necessary. Easily capable of averaging 110 for the rest of the year as long as he's healthy and that's exactly what the Eagles' draw home is. Wait to see what he does against Brisbane this week (120, calling it) and then pick him up for loose change against Essendon in Round 15. You could potential trade somebody like a Mitch Duncan down to him in Round 15, helping your bye structure and pocketing $100k without losing any point difference. Hope you feel better this week Andrew. Tom Jonas, you disgust me.
Forwards:
Robbie Gray ($482,000 BE 80) – Robbie could potentially be in the Round 13 segment due to the fact he should get his BE this week by about 30 points. The reason he isn't is because he's another one of those annoying Round 14 bye players and I personally believe that picking him up after his bye outweighs the price rise he will get this week. After a slowish middle of the season where Robbie gave us a 64 and a 58, he had a bit of a break and came back firing on cylinders we didn't even know he had. He still has a very solid 97.8 average which will only rise this week after he pumps out a 110-120 against point-bleeding Freo. If you're happy to have him for the byes then sure, jump the gun this week, you'll be rewarded this round but you'll have that extra Round 14 bye player so account for that. If not, just sit back, don't look at the top fantasy player in the Port v Freo game on Saturday and then remind yourself about how you have an extra player in Round 14 because you didn't make that trade and get him in Round 15, it doesn't matter either way because once he's there, he's there for good. Robbie (and Port) are back people.
Josh J. Kennedy ($462,000 BE 106) – After two sub-par weeks, you might be wondering if JJK is the real deal and you have every right to wonder. With Joshy it's a sporadic game and if consistency is your thing then he's probably not for you. He does however have the biggest ceiling whenever he kicks a bag and he tends to do that a fair bit. The thing I really like about him is that, after his Round 14 bye, he plays the likes of Essendon, Carlton, Melbourne, Collingwood and Fremantle, all teams which have very weak spines at the moment (that's to say they don't have very strong or seasoned key position players to shut down somebody like Josh). The thing I don't like about him is his ownership, at 17.18% he's hardly a PoD and that upsets me a little. But, if you go back to my last article, have a read of the scenario I put to you and tell me if you could live with yourself knowing that happened even though I warned you. I wouldn't be happy.
So, that's it for this one Fantasy Players, I hope it helps you all with your trading throughout the byes. All prices are as of the start of Round 13 and will change by throughout the byes obviously and I know I've gone a little outside the price range I generally account for in my normal articles but I have done this specifically for two reasons, one; this is a special edition of Ripe for the Picking and you want to know who to trade in throughout the byes, as most people have cashed up for these byes they're not looking for people who are going to give them 80's at around $400k. And two; most people are also trying to max out their teams by now, bypassing the medium pricers in turn for a traditional downgrade/upgrade strategy to end the season, hence the heavier focus on fallen premiums rather than an even mix of both.
Any questions, send me a tweet @Sparksy361.
Happy Trading!