Jeppa's Juniors – Round 12
The bye rounds are here and you need rookie advice from the best in the business. Jeppa has all the facts ahead of a round full of strategic trading.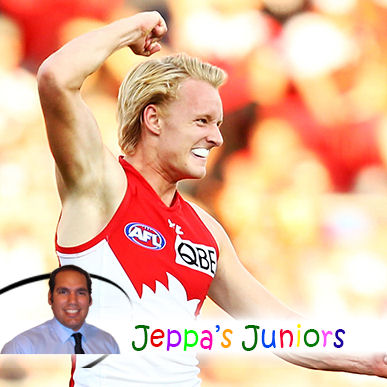 It's been a super busy week for yours truly and I've had to shorten my traditional rookie article format to bring you the 'juniors' that matter.
During the toughest rounds of the Fantasy season, the quality of cheap rooks available is pretty poor. It means that you may have to pay a little more for those with more assured job security.
THOSE THAT MATTER
Will Hams (Fwd. $201,000, -7 be AF. $137,200, -66 be DT) – Scored 71 last Friday night against the Hawks, which was quite good considering he spent half his time deep forward where the ball hardly went. He did have his moments in the midfield and that will continue given the Bombers approach to development. With a Fantasy breakeven of -7, it's definitely not too late to jump on the Hams train.
Tom Phillips (Fwd/Mid. $141,000, 0 be AF. $121,300 DT) – I understand how convenient it would be to bring in Philips for some DPP action but buyer beware. On debut against the Dees, Phillips wasn't up to the standard expected and there's a good chance he'll miss when the Pies return in Round 14. Carrying dead weight during the bye rounds isn't clever.
James Rose (Fwd. $242,000, -14 be AF. $186,700, -72 be DT) – Against the Giants, Rose had 13 possessions, 8 marks, 7 tackles, 1 goal and 98 Fantasy points but his kicking was woeful. Fellow juniors, Hewett and Papley are competing with Rose for that forward spot so he's a risky pick in my opinion. High risk, high reward if he keeps scoring in the 90's though. Don't be surprised if Papley replaces him this week.
Jack Trengove (Mid. $335,000, 52 be AF. $180,800, -44 be DT) – A proven player that will improve as the weeks go by. He's on the bubble this week for Dreamteam so make sure he's at the top of your list. Too pricey for Fantasy.
Kade Stewart (Mid. $186,000, -18 be AF. $105,800, -93 be DT) – If Stewart isn't dropped this week for Sam Mitchell then he'll make way for Hodgey the week after. Stewart has a Fantasy game about him, averaging 77 Fantasy points from his two games to date so it's unfortunate that he plays for a team like the Hawks.
Jarrad Jansen (Mid. $172,000, -6 be AF. $128,200, -54 be DT) – Was hardly sighted in the first half and had just 11 Fantasy points at the main break. Jansen recovered to finish with 49 Fantasy points but the signs aren't good. Mathieson could replace him this week.
Sam Reid (Fwd/Mid. $137,000, 5 be AF. $122,300 DT) – Playing a deep forward pocket role will always limit a players scoring potential but you could do way worse than Reid. He's been on fire in the NEAFL for most of the season and with Stevie J's recent foot issue, Reid is good for at least the next two rounds. The Giants play Essendon on Sunday and I'm tempted given his dual position forward/mid status.
Logan Austin (Def. $157,000, -12 be AF. $128,200, -43 be DT) – Is another youngster playing 'fill in'. Jack Hombsch is due to return from injury after the Power's Round 14 bye so it wouldn't be wise to trade in Austin for just one game. Avoid.
Darcy Tucker (Def. $242,000, -3 be AF. $222,100, -36 be DT) – Expensive but is still an option given the lack of worthy rookie defenders available. He'll get the opportunities at Freo but don't get too excited by his inflated 91 Fantasy points against the Lions. Expect scores in the mid to high 60's each week.
Toby Nankervis (Ruc/Fwd. $238,000, 23 be AF. $277,100 DT) – Should replace the injured Kurt Tippet. The big fella wont be the biggest scorer going around but he reached 76 Fantasy points against the Crows earlier this season. Basically, you're picking him for his job security.
TOP 5 LISTS
Considering price, scoring potential and job security, here's my Top 5 rookie options for this week:
Fantasy
Hams
Reid
Tucker
Rose
Nankervis
Dreamteam
Trengove
Hams
Tucker
Rose
Mathieson
Twitter Q&A
https://twitter.com/callumreader6/status/742575021025943552
Definitely Reid mate that is if you already have Hams.
better to go to Logan Austin or Darcy tucker?

— Joel Criddle (@JoelCridz) June 14, 2016
It's all about job security so spend the extra and get Tucker.
@JeppaDT With the scarce options for rookies this round, should I upgrade Dahlhaus to Zorko instead of downgrading and banking cash or wait?

— Matthew Pham (@Matty_Pham) June 14, 2016
I'd definitely trade Haus as a priority given he'll be missing for a while. There's still value in trading in Hams or Reid.
need a rookie defender (not Collins) to get in for bye rounds any suggestions

— Carl Nikelis (@CarlNikelis) June 14, 2016
Not much value in defence at the minute. Tucker is the only one I'd suggest but he comes at a price.
@DTTALK best rookie forwards to get in? Want to trade McCarthy and Papley

— Simon Redfern (@LooseRedfern) June 14, 2016
Hams first then Sam Reid.
#AFLFantasy @JeppaDT which rookies in each position have the best JS?

— Joseph Dawson (@Joey_eagle23) June 14, 2016
Defence – Tucker
Midfield – Mathieson (Long term outlook)
Forward – Hams
Hipwood from Brisbane's set to debut this week, is he any good?

— Matthew Poole (@mapoole96) June 14, 2016
The Fantasy rule of thumb is to avoid young key position players. Pass.
Get in Phillips in on his bye round to help navigate through the byes?

— Adam Roy Davey (@RoyDT) June 14, 2016
I'd bring in Fwd/Mid, Sam Reid from GWS instead.
Feel free to ask me more questions below and don't forget to add me on Twitter @JeppaDT for all things Fantasy and more. Happy trading!