Inside the Fantasy Numbers – Round 12
Pete from aflratings.com.au shares the numbers that matter… with a GWS flavour.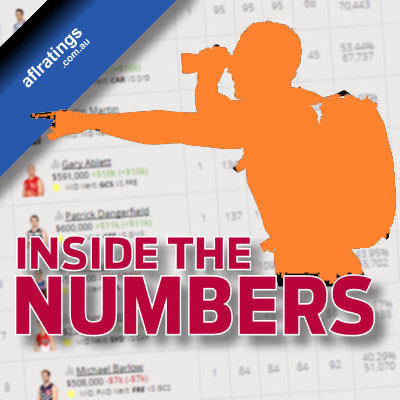 Having just clicked over the halfway mark in the AFL Home & Away season (Yes, halfway) the Byes are upon us, getting through unscathed would have been a rarity in previous years due to the sub-vest so hopefully a cleaner run with injuries and playing rookies this year for all Fantasy Coaches will be the order of the day.
This week there is a focus on 1 team that could provide options for your trading strategy through the Bye weeks and beyond, hopefully there is something in here to help guide your team.
GWS Giants assistance through the Byes
Round 13 v Essendon (Rank 18 AFL Fantasy Points Conceded)
Round 14 v Carlton (Rank 6)
Round 15 Bye
Round 16 v Collingwood (Rank 15)
Round 17 v Brisbane (Rank 13)
Heath Shaw 111.8 Ave
Shaw has scored only 1 sub 100pt game against a team outside the Top 8 this year, this would be the week to buy his points rather than wait for a price drop with a 136 BE.
Stephen Coniglio 103.3 Ave
After scoring 6 consecutive 100pt games between Rounds 4-9 (Ave 120.2) Coniglio has averaged just 87.7pts in his last 3 games, could be one to consider but a price drop is looming and his recent average might not justify spending up on him for the points.
Dylan Shiel 101.7 Ave
Shiel has scored 100pts or more in 5 consecutive games at an average of 111.4, he has failed to reach 24 Disposals in only 1 game this year (R 5 v Saints) and with a BE of 99 could be a safer option than Coniglio in the Midfield.
Callan Ward 100.2 Ave
Ward has scored 100pts or more in his last 5 of 7 games at an average of 106.3pts, looking at Ward's recent good run of scoring his Tackle numbers spiked against quality opponents. Considering the relatively soft draw ahead for the Giants he could be a player to fade despite his good form.
Tom Scully 98.3 Ave
The nice run of games for the Giants might suit Scully, after a blistering start to the year in which he averaged 119.0 from his first 3 games Scully has managed just a 91.4 average since.
Toby Greene 94.6 Ave
The stars might have just aligned for Greene and AFL Fantasy Coaches willing to take a calculated risk on a wildly fluctuating player, Steve Johnson is set to miss a minimum of 1 game and possibly more due to injury and considering a player such as Greene with a decent ceiling of points could prove to be rewarding. Greene has averaged 109.0pts in Wins and 69.5pts in Losses for the Giants this year, it is highly likely GWS will win their next 4 games.
Who Am I?
I am a GWS Player
I have scored 100pts or more in 3 games this year, including 2 of the last 4 games (Ave 99.3)
In each 100pt game I have kicked at least 1 Goal
I am currently averaging under 90pts this year
I have played more than 50 games
Answer Below
Best Team Ave Points FOR Last 3 Games
Adelaide 1813.7
W.Bulldogs 1729.7
Hawthorn 1775.3
Worst Team Ave Points FOR Last 3 Games
Nth Melbourne 1489.7
West Coast 1498.3
St Kilda 1515.7
Best Team Ave Points AGA Last 3 Games
Adelaide 1350.3
Hawthorn 1511.0
GWS Giants 1525.7
Worst Team Ave Points AGA Last 3 Games
Essendon 1805.7
Collingwood 1823.0
Gold Coast 1734.3
Who Am I?
Answer Lachie Whitfield
Good Luck for Round 13