Danger, Danger! – Ep. 84
How good was Dangerfield? The boys sing his praises as we brace for the bye rounds with strategy and trade advice to help you maximise your points.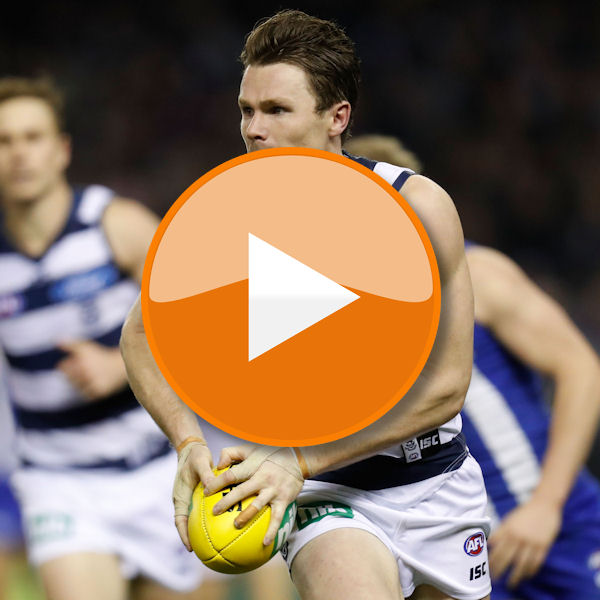 What an epic weekend! Some massive scores were posted by Fantasy coaches mostly thanks to Patrick Dangerfield and his 187. With par for the round ticking over 2200, the boys say we need to brace for the byes starting this week. Strategy and trade advice is abundant here on the official AFL Fantasy podcast recorded straight after the Queen's Birthday game at the MCG.
Click here to subscribe on iTunes. (Please leave a rating and review to help us move up the charts).
AFL FANTASY POINTS FOR AND AGAINST (LAST 4 ROUNDS)
| CLUB | PTS FOR | >100 FOR | >120 FOR | PTS AG | >100 AG | >120 AG |
| --- | --- | --- | --- | --- | --- | --- |
| ADE | 1803.25 | 5.25 | 1 | 1390.75 | 1.25 | 0 |
| BL | 1518.25 | 3.75 | 0.75 | 1688.75 | 4.5 | 0.75 |
| CAR | 1610.5 | 4.25 | 1 | 1562 | 4.25 | 1 |
| COLL | 1645.25 | 3.75 | 0.75 | 1743.25 | 3.75 | 2 |
| ESS | 1609.5 | 3.75 | 1 | 1785 | 5.75 | 1.75 |
| FRE | 1624.25 | 3.25 | 0.75 | 1655.75 | 4.5 | 2 |
| GC | 1512.25 | 2.75 | 1 | 1740.25 | 4.75 | 1 |
| GEE | 1561.25 | 3 | 1 | 1567 | 4 | 1.25 |
| GWS | 1699 | 5 | 1.25 | 1510.75 | 2 | 0 |
| HAW | 1704.75 | 4.5 | 0.5 | 1546.75 | 3 | 0.5 |
| MELB | 1615 | 4.75 | 1.5 | 1550 | 2.25 | 0 |
| NM | 1527.25 | 2.5 | 1 | 1514 | 4 | 1.5 |
| PA | 1650.25 | 2.5 | 0.25 | 1540.25 | 2.5 | 0.75 |
| RICH | 1593.75 | 4 | 1.25 | 1487.25 | 2.75 | 1.25 |
| STK | 1556.25 | 4.5 | 1.75 | 1715 | 4.75 | 1.5 |
| SYD | 1642.25 | 4 | 1.75 | 1559 | 4 | 0.5 |
| WB | 1661.75 | 3.25 | 1.75 | 1739.25 | 5 | 1.25 |
| WC | 1499.75 | 2.25 | 0.25 | 1704.5 | 4 | 1.5 |
AFL FANTASY POINTS FOR AND AGAINST (SEASON)
| CLUB | PTS FOR | >100 FOR | >120 FOR | PTS AG | >100 AG | >120 AG |
| --- | --- | --- | --- | --- | --- | --- |
| ADE | 1663.25 | 3.417 | 0.75 | 1515.67 | 2.47 | 1 |
| BL | 1431.33 | 2.92 | 0.75 | 1655 | 4.5 | 0.92 |
| CAR | 1570.08 | 4.08 | 0.92 | 1545.67 | 3.08 | 1 |
| COLL | 1574.33 | 3.17 | 0.5 | 1677.42 | 4 | 1.75 |
| ESS | 1633.83 | 4.08 | 1.25 | 1675.33 | 4 | 1.17 |
| FRE | 1534.58 | 2.83 | 1 | 1670.83 | 4.75 | 1.25 |
| GC | 1486.92 | 2.58 | 0.92 | 1680.83 | 4.75 | 1.25 |
| GEE | 1625.33 | 3.92 | 1.25 | 1484.08 | 2.92 | 0.92 |
| GWS | 1674.167 | 4.58 | 1.17 | 1448.33 | 1.97 | 0.25 |
| HAW | 1629.25 | 3.83 | 0.58 | 1561.58 | 2.75 | 0.92 |
| MELB | 1585.75 | 3.42 | 1 | 1591.75 | 3.83 | 0.83 |
| NM | 1564.33 | 2.75 | 0.92 | 1492.33 | 2.92 | 0.92 |
| PA | 1551.75 | 2.58 | 0.5 | 1608.42 | 3.75 | 1.17 |
| RICH | 1535.42 | 3.67 | 1 | 1542.25 | 2.67 | 0.92 |
| STK | 1603.42 | 3.92 | 1.75 | 1659.92 | 3.83 | 1.08 |
| SYD | 1613.25 | 4.33 | 1.42 | 1551.83 | 3.17 | 0.58 |
| WB | 1727.08 | 4.5 | 1.33 | 1590.17 | 3.17 | 0.5 |
| WC | 1560.17 | 2.58 | 0.5 | 1608.1 | 3.92 | 1 |