The Friday Scramble: Round 12
The Queen has been gracious enough to give us a day off work to watch the footy! So let's make the most of it and have a ripper of a round before we head into the bye period. As usual there are some concerns at the selection table, so let's jump in and scramble.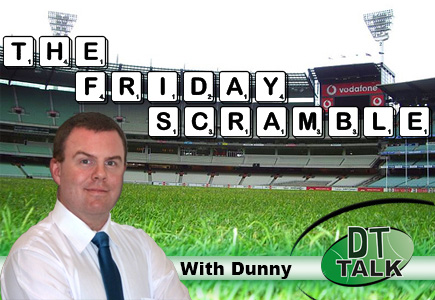 As we have been ambling through this season thinking… we won't worry about the bye rounds this year as they are a long way away.  Well to quote someone (no idea who it was) "Sh*t is about to get real".  This is our last chance to prepare for the byes.  Not only do we have to deal with that we have a Monday game to negotiate.  So, let's jump in and get on with it!
Byes… Friend or Foe?
Whilst many are worried about the byes and are always a little concerned about them.  However, they can be a massive advantage in your chase for rankings glory.  In AF most leagues don't play during the bye period, but this isn't a time to go to sleep.  It is a time to strike!  If you set your team up correctly then you can really dominate and launch yourself through the rankings.  And in SC and RDT you are probably playing through the bye period, so you need to get your best team on the park.  If you can win at least two of the three weeks you are doing just fine.
Remember… during the byes in all competition types it is your BEST 18 that count towards your score.  Now, just remember, it is not those on the bench unless they are an emergency and come on as per normal.  So if you have your 6 guys on the field in the backline as well as having a bench player all playing, you will ONLY get 6 scores at most out of those 7 players.  So when you are going through and counting who you have playing, take that into account.
Also, be realistic as to who is actually playing.  If you have someone like a Goetz  from the Dogs sitting on your bench, don't count him, as there is very little chance that he will play at all!
Queen's Birthday Footy
Whilst we all LOVE a public holiday, it can be a bit of a nightmare for your dreamteam.  Particularly in the case of the rookies and guys on the edge.  At the point of lockout in AFL Fantasy and RealDreamteam on Friday night we will not know final teams for the Melb v Collingwood game on Monday.  So if you have some guys on the fringe that you might be relying on, make sure you have some cover on the bench just in case!  The guys on the extended bench that look to be in the most danger are Goodyear and Kennedy.  However, I severely doubt that you would be playing either of these guys on your field.
Selection Table
Well not too much really to report this week… DAMN Aaron Hall!  However, this shouldn't come as a massive surprise, he wasn't playing well, but I think it was more through injury than poor form.  A 59 in rubbish conditions against Sydney after three 90's in a row doesn't scream omission to me.  They have the round 13 bye so I suspect this is to give him two weeks to get that shoulder right before the back half of the season.  Personally I will be holding Hall this week, I think he has enough of a body of work to suggest he can come back.  However, we need to see him named in round 14 otherwise you may want to cash him in and upgrade him.
Speaking of injuries, we were all concerned about Nick Riewoldt and it seems this wasn't without foundation.  He is out with an injured knee and hence he now gets two weeks off to get this right.  Seeing a trend here?  To be fair we all thought Nick would get a rest at some point and this is the first game he has missed this year so I think we can cut him some slack.  If you have him, definitely hold.
McDonald-Tipungwuti is out this week with a Rest.  Couldn't they have waited til his bye?  But, what this does is opens some options for you.  He is no longer a forced trade due to price/BE concerns.  You can now hold him this week if you want to make trades elsewhere (*assuming you have sufficient cover of course) because his price won't change (much like how Hartley has been on my bench for a week or two).  I think this could be a wise move as you would think he comes back in next week after his rest and to have a warm body on the field next week (even if he might lose a few dollars) could be vital to your bye strategy (or in some cases like mine complete lack of strategy).
Sam Mitchell hasn't been great lately apart from his 109 last week, so how long has he had this back injury?  Did he have it during that three week period where he was fairly ordinary?  They are a round 15 bye team, so this isn't just an excuse for a two week rest.  At this stage I still say hold as he isn't listed on the injury report from Tuesday.
The only other relevant out is George Hewett with concussion.  I think most have traded him anyway, his low score before his concussion means he will plummet in price and hence you need to unload him.
On the plus side we get Goldy back!  That will be a relief for those that copped a donut last game like I did in RDT.  Is anyone rejoicing that Menadue is back this week?  Not sure how many still have him, but now his BE is in play and hence he could start leaking cash.  Tom Lee comes back in for his third game of the season, not sure if people are all that keen on him, but he is there if you need a bubble boy and already have Collins.
Bye Strategy
There are all sorts of strategies in trading this week.  What a lot of people are doing is double downgrading this week or next week to build a war chest to go on an upgrading raid once the byes are over.  I don't mind this strategy at all and I could be tempted into it.  The key to trading this week is to make sure you will have enough guys on the park for round 13.  I wouldn't be bringing someone in that has a R13 bye if you can avoid it.  Really you want a R15 bye player that has some element of job security so that they can fatten up over a short period and then in R15 you can trade them for someone that has already had their bye.
Things to Remember
Not all leagues play the byes.  So just beware of this, but if your league isn't playing the bye round, that doesn't mean go to sleep!  You should be looking to improve your team still.
Not all rookies will play all the bye rounds.  We have all been burnt by this before.  Some coaches see this time of year as a good one to give our rookies a two week rest.
Plans may need to change.  Just because your trading plans through the byes are all sorted, doesn't mean that the AFL coaches are on board with that plan.  You may need to change them on the fly, so be prepared.
Thursday games mean a short turnaround.  During the bye period, starting in round 14 we have a run of 4 Thursday night games.  Be prepared.
That is it from me this week guys, sorry if it is a little short, but I have been struck down by the evil Man Flu which has cut short the amount of time that I have available to me tonight as I am stuffed! Best of luck this week unless your team name is #Grade1Tear as I need the win in that league to avoid copping too much sh*t at work!  Cheers and raise a glass to the Queen on Monday as we sit back and watch the footy!  Happy Birthday Queen Liz from @pkd73 (even though I know it isn't your real birthday, we still thank you for the day off work!)